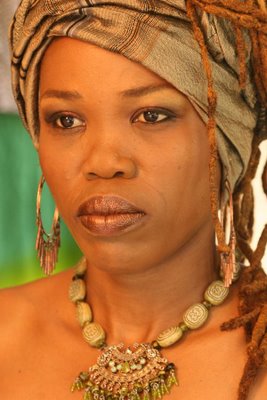 On August 6, during the Grand Gala held at the National Stadium to mark the culmination of Jamaica's 51st independence celebrations, popular reggae singer Queen Ifrica used her performance to denounce gays and same-gender unions. Imitating similar anti-gay rhetoric used by her partner, Tony Rebel, at the same event last year, Ifrica declared:
"Weh the man dem weh love woman", "woman and man we say", "No gays round here", "man to woman me say" and "weh the straight people them deh"

[Where are the men who love women? I say woman and man. No gays around here. Man to woman I say. Where are the straight people?]
These remarks were made in front of a capacity crowd at a free public event paid for by taxpayers, some of whom are gay.  In attendance were  Jamaicans drawn from all walks of life, including numerous impressionable children, several dignitaries, the Prime Minister herself, and scores of foreign visitors.
Research produced by Jamaica's premier university, the University of the West Indies, indicates that the over 200 anti-gay songs performed by the country's reggae artistes are directly related to the high level of homophobic violence recorded on the island.  Such information was at the heart of the much-touted "Stop Murder Music" Campaign which led to successful boycotts of foreign concerts by Jamaican reggae musicians.  Most of these artistes have apologized to the LGBT community and expunged anti-gay material from their repertoire.  Tony Rebel and Queen Ifrica clearly remain unaffected by this initiative.
It is therefore imperative that the government of Jamaica not provide a platform for such performances. Regrettably, this is the second year in a row that such an incident has occurred without sanction.
In the press release below, J-FLAG condemned this latest homophobic incident. However, the government, in particular the Ministry of Culture which organized the event, has made no statement.
I join J-FLAG in its call on the Jamaican government to condemn this reprehensible performance and to ensure that, in future, nothing like this ever receives public funding.  Our national motto, "Out of Many One People," demands this.
J-FLAG calls for greater responsibility from artistes on public stage
J-FLAG notes with profound disappointment the anti-gay animus expressed by Queen Ifrica at the Grand Gala on August 6, 2013. Her sentiment is an example of the unabated divisiveness we continue to allow to take prominence on the national stage. Queen Ifrica's remark is similar to the vitriolic sentiments which came from Tony Rebel at the celebrations last year and should have never been allowed again.
We are surprised this happened on the day the Prime Minister urged us, in her Independence Day Message, to accord respect to people so every Jamaican can feel a sense of belonging in our society.
It is regrettable that the government has not been able to guarantee non-discriminatory performances from artistes for such a high-profile function as the Grand Gala. We encourage the government to follow the example of reggae and dancehall promoters and their sponsors who consistently draft contracts proscribing penalties for the use of indecent language, discriminatory rhetoric, and incitement to violence. Independence celebrations showcase the best of Jamaica's indigenous artistic and cultural expressions, and are held to a high standard from their inception.
As the nation passes the 50 year mark and enters a new epoch of its history, we must zealously work to protect the dignity of all Jamaicans without any distinction. We have all pledged to play our part in advancing the welfare of the whole human race. These words are especially poignant in such a celebratory period of our nationhood. We are therefore compelled to reflect on these and other patriotic words of commitment found in our National Anthem and Pledge.
Jamaica cannot become the place of choice to live and raise families unless respect and dignity can be given to the entire Jamaican family. As we celebrate Jamaica's 51st year of independence we must also celebrate the importance of peace, democracy, justice, and equality for the continuation of our prosperity as a nation.
Related articles