JAMAICA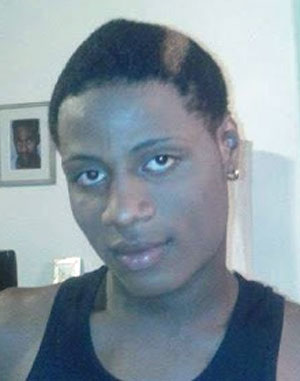 Toronto Stand for Dwayne Jones: Aug 2 at 12:30pm in EDT. In memory of slain Jamaican cross-dresser. Jamaica Consulate Toronto, 303 Eglington Avenue East, Toronto.
That follows a similar stand by dozens of people in Dwayne's honor in Jamaica on July 31, as well as at the Jamaican Consulate in New York.
UNAIDS Caribbean condemns Dwayne Jones' murder "It is not OK to kill someone because you don't agree with their choice of partner. Just as it was not OK to enslave, beat or kill another human being in the pre-Emancipation era."
Jamaican Anglican Priest calls for Tolerance. In the latest Stand Up with Jamaica video, Fr. Garth Minott discusses how the Parable of the Good Samaritan applies to Jamaica.
Why's Church mum on cross-dresser's murder? Jamaican Anglican Priest Fr. Sean Major-Campbell asks, "Why are we so often silent when it comes to the protection of our brothers and sisters who are seemingly different from us?"
Jamaican Justice Minister Mark Golding condemns the brutal killing of 17-year-old Dwayne Jones.
CAMEROON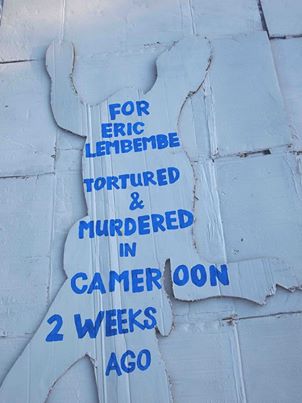 Protest against 76-plus countries' anti-gay laws — with special attention to Russia and Cameroon. Artwork at right is in memory of murdered Cameroonian activist Eric Lembembe, created by artist-poet-activist Vince Laws for Brighton Pride on Aug. 3.
On the same day, Lembembe will be buried in Cameroon's capital, Yaoundé.
Laws invites others to join him in Brighton, England: "I'm face painting 76 people with the names of the 76 countries where homosexuality is BANNED – it is illegal to be yourself. Lamppost 11, Madeira Drive, 9.30am, an hour to get everyone painted, with a live happening at 10.30am sharp, with poetry, protest. … Join me. Share. Make this happen."
RUSSIA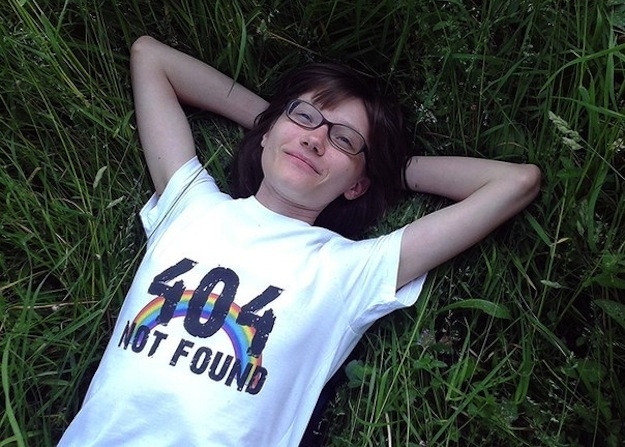 In Russia, Breaking The Law To Tell Gay Teens "It Gets Better"  Lena Klimova never meant to be an activist. The 25-year-old literary editor stumbled into it accidentally, after deciding to write about homophobia and gay teens for online publications Robalt and 812 early this year. A young gay woman found out about Klimova's work, and wrote to thank her for helping her realize that she's not alone. … Klimova dubbed her project "Children 404: We Exist," a nod to how invisible and overlooked [LGBT] teens are. "The [mainstream media] doesn't write about these children, almost no one talks about them, and it's almost like they don't exist, like a page that says error code 404. But in reality, they exist," she explains.
Canadian Minister of Foreign Affairs John Baird blasts 'hateful' Russian anti-gay law (CBC News) Canada will work with like-minded countries such as the United States and the United Kingdom to pressure the Russian government to change the law ahead of the Olympics.
Stoli boycott in San Diego largely a failure (and that's a good thing). Contrary to popular belief, Stoli is not a Russian-made vodka (it's headquartered in Luxembourg and distilled in Latvia). It's a hugely gay-friendly company, particularly here in San Diego, where its efforts at outreach to our community have gone WAY beyond mere marketing.
The Rev. Canon Albert Ogle notes, "The intention is good to focus on LGBT oppression, but we must consult with the folk on the ground as a first principle or we end up hurting them. The road to hell is paved with good intentions."
Dispatches: Every Color Flag But Rainbow at Sochi Olympics
Human Rights Watch:
"This is a showdown the IOC  [International Olympic Committee] had thought it could avoid. The IOC has been reluctant to criticize Russia over its human rights record in its preparations for the games but has found itself under increasing pressure to respond, especially after Russian president Vladimir Putin signed the homophobic law [banning any form of public support for same-sex love] on June 29. It appears that the IOC tried to skirt controversy through negotiations with the Russian authorities to carve out a "discrimination-free" zone in Sochi for Olympians and their fans.

Such half-measures by the IOC not only underscore how perverse and unjust this law is, but also clearly showcase the dangers of holding the Olympic Games in states which openly defy basic human rights norms and their commitments under the Olympic Charter, which deems any form of discrimination 'incompatible with belonging to the Olympic Movement.'

Instead of listening to Russia's hollow assurances, IOC president Jacques Rogge should stand up for the Olympic charter's commitment to promoting human dignity and insist that the Russian government immediately takes steps to repeal the law and, in the meantime, refrains from implementing it.
Latvian LGBT group pleads for end to Stolichnaya boycott. The Latvian LGBT rights group Mozaika states: "Stolichnaya vodka is not produced in Russia and it is misleading to say that it is a Russian product. All Stolichnaya vodka for worldwide export is produced in Latvia. … This campaign will only harm Latvia, Latvia's economy and employees of the company Latvijas Balzams. It could also backfire and have unintended negative consequences for the extremely fragile LGBT community in Latvia."