CORRECTION: The judge in a case against two rural Zambian men accused of homosexual behavior DID NOT ORDER ordered the public out of the courtroom yesterday (June 10), saying that he wanted to spare people from hearing vulgar language.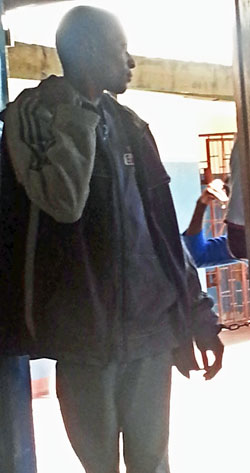 The judge later warned the Times of Zambia reporter not to print incorrect information in the future.
James Mwape, a bricklayer, and Philip Mubiana, a hairdresser, both age 21, are charged with two counts each of "carnal knowledge of any person against the order of nature," which is punishable by a prison sentence of up to 14 years. They were arrested in rural Kapiri Mposhi on April 25, were released on May 2, and were re-arrested on May 4 after a hostile mob surrounded them, and have been detained since then.
Testimony in their trial got under way June 10.
Before Magistrate John Mbuzi closed the trial to the public, Two witnesses said the two men had been fighting, which led to their arrest.
Under cross-examination by defense lawyer Sunday Nkonde, witness Judith Wakumelo was asked whether the two were found having sex. Wakumelo replied that no one found the two having sex, the Lukasa Times reported.
Witnesses also testified about remarks the men made about their relationship and their gender identity.
Wakumelo said Mubiana told police that he was female and that Mwape told police that he acted as Mubiana's husband.
"I heard Philip [Mubiana] tell the police that he was both male and female and that he wasn't a woman. James [Mwape] at first refused to respond but later said that he was Philip's husband," Wakumelo said.
Another witness, Sharon Mubiana, the sister of Philip Mubiana, said that after his arrest she arranged to have him released on police bond. According to the  Lukasa Times, she said that "she went back to report the two to the police the second time upon realizing that the two might meet again and start fighting."
According to the Times of Zambia, Wakumelo said that "after their release from police custody, the accused men continued staying together, which prompted the police to re-arrest them."
The trial is scheduled to continue today.
Related articles