Reminder to U.S.: LGBT people suffer in 76+ countries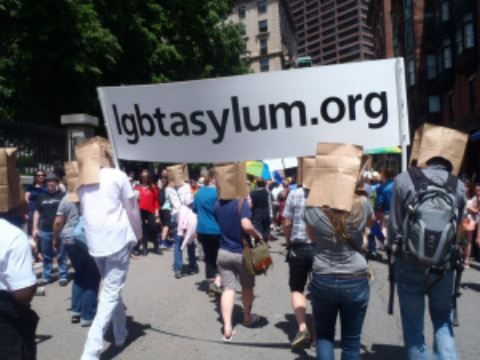 Bostonians at the Pride Parade this past weekend were reminded of the often-desperate situation of LGBT asylum-seekers from 76-plus countries with laws against homosexual activity, as well as LGBT people who remain in those countries.
A contingent from the LGBT Asylum Support Task Force marched with paper bags on their heads to symbolize their solidarity with asylum seekers, many of whom remain too traumatized to be seen publicly. Cathy Kristofferson of the O-Blog-Dee blog joined the contingent and reported:
"It is illegal to be gay in 80 countries…" and "The people holding our banner with bags on their heads can't be seen back home…" were the two most common responses we gave to the confused looks of many along the parade route.  I even handed a flyer to Rep. Ed Markey campaigning for Mr. Kerry's seat.  I think he was a bit taken aback but then I had a bag on my head!
The task force, based in Worcester, Mass., was founded in 2008 to support the basic human needs of LGBT people seeking asylum in the United States. A secondary goal is "to educate the public in an effort to change policy around the globe so that someday no LGBT person will need to seek asylum because of their sexual orientation or gender identity and the need to find a safe place."
It has helped more than 50 individuals from 15 countries.  O-Blog-Dee reported:
They get calls from all over the U.S. from other organizations desperate to find help for someone who has just arrived on their doorstep.

Asylum seekers arrive here traumatized from the situation they were forced to leave, often having spent all their money just getting here, with nowhere to go since ex-pat communities won't take in LGBTI asylum seekers as they do for other countrymen.
The task force is a member of the new LGBT Faith & Asylum Network, which is working at a national level to help people seeking safety in the United States because of persecution based on sexual orientation or gender identity in their home countries.
The LGBT-FAN network aims to:

Offer mutual encouragement and a sense of community

Provide a forum for continuing education

Share information and resources

Make introductions between people who can help, and people who need support

Educate the LGBT community about the needs of asylum-seekers and how they can help

Educate immigration and refugee professionals about the LGBT community

Provide new ways for donors to help LGBT asylum-seekers
Related articles