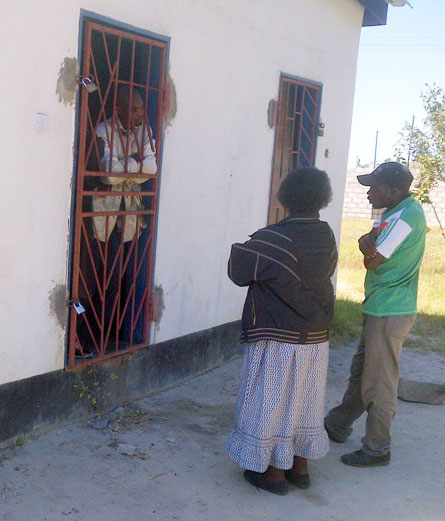 Two young Zambian men awaiting trial for homosexuality are at risk of rape, abuse, and disease in prison as they await their May 22 court date, for which they still lack legal representation.
Their arrest is part of an anti-gay campaign launched in early April, when Justice Minister Wynter Kabimba urged the Zambian public to report homosexuals.
After the men pleaded not guilty on May 8, local human rights activists met with them in prison and reported the following:
Immediately after arriving before the principal magistrate's court for their plea hearing yesterday (May 8), James Mwape and Philip Mubiana were charged with having breached Section 155(a) of the Zambian Penal Code,  which provides for a prison sentence of not less than  14 years imprisonment  with hard labor for anyone who "has carnal knowledge of any person against the order of nature," even between consenting adults.
The two defendants were sent to Mpima Remand Prison in the central province of Zambia in the town of Kabwe, where they remain in custody.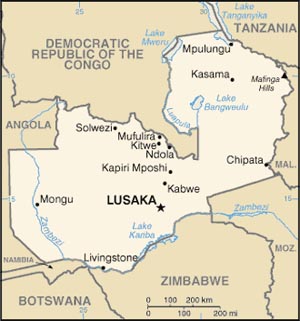 When visited today at the prison, Philip told how vulnerable he feels being placed with other convicts who have  threatened  sexual harassment of both men to "teach them a lesson." As he told his story, James broke down in tears about the levels of discrimination and verbal insults they have been subjected to, including abuse from prison guards as well.
Worse, because they are only 21 years old, they are already being subjected to intimidation, unfairness and  threat  of physical attacks from other inmates who want to take advantage of their youth and innocence, trying to gain sexual favors by using the charges leveled against them to their disadvantage.
Philip also complained that he has not been granted access to medical attention for a fungal infection that he has suffered since childhood. During a medical examination, doctors misconstrued that infection as a sexually transmitted disease, a falsehood that was reported in the media.
Philips's family, well aware of his medical condition, attested to the fact that it's a condition that family members are genetically disposed to and that most of them experience annually.
The allegation that Philip had contracted a sexually transmitted disease led to the men being subjected to further inhumane and degrading medical examinations by the police and the prosecution team. Those were performed without the men's informed consent and under threat of injury by law enforcement officers.
In addition, James said, both of them were forced to strip in front of one of the officers at Kapiri Mposhi police station because he wanted to determine their sex.
The two remain in custody and no bail has been set.  A confidential source in the prison system told human rights activists that a large amount would have to be paid to secure their bail applications.
Our concern as human rights activists is that we fear the two defendants may be subjected to prison rape, discrimination, and intimidation in an environment where homophobia is not only tolerated but encouraged.
Meeting the most basic human needs, including food, is a big challenge while in remand.
The two defendants are semi-illiterate, come from a very poor background, and at this point do not even have legal representation.
Related articles