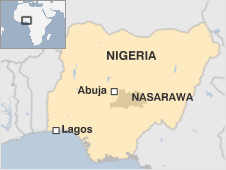 Three men were sent to prison cells in Nigeria on April 2, awaiting an April 23 hearing on charges of engaging in homosexual activity.
They had pleaded not guilty to the charges in an appearance before the Mararaba Upper Area Court in Nasarawa State in central Nigeria.
The News Agency of Nigeria identified the men as Armstrong Ihua, 40, of Ikorodu, Lagos State; Collins Ejike, 30, of Lugbe, Abuja, and Pius Bamayi, 25, of Masaka, Nasarawa State.
The Nigerian news website This Day Live reported that prosecutor Stephen Kwaza gave this account to the court:
Bamayi, accompanied by Patrick Okorie of the Luna Guest Inn in Mararaba, reported to police on March 31 that Ihua and Ejike lured Bamayi under false pretences to Ihua's room, where they smoked Indian hemp.  When Bamayi fell asleep, the other two men had sexual intercourse with each other, then removed his trousers and accosted him sexually.
All three men were charged.
The defendants' attorneys, Charles Maduewyi, Momoh Mohammed and Gabriel Okpake, requested bail, but presiding Judge Vincent Gwahemba refused that request.
For more information, read the full article in This Day Live:  "Court Remands Three for Alleged Homosexual Practices"
Related articles