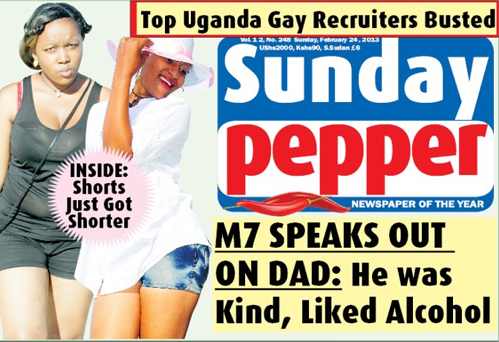 The Ugandan tabloid Red Pepper has returned to a vicious, irresponsible journalistic practice that preceded the murder of gay activist David Kato — publication of names of people who are allegedly homosexual.
This past weekend, the tabloid Red Pepper published names of people who it alleges "recruit" others into homosexuality.  The front page of the newspaper proclaimed that it had compiled a list of "Top Uganda Gay Recruiters."
The bizarre idea that homosexuals "recruit" people into their sexual preference is a common theme in Uganda.  The New Civil Rights Movement calls it "a decades-old lie planted by the anti-gay right."
In late 2010, the Ugandan tabloid Rolling Stone famously published names and photos of alleged homosexuals, including Kato.
The LGBT rights group Sexual Minorities Uganda successfully sued the newspaper. The Ugandan High Court ordered it to stop publishing names of alleged homosexuals and to pay each of three individual plaintiffs (Kato, Kasha Jacqueline, and Pepe Onziema) a fine of 1.5 million Ugandan shillings (about $450.)
Shortly after that verdict was announced, Kato was murdered.
"Obviously the court ruling in the Rolling Stone case has had no effect at all," Onziema said about the Red Pepper list.
Related articles