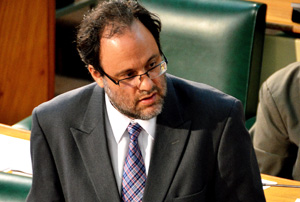 Mark Golding, Jamaica's Minister of Justice, today hinted that general anti-discrimination legislation may soon be introduced.
His comments came in response to a critical report by the Inter-American Commission on Human Rights, which addressed human rights abuses against LGBTs in Jamaica.
The Civil Service Staff Orders of 2004 (which have the force of law) already protect Jamaican civil servants from discrimination on the grounds of sexual orientation.
A general anti-discrimination law would simply extend this protection to all Jamaicans.
However, there will likely be strong opposition from the powerful and influential religious fundamentalists who effectively blocked broad anti-discrimination language from being included in the 2011 revision to Jamaica's Charter of Fundamental Rights and Freedoms.
Golding did not address the country's buggery laws, which provide for prison sentences of up to 10 years for male homosexual activity.
For more information, see the article "Specific laws needed to target discrimination – Golding" in RJR News online.
Related articles