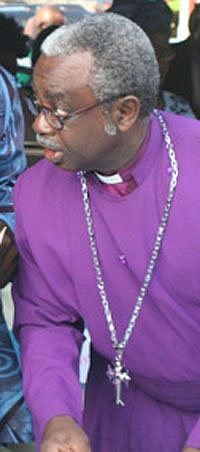 Gay Star News reports a new instance of Nigerian church leaders making ridiculous claims about same-sex marriage as part of a campaign to crack down harder on LGBT people, who already suffer from the nation's intense homophobia:
An Anglican bishop in Nigeria has appealed to President Goodluck Jonathan to sign the 'Jail all the Gays Bill' before gay marriage makes the world end.

The bill bans same-sex marriage, outlaws anyone from forming organizations supporting gay rights, and sets up prison terms of up to 14 years for gay and bisexual people, whether or not they have had sex.

Anybody who knows somebody who is gay will have to tell the authorities or they could go to jail for five years themselves.

It was approved by Nigeria's Senate in 2011 and by the House of Representatives in May this year and needs Jonathan's sign-off to become law.

Now the Anglican Bishop of Asaba, Justus Mogekwu, has urged him to assent to the bill, saying same-sex marriage was not a human right but a curse.
Nigerian newspaper Premium Times reports Mogekwu as interpreting international support for  same-sex marriage as related to biblical prophesies about the end of the world.
He is quoted as saying: "I want to therefore plead with the National Assembly to appeal to the President to sign the anti-gay marriage bill into law. Same-sex marriage is evil; we will survive without the world powers, the world is coming to an end."
Mogekwu follows a different line of thought to reach the same anti-LGBT conclusion as Nigerian Pastor Enoch Adeboye, who preaches that allowing same-sex marriage will mean the end of humanity, because everyone will become gay and procreation will cease.
There is no public campaign in Nigeria in favor of same-sex marriage, but anti-LGBT forces act as if there is.
Nigeria already is one of the world's most hostile to LGBT people. A recent tally estimated that 12 Nigerians are currently in prison or awaiting trial under Nigeria's laws against consensual sex between men.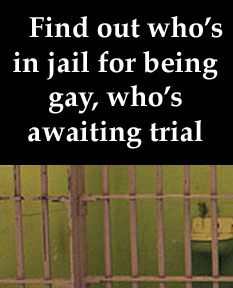 Federal law in Nigeria already provides for 14-year prison sentences for homosexual activity.
Gay Star News quoted Nigerian activist Bisi Alimi as saying:
'The increasing pressures the religious leaders are putting on the president to accent to the Anti Same-Sex Marriage Bill is a clear indication that in the heart of these men of God there is no love. The Bible is clear, God is Love.

'The religious leaders in Nigeria are making the promotion of hate and abuse of LGBT community in Nigeria as their number one agenda rather than promoting good governance, accountability and respect.

'At the Mo Ibrahim awards for Good Governance in Africa, Nigeria has fallen eight places to 41 out of 52 due to lack of political and structure stability. But this is not a concern for religious leaders who instead focus on what two consenting adults in loving relationship are doing with their lives.'
For more information, read the full article in Gay Star News: "Bishop tells Nigeria's president: Ban gay marriage before the world ends."
Related articles