Qatari police yesterday (Oct. 25) stopped a one-man protest against that nation's repression of its LGBT citizens.
British LGBT activist Peter Tatchell was displaying a sign that labeled Qatar as anti-gay, with the words "Qatar arrests, jails & subjects LGBTs to 'conversion'" when police briefly detained him and asked him to leave the country.
---
CLICK for a free subscription to Erasing 76 Crimes
---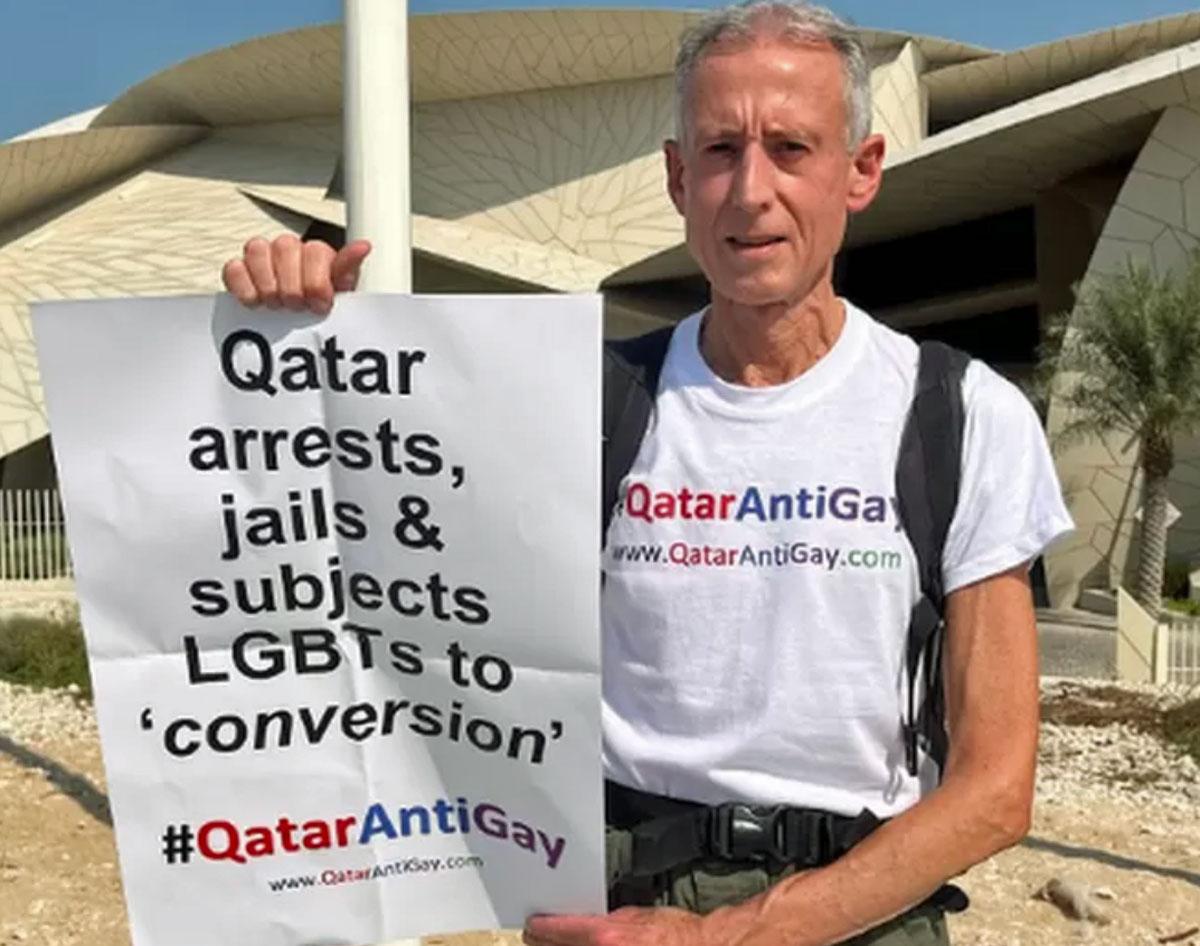 The protest came a few weeks before the start of the World Cup football/soccer tournament in Qatar and amid increased criticism of the Gulf Arab state's violation of LGBT rights.
To help win the rights to host the World Cup, Qatar promised it would welcome LGBT visitors and even allow fans to fly the rainbow flag during matches, but it offered no reduction in its mistreatment of its LGBT citizens.
Qatar police stop protest by British LGBT activist
Qatari police on Tuesday stopped a one-man protest by British LGBT activist Peter Tatchell outside the national museum of the Gulf Arab state which hosts soccer's World Cup next month.
Tatchell, who had staged a similar protest ahead of the 2018 World Cup in Russia, stood for more than an hour wearing a T-shirt emblazoned with "#Qatarantigay" and holding a placard that read "Qatar arrests and subjects LGBTs to conversion".
Two uniformed police officers and three plain clothes officials arrived at the scene. They folded up his placard and took photos of Tatchell's passport and other papers, and those of a man accompanying him.
Police left after shaking hands with Tatchell, who remained on the sidewalk.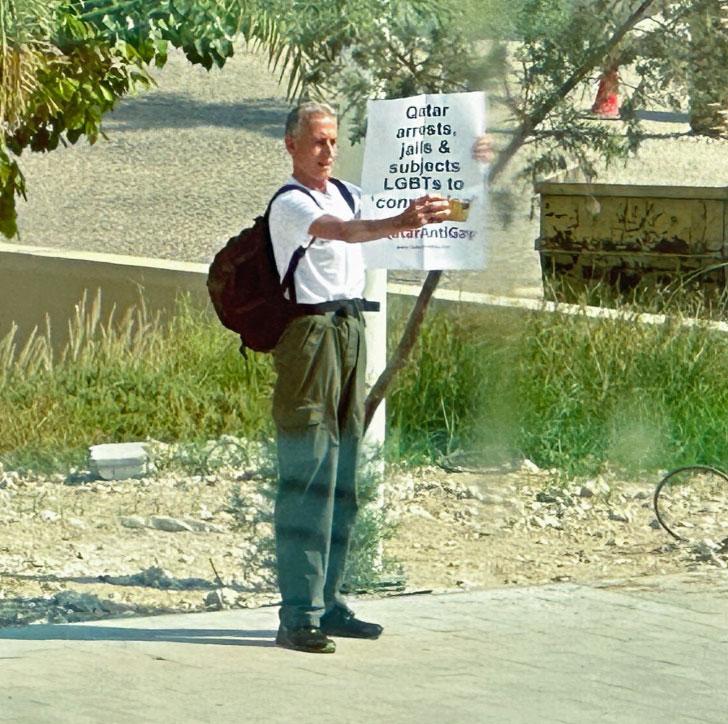 Homosexuality is illegal in the conservative Muslim country, and some soccer stars have raised concerns over the rights of fans travelling for the event, especially LGBT+ individuals and women, whom rights groups say Qatari laws discriminate against.
Qatar officials stop LGBT activist Peter Tatchell protest
Qatari officials have stopped a protest staged by British LGBT rights campaigner Peter Tatchell.
Mr Tatchell said he was "arrested and detained on the kerbside" in Doha on Tuesday following his one-man protest challenging the country's treatment of LGBT people ahead of the World Cup.
He said he was later released and is now heading back to the UK.
The Qatari government said authorities asked someone to move but claims of an arrest were "completely false".
Before leaving Qatar, Mr Tatchell said: "You can call it arrest or detention but we were not free to move."
Speaking on BBC Radio 4's programme The World Tonight he said himself and his colleague "were not free to leave" nor "free to continue the protest".
"Eventually we were told very clearly it was in our interest to leave the country as soon as convenient," he added.
Mr Tatchell, who took similar action when the 2018 World Cup was hosted in Russia, said it had been the first public LGBT rights protest to take place in a Gulf state.
He was pictured standing outside the National Museum of Qatar with a placard reading: "Qatar arrests, jails & subjects LGBTs to conversion", with the hashtag "#QatarAntiGay".
Video footage shows Qatari officials then approaching Mr Tatchell.
Two uniformed officers and three plain clothes officials arrived at the scene. They folded up his placard and took photos of Tatchell's passport and other papers, and those of a man accompanying him.
In a statement, Mr Tatchell said he was "surrounded and interrogated" by nine officers, who asked "where I was from, who was helping me, where I was staying and when I was leaving Qatar".
He said officials also arrested his colleague, who was filming the event.
"I did this protest to highlight Qatar's abuse of LGBT, women's and migrant workers' rights. I was standing in solidarity with brave Qatari human rights defenders who cannot make their voices heard because of the risk of arrest, jail and torture. I am heading back to the airport with my colleague now," he added.
In a statement, the Qatari government said: "Rumours on social media that a representative from the Peter Tatchell Foundation has been arrested in Qatar are completely false and without merit.
"An individual standing in a traffic roundabout was cordially and professionally asked to move to the sidewalk, no arrests were made.
"We are always open to dialogue with entities that wish to discuss important topics, but spreading false information with the deliberate intention of provoking negative responses is irresponsible and unacceptable."
Sacha Deshmukh, Amnesty International UK's chief executive, said the action against Mr Tatchell was "a stark reminder of the repressive climate around freedom of expression in the country".
A UK government spokesperson said it had "provided consular support to two British nationals following an incident in Doha".
Human rights in Qatar are coming into sharp focus as the World Cup builds up.
The first matches will take place in less than a month, but some fans are boycotting the event over Qatar's poor treatment of migrant workers and the LGBT community.
Human Rights Watch on Monday said security forces in Qatar arbitrarily arrested and abused LGBT Qataris as recently as last month. A Qatari official said in a statement that HRW's allegations "contain information that is categorically and unequivocally false", Reuters reported.
Same-sex activity is illegal in Qatar, and punishable with fines, up to seven years imprisonment, and in some cases, death. There are no legal protections for LGBT+ people in the Gulf state.
According to official figures 37 migrant workers involved in constructing World Cup venues have died, though rights groups claim the true number runs into thousands.
In response, the Emir of Qatar has condemned what he called "misinformation" and "double standards" in international criticism of his country as it prepares to host the football World Cup.
The emir, Sheikh Tamim bin Hamad al-Thani, said the unprecedented criticism amounted to slander.