Zambian women march for LGBT rights as well as women's rights
LGBT rights, women's rights and other progressive causes were the focus of last weekend's Women's March 2020 in the Zambian capital.
---
From the African Human Rights Media Network
---

More than a hundred people joined the march in Lusaka, which was organized in coordination with similar demonstrations in the United States, Canada, Europe, Asia, Central and South America and Australia.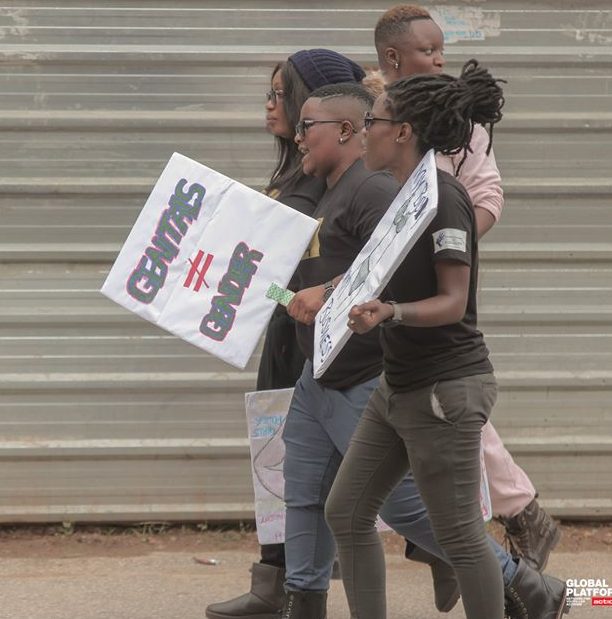 Zambian march organizer Ann Holland said that this year "We are centering trans women, sex workers, refugee women and women living with disabilities. Our theme is 'Leave No Woman Behind' and we want to make sure of that."
Among the feminist placards ("My Body My Choice", "Anything You Can Do I Can Do Bleeding" and "Say No to Child Marriages", for example) participants also marched for  trans awareness ("Genitals [do not equal] Gender" and "Trans Women Are Women at Birth and Beyond").
March supporter Global Platform Zambia stated that the demonstration "was aimed at acknowledging … :
#RefugeeRights
#EnvironmentalJustice
#WorkersRights
#DisabilityRights
#LGBTRights
#ReproductiveRights
#EndViolenceAgainstWomen
https://www.youtube.com/watch?v=yeett1iUeDM&feature=share&fbclid=IwAR3f4OQ6Fn7jhU7lsByr78mDYvhKCfI28J2u6QTNAn6xVQ1hTTxVkoVf78w