Methodist churches in Africa and the West are embroiled in controversies over whether to accept LGBT people and same-sex marriage, but the divisions don't exactly follow the typical fault line between anti-gay Africa and pro-gay West.
---
From the African Human Rights Media Network
---
By Mike Daemon and Colin Stewart

While Methodists in Nigeria and Ghana are conducting anti-homosexuality campaigns, the British branch of the church voted this month to accept same-sex marriage. The international assembly of the United Methodist Church, meeting last February in the U.S. in St. Louis, Missouri, voted not to allow same-sex marriage or gay clergy.
In Nigeria, the prelate of the Methodist Church condemned the decision by the British branch of the church in favor of allowing LGBT people to marry in the church.
Homophobia in the church is not new, especially in Africa. Almost all churches in Africa refuse to accept that homosexuality is a valid, natural sexual orientation. But in a deviation from the usual course of events, in recent months the pro-gay-rights position lost during a Methodist Church assembly in the United States, while a Nigerian leader of a faith-based group spoke in favor of acceptance of LGBT people.

More predictably, the Methodist Church in Ghana this week published a 47-page booklet about homosexuality, seeking to "guide young people to desist from the act."
The Right Rev. Samuel K. Osabutey, Methodist bishop in Accra, said the church was willing to help members "who had been addicted to the LGBT lifestyle to come out of it," as the Ghana News Agency reported.
The booklet is designed to challenge a view that LGBT people were created in God's image.
In the words of a Methodist ethics professor: "some LGBT people were content with their lifestyle because they believed God created them to behave like that, which to them was not a sin."
In contrast, the assembly of Britain's Methodist Church voted July 3 in favor of the principle of allowing same-sex persons to marry in the church. That will become the church's official position if it is endorsed when the assembly meets again in 2020.
In reaction to the British Methodists' decision, the prelate of the Methodist Church in Nigeria, Dr. Samuel Chukwuemeka Kanu Uche,  described the decision as pagan, un-African, unethical and therefore unacceptable.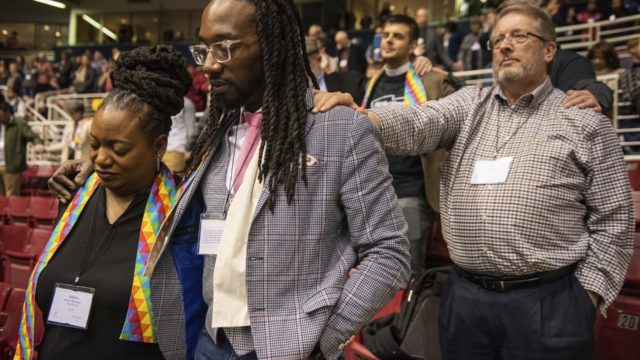 Uche expressed his delight at the recent decision by the international assembly of the United Methodist Church, meeting in the United States. That assembly, where about 43 percent of delegates came from abroad, mostly from Africa, voted against same-sex marriage and against allowing ordination of gay ministers.
Former Methodist pastor Rebecca Wilson of Detroit said she was devastated by that vote. She said about the United Methodist Church:
"As someone who left because I'm gay, I'm waiting for the church I love to stop bringing more hate."
At a press meeting in Lagos, Uche said:
"To our chagrin and disappointment, we read from the Church Times, which is a British publication, that the British Methodist Church has adopted in principle, gay marriage and have directed their ministers to join people in marriage. We, of the Methodist Church, see it as absurd, un-African, unscriptural, unethical, pagan, immoral, indecent and therefore, unacceptable behaviour by the people of Nigeria, and Africa.

"The British told us that polygamy, polygyny, and polyandry were bad, so why are they going back? Why are they becoming morally and spiritually depraved? If they go ahead to ratify it in 2020, that will be the straw that can break the camel's back. We will sever relationship and connection with them and stand on our own.

"If they are no longer having moral fiber, they should invite us to come and re-Christianise them. We are ready to do that. We will send missionaries to them because we believe that this move is satanic and coming from the pit of hell."
NoStringsNG reached out to Nigeria-based LGBTIQ activist Samuel Uchenna for his opinion about the news and the prelate's comments.
Uchenna, who is the executive director of Levites Initiative for Freedom & Enlightenment, a Nigerian human rights organization working to reconcile faith and sexuality, said he strongly disagreed with the prelate's statements. He cited several passages in the Bible to support his stand that a person can be both gay and Christian. He said:
"I sincerely disagree with the Prelate's opinion. All humans, regardless of their sexual orientation or gender identity, are made in the image and likeness of God. According to Genesis 1:31, 'God saw every thing that he had made, and, behold, it was very good.' This confirms the words of Paul in 1 Timothy 4:4  — 'Since everything God created is good, we should not reject any of it but receive it with thanks.' " (New Living Translation).
He called on Christians to accept gay people and to treat them as they treat every other person of faith.
"It is time for change in our churches and time for an honest acceptance of the differences within us on this issue, just as we do on other issues like sexual misconduct, religious discrimination or subjugation of women," Uchenna said.
Source: Rights Africa