Arbitrary detention of LGBT people, laws against same-sex intimacy, social prejudice and hate speech in the media are commonplace in Persian Gulf countries.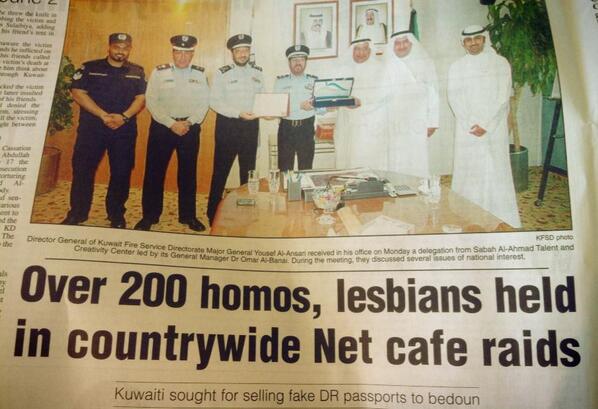 In this article, Nazeeha Saeed provides an overview of the treatment of LGBT citizens of Arab countries on the Persian Gulf . The article is published here courtesy of ILGA, the International Lesbian, Gay, Bisexual, Trans and Intersex Association. It has been modestly edited:
In the Persian Gulf, LGBT persons in general hide their sexual orientation and non-conforming gender identity. Expressing them could put them at
grave risk of violence and criminal prosecution, not only to themselves but their families too, who could also suffer rejection from society.
For this reason, it is common for meeting places to be clandestine and hidden. Even so, these places are often subject to police raids that result in the arrest, public exposure and prosecution on charges against morality and violation of religious customs and teachings. At the same time, local human rights institutions and associations do not include SOGI issues among their work.
The media in the Persian Gulf utilise pejorative and degradative terms to refer to LGBT persons, and also uses strong hate speech, making humiliating references in LGBT individuals' ways of dressing and behaving.
In the United Arab Emirates (UAE),  article 356 of the Penal Code classifies as a crime the act of "crime of voluntary debasement", established a penalty of a minimum sentence of one year's imprisonment.
According to Human Rights Watch, the courts of the UAE utilised this article to condemn and sentence persons for sexual acts outside of heterosexual marriage, including same-sex sexual acts.
At the same time, some jurisdictions within the country's federal system explicitly criminalise such acts, among them Abu Dhabi, where sexual acts "against nature" can be punished with up to 14 years' imprisonment. In August 2017, two citizens from Singapore were arrested in a shopping centre and sentenced to one year in prison "for trying to look like women". Later, an appeal's court commuted the sentence to a fine and deportation.
In the Kingdom of Bahrain, the norms around public morality are utilised frequently to prosecute and detain LGBTI persons. Furthermore, the Bahraini parliament is currently debating a law to punish all men or women who publicly present themselves as "pretending to be the other sex", or acting inappropriately, contrary to the moral and public customs of the Kingdom with a penalty of one year's imprisonment or a thousand dinar fine. According to the National Foundation of Human Rights in Bahrain, the proposal is characterised as being vague and flexible and is based on the appearance of the person and their resemblance to the other gender, without taking into account the physical and psychological aspects of each person.
In Saudi Arabia there are no written laws on sexual orientation or gender identity, but judges use unregulated Islamic precepts to prosecute suspected persons of having extramarital sexual relations, such as adultery and same-sex sexual acts. As Human Rights Watch affirms, if these types of relationships come about through digital media, judges and public prosecutors utilise further vague provisions contained in the Cyber Crime Law, which criminalises electronic activities that affect the "public order, religious values, public morality or the sanctity of private life".
According to the organisation, in February 2017, the Saudi police detained at least 35 people from Pakistan, some were transgender women and one of them died in police custody. The Saudi authorities said that she had died "of a heart attack", relatives of the victim pointed to the body which showed sign of torture.
In Iraq, at least since the start of 2017, various persons perceived as gay were brutally and quickly executed extra-judicially in regions under the control of the Islamic State Organisation (Da'esh). The security forces of the organisation (Diwan al-Hesba) subjected the areas under their control to severe restrictions and penalties, including the execution of men accused of being gay, throwing them from buildings (carried out from the tops of tall buildings) and later stoned.
In Kuwait, in addition to the criminalisation of extramarital sexual relations in a broad manner, sexual relations between men are also explicitly criminalised with a penalty of up to 7 years in prison.
In 2017, it was reported that Kuwait deported 76 men suspected of being gay. Another report states that the authorities detain transpersons through a provision that was added to the criminal code in 2007 which prohibits "imitating the opposite sex".
In the Sultanate of Oman, the criminal code imposes a prison term of one to three years for having consensual sexual relations with same-sex partners.
The Criminal Code of Qatar prohibits "instigating homosexuality".
Along with Qatar, the United Arab Emirates and Yemen could eventually apply the death penalty for same-sex sexual relations if they take the public stance and are considered "harmful to society". However, to date there are no records that this penalty has been imposed on LGBT persons in these countries.
This article first appeared in the 2019 edition of the "State-Sponsored Homophobia" report from ILGA.
The author, Nazeeha Saeed, is a Bahraini journalist with 13 years of experience in international media, press, radio and television. She provides coverage of human rights and politics. She has won multiple journalism awards, among them the Johann-Philipp-Palm Award for Freedom of Expression and Press in 2014. She is a defender of freedom of the press and expression and the rights of LGBTI people.