It's a tough life for transgender people in Guyana, as four feature profiles make clear. Excerpts below are reprinted from articles that previously appeared in the local Guyanan newspaper, the Stabroek News, and in the Caribbean IRN Blog.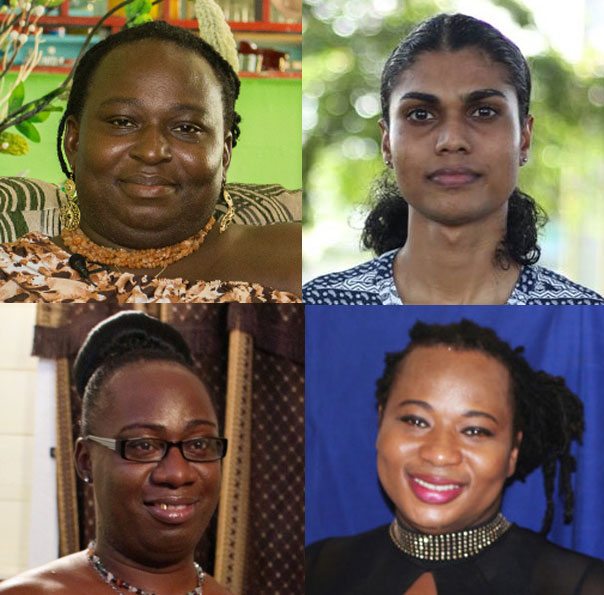 The articles focus on four trans citizens of Guyana:
Pheches (Joseph) Fraser in the article that shares its headline with this blog post:  "As a transgender person in Guyana, you feel you're in a jail yard."
"Guyana is a very depressing country. It's a nice and beautiful place but the thinking of the people is bad. Everything is a threat to them. If you're black, you're a threat to Indian. If you're Indian, you're a threat to black. To make it worse, if you're gay, lesbian, bisexual or transgender, it is seen as out of the norm", Fraser says.
Angel Clarke, who is featured in the article "Transgender persons must be independent."
Angel Clarke is an independent woman. She has her own home, has her own transportation, and runs a successful catering business – despite the discrimination and challenges that she faces as a transgender person in Guyana. "Homophobia did not hold me back one bit. I don't care what society has to say, I live my life to please me," she said.
Alessandra Hereman in the article "Tolerance is for starters, but I prefer acceptance." 
"The more I researched …, the more I became aware of who I was, and the more I started to identify as transgender. From there, everything else followed: growing my hair, changing my name and coming out as trans to some close friends. … It's been eight years since I first identified as a trans woman. It has been a liberating yet challenging journey."
Gulliver (Quincy) McEwan in the article "Transgender is not my only identity."
"Everybody came to see this trans person, and when they realised it was just a normal human being, everybody left; because they felt it was this big show, this big performance to be a transgender." Gulliver (Quincy) McEwan laughed as she remembered the response of an audience. In Guyana, LGBT persons are often perceived as outcasts who exist for public amusement –- a narrative that sections of the local media and theatre continue to push. There's nothing amusing about Gulliver, she is not larger than life. She simply wants to educate Guyanese on transgender issues.
Related articles: