'400 million LGBT people in jeopardy worldwide'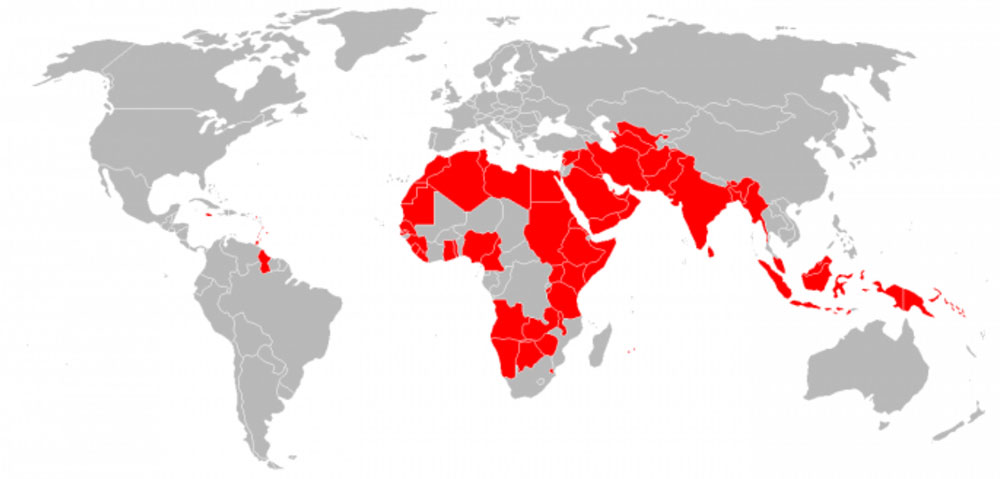 In a world where 400 million LGBTQI people are in legal jeopardy, Canada's refugee screening system needs reform so it will stop its unfair, dehumanizing suspicions of them, says Jamaican-Canadian LGBTQI rights activist Maurice Tomlinson.
Below are the remarks that Tomlinson made yesterday to the Canadian House of Commons' Standing Committee on Citizenship and Immigration, which is studying the work of the Canadian Immigration and Refugee Board. Excerpts from his written submission (at the bottom of this file) include an overview of life in dozens of homophobic countries where LGBTQI refugees often originate.
'Approximately 400 million LGBT persons live under the threat of criminal imprisonment, violence or even death.'
Tuesday, March 27, 2018
By Maurice Tomlinson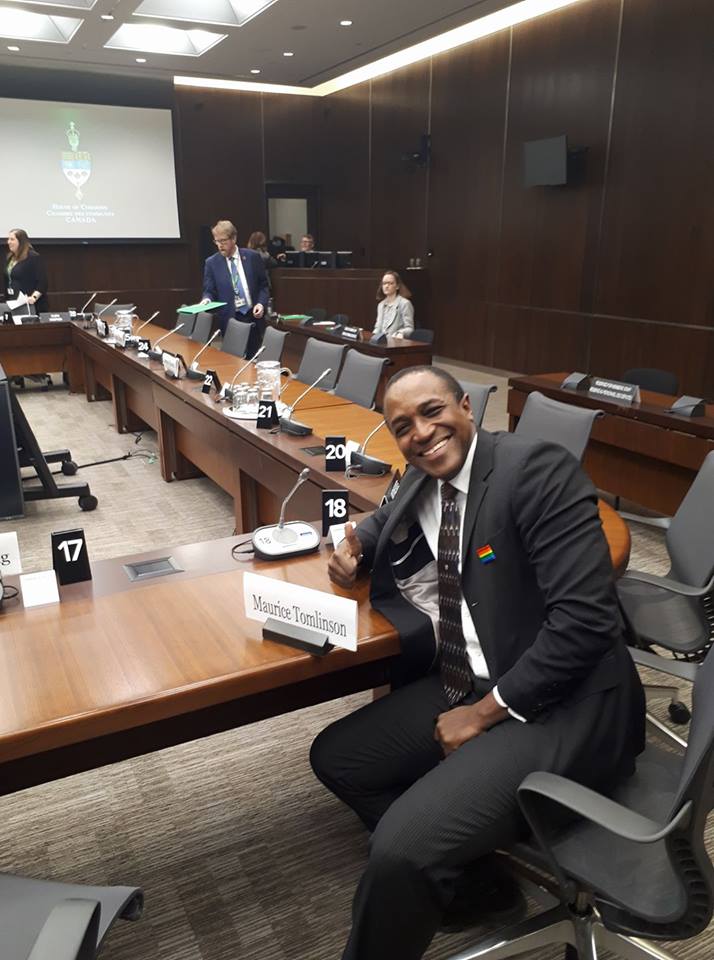 I am an immigrant to Canada and I lead the Canadian HIV/AIDS Legal Network's LGBTQI initiatives. I am privileged when compared to many other LGBT immigrants and refugees to this country. Coincidentally, tomorrow I will sit my Canadian citizenship test here in Ottawa.
As a gay Jamaican, the path to this momentous day was possible because of my Canadian marriage to my husband, Tom. While our marriage led to multiple death threats upon my return to Jamaica, forcing me to flee to Canada, I did not have to endure the challenges of an Immigration and Refugee Board [IRB] hearing, which for so many already traumatized individuals is dehumanizing and unjust.
Approximately 400 million LGBT persons live under the threat of criminal imprisonment, violence or even death. [Editor's note: Many sources cite that estimate, including parliamentarians in the United Kingdom. But Goldman Research and other industry analysts cite that same number for the total worldwide LGBT population.]
The IRB faces thousands of refugee claimants each year trying to escape persecution in their home country simply because of their sexual orientation, gender identity or gender expression. While strides have been made to improve the cultural sensitivity of IRB members, more could be done to enhance their cultural competence.
LGBT claimants report that the IRB still requires excessive evidence of self-identification. For example, in one case the IRB spontaneously asked to examine a claimant's cell phone for proof of communication on a gay relationship mobile application. In another case, social media pictures with opposite-sex individuals were seen as disproving a gay claimant's sexuality. These experiences are both humiliating and wrong-headed.
In countries that still criminalize non-heteronormative sexualities and gender expression, it is often too risky to self-identify, and having an opposite-sex partner is often a "mask" or perceived "cure" for homosexuality. IRB members have also requested police records as proof of homophobic attacks. However, LGBT people in many countries distrust the police. When they do report homophobic attacks, they can be implicated in illegal same-sex activity.
There is also the unfounded belief that Canada's LGBT refugee process is the easiest way to get asylum and is therefore being abused. There is an untrue notion that, "If you say you are gay, you get to stay." However, to date the IRB has only found three percent of LGBT refugee claims to lack credibility, so this is hardly an epidemic of abuse.
To ensure that IRB officers improve their cultural competency and fairly assess LGBT refugee claimants, we recommend:
Multi-day LGBT sensitivity training for IRB members engaging individuals from refugee source countries with lived experience;
Meaningful dialogue between the IRB and agencies and lawyers serving LGBT refugees, to establish clearer guidelines and expectations; and
An opportunity for claimants/counsel to provide post-hearing feedback that can improve IRB members' questioning and not adversely affect claims.
Canada cannot and must not compound the worldwide discrimination against LGBTQI people, while simultaneously touting our human rights track record. The time is now for meaningful IRB reflection and reform.
Excerpts from Canadian HIV/AIDS Legal Network's written brief to the Standing Committee on Citizenship and Immigration:
The Canadian HIV/AIDS Legal Network ("Legal Network") is an internationally recognized leader in researching the impact of laws on groups affected by the HIV epidemic, including lesbian, gay, bisexual and transgender (LGBT) communities. The Legal Network is also a founding member and the current secretariat of the Dignity Network (DN), which is a network of organizations and individuals from across Canada working to encourage a stronger Canadian voice on human rights issues facing LGBT communities around the world. A major part of DN's work involves informing Canada's refugee policy so that it fairly treats LGBT persons who have to flee persecution in their home countries.
By some estimates, approximately 400 million LGBT persons live under the threat of criminal imprisonment or even death in their home country. [Those countries include the following:]
AFRICA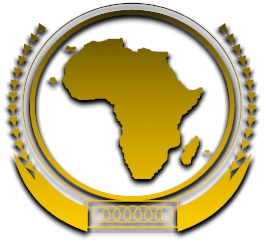 In Africa (the region of origin for many refugee claimants in Canada), cases of violence and stigma persist, despite the adoption of a resolution condemning violence against LBGT persons by all 54 member states of the African Commission on Human and Peoples' Rights three years ago.
In Tanzania, the government threatened to publish the names of known LGBT people in early 2017.
In Egypt, the police used online dating applications to identify, arrest and detain LGBT people.
In Tunisia, Cameroon, Egypt, Kenya [until this month's court ruling against anal exams], Lebanon, Turkmenistan, Uganda and Zambia, gay men are routinely forced to undergo anal examination as a means of gathering evidence for charges of same-sex conduct, despite the UN declaring it a form of torture.
The climate of homophobia—especially in the countries of Sudan, Somalia, Nigeria and Mauritania that retain the death penalty for same-sex conduct—makes social organizing all but impossible.
In Kampala, Uganda, the police raided a gay pride event in August 2016, taking 20 LGBT-identified individuals and human rights defenders into custody as a means of intimidation. The formal and informal persecution of LGBT persons remains unchallenged in most African countries, causing LGBT persons to not only hide their sexuality and gender expression, but flee to places like Canada when the situation becomes untenable.
WESTERN AND CENTRAL ASIA
In Western and Central Asia, many countries including Iran, Saudi Arabia, Yemen, Iraq, Afghanistan, Pakistan, Qatar, the UAE, Bangladesh, Bhutan, Pakistan, Sri Lanka and India either actively enforce the death penalty for same-sex offences or still criminalize same-sex conduct.  In a stunning symbolic global statement in 2016, India voted against the UN General Assembly resolution extending marriage benefits to same-sex couples working for the UN.
Pakistan is still a hostile climate for LGBT persons who risk sanctions from their family, societal isolation, legal problems and ever-present violence.
Some countries in this region incorporate various interpretations of Shari'a law into their legal systems, which punishes homosexuality—and even positive opinions about same-sex intimacy— by death, severe beatings or brutal prison sentences. LGBT refugees are particularly vulnerable in Iraq, Syria and Yemen where internal wars have displaced approximately 11 million people, with a further 40 million in need of humanitarian assistance. In ISIS/ISIL-controlled areas, LGBT persons are assaulted or murdered in the name of "moral cleansing". If internally displaced people are able to make it to safe camps, the security screening centres are known to be sites of serious abuse against LGBT persons.
CARIBBEAN
The Legal Network works closely with LGBT communities in the Caribbean and one of our Canadian partners in the Dignity Network is Rainbow Railroad. A significant number of refugees that the Rainbow Railroad assists come from the Caribbean. In the Caribbean, despite the landmark ruling in Belize striking down the criminalization of same-sex sexual acts in 2016, 10 other Anglo-Caribbean countries still refuse to follow suit.
Antigua's first murder for 2018 was a homophobic attack that left a father dead. It is not rare to see graphic photos in the Antiguan press about another homophobia-related attack.
In 2017, Dexter Pottinger, the "face" of Pride Jamaica 2016, was murdered in his home and although his neighbours admitted hearing his multiple cries for help and seeing his stolen car being driven away, they did not call the police. Friends discovered Dexter's body days later. This was the breaking point for Dexter's same-sex partner, who has recently been accepted as a refugee to Canada and was interviewed for this submission.
In Trinidad and Tobago, a young man was shot after an alleged homosexual relationship with the country's Chief Justice was made public; he is now seeking asylum in the UK.
In Barbados, a trans woman was savagely attacked and nearly killed by a former lodger wielding a meat cleaver and, despite knowing the perpetrator's whereabouts, the police allowed him to remain free for two days before pressure from local groups forced them to apprehend him.
The official anti-discriminatory stance of some Anglo-Caribbean governments is countered by the personal statements of many political and religious leaders.
In response to the Belize ruling, Evangelical Bishop Charlesworth Browne said that if homosexuality is legalized in Antigua, the country will suffer from God's wrath, just like Canada did during the 2016 Fort McMurray fires, which destroyed an entire town and forced 88,000 people to flee for their lives. In 2017, Prime Minister Gaston Browne responded to a comment on his public Facebook page saying, "Sir, you are behaving like an anti-man" (a homophobic slur). He would not apologize when called upon to do so by other politicians.