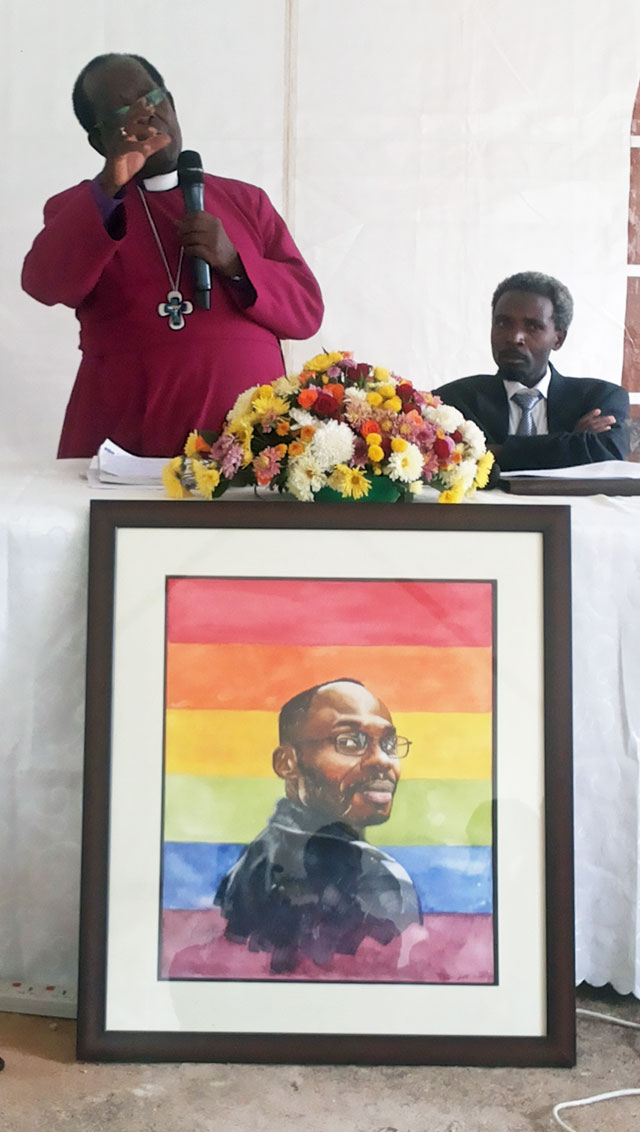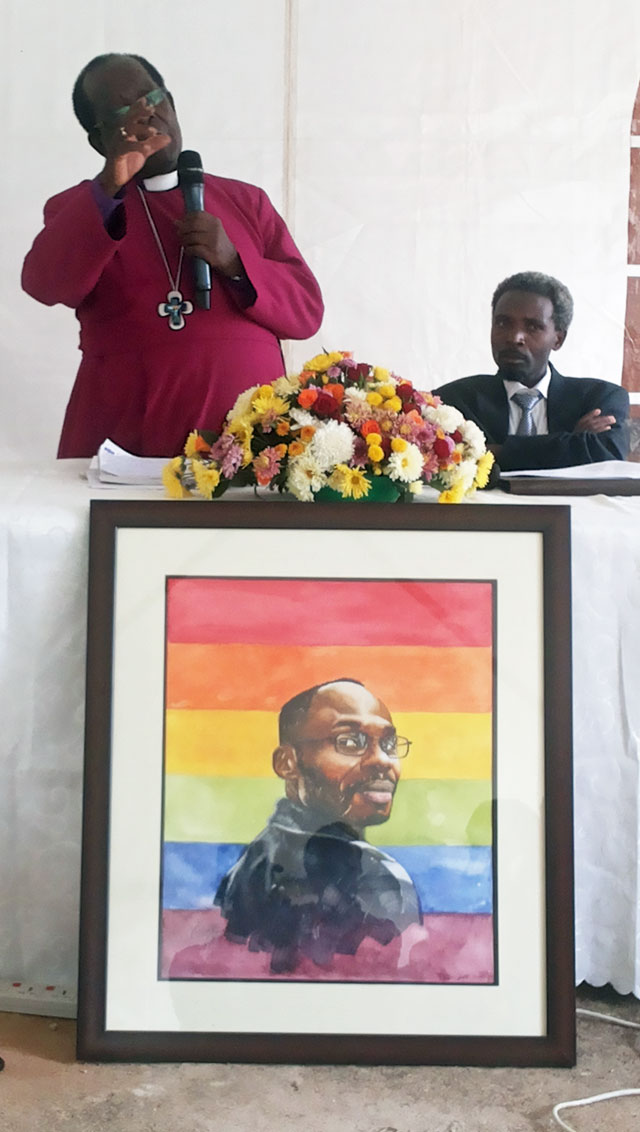 By Kikonyogo Kivumbi and Colin Stewart
Supporters of human rights for LGBTI people gathered today in Kampala, Uganda, to honor inspirational Ugandan activist David Kato on the fifth anniversary of his murder.
Kato was killed in his Kampala home in January 2011, a few weeks after helping to secure a court injunction against a Ugandan tabloid that had printed the names, photographs and addresses of gay Ugandans, including Kato, with the tagline "Hang them."
"David sacrificed himself serving the LGBTI community," said John (Long Jones) Wambere, Kato's friend and co-founder of the Kampala-based gay rights advocacy group, Spectrum Uganda Initiatives. As quoted in today's Guardian article about Kato, Wambere said:
"The impact David had on me after his death was even greater than when he was alive. He never believed in failing. He believed in the rule of law and seeking justice. He always encouraged me to stand firm and not bury my head in the ground. His death made me stronger."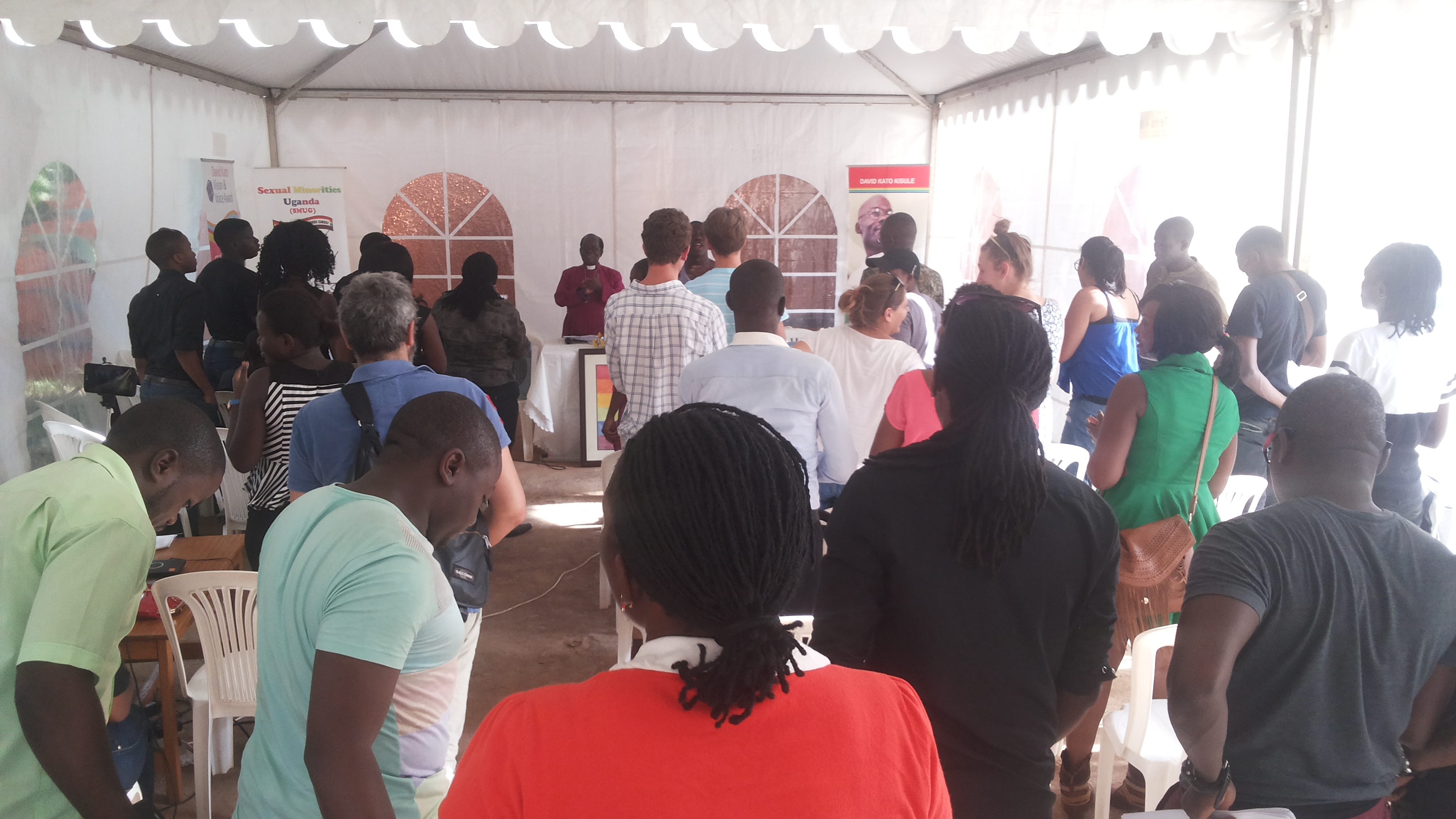 Wambere remains active in the struggle for LGBTI human rights, although he moved to the United States for safety in 2014 during the peak months of anti-LGBT violence that accompanied the enactment of Uganda's Anti-Homosexuality Act, which was later overturned in court.
Bishop Christopher Ssenyonjo led today's memorial service for Kato, which was sponsored by Sexual Minorities Uganda (SMUG).
Like Wambere and Kato, Ssenyonjo has suffered for advocating the recognition of the human rights of LGBTI people, which led him to speak up for Kato and to challenge a conservative preacher who was condemning Kato and all homosexuals at his funeral. The scene was captured in the film "Call Me Kuchu," which tells the story of  Kato's life and death.
Ssenyonjo was excommunicated by the Anglican Church of Uganda and denied his pension because he ministers to people without regard for their sexual orientation.
Ssenyonjo told today's gathering that David Kato stood for the truth. Many religious people encourage persecution of LGBTI people because of ignorance, the bishop said. "Ignorance is bigger than Satan, especially about human sexuality," he said.
God himself is the truth, Ssenyonjo said:
"The struggle continues but victory is on the side of the truth."
He encouraged LGBTI people to have children if they wanted to do so, such as through adoption, but cautioned the church not to demonize those who did not want to raise children.
Referring to Kato's death, the bishop said martyrdom is a gift from God, though he did not recommend it:
"Judge the circumstances and don't risk martyrdom.  Learn to sense the circumstances of the time."
Although progress has been made, the situation for LGBTI Ugandan remains dangerous, Ssenyonjo said.
Spectrum Uganda marked the anniversary of Kato's death with these words:
Today in memory is the 5th anniversary ever since our fallen comrade David Kato departed from our faces and ears, we still celebrate his life and achievements in our daily work.

David is not forgotten but rather within us, his legacy and ambitions were inherited and will forever be.

Rest in power, David Kato.
Recommended reading on the same topic:
---
Kikonyogo Kivumbi is the executive director of the Uganda Health and Science Press Association and the elected representative of LGBT people, sex workers, men who have sex with men (MSM) and intravenous drug users on the Global Fund's health policy panel for Uganda.
Related articles