Marlon James (Photo courtesy of mspmag.com)


"I knew I had to leave my home country — whether in a coffin or on a plane."
— Jamaica native Marlon James, winner of the 2015 Man Booker Prize for the best novel in English published in the U.K.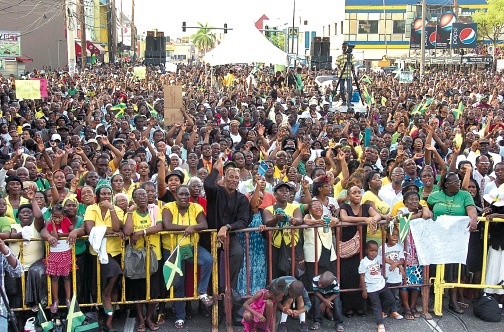 By Maurice Tomlinson
On Sept. 27, nearly 20,000 Jamaicans massed in Kingston to condemn Marlon James, and all other Jamaicans like him because of who we love.
On Oct. 13, Marlon won the world's second most prestigious prize for literature. Marlon is yet another Jamaican who has been forced to flee his homeland because of unchecked homophobia that the government does little to stop.
Read Marlon's story of flight for survival here — "From Jamaica to Minnesota to Myself" (New York Times):
"I was so convinced that my voice outed me as a fag that I had stopped speaking to people I didn't know. … I bought myself protection by cursing, locking my lisp behind gritted teeth, folding away my limp wrist and drawing 36-double-D girls for art class. I took a copy of Penthouse to school to score cool points, but the other boys called me 'batty boy' anyway — every day, five days a week."
And here — " 'They called me B$#%Y BOY, I knew I had to leave' – Marlon James chronicles life before coming out as a gay man" (Loop Jamaica):
"However, while the island celebrates with James on his historic day, the author says he was forced to leave the country because, as a gay man, he felt deeply out of place on an island that Time magazine once labelled 'The most homophobic place on Earth'. "
And here — "Gay author Marlon James wins Man Booker Prize 2015" (Pink News):
Marlon James celebrates receiving the Man Booker Prize (Photo courtesy of Pink News)

"It was very important to me that there were gay characters in the book – to reflect the gayness and hypocrisy in Jamaica. …"Simple things – you might want to walk down the street and hold somebody's hand one day.

"When you grow up in a homophobic country, you're sitting on a time bomb."
Related articles