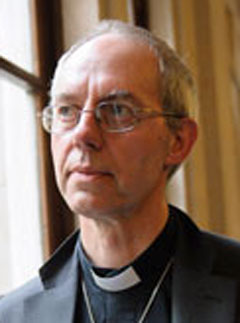 The 80-million-member Anglican Communion of churches that are descended from the Church of England has been divided for more than a decade into mutually hostile anti-gay and gay-friendly churches.
Now, according to the communion's spiritual leader, Archbishop of Canterbury Justin Welby, it's time to put an end to the pretense that the rigidly anti-homosexuality Anglican churches of Nigeria, Uganda, Kenya and elsewhere can get along in a unified communion with the inclusive Anglican churches in the United States, Canada and elsewhere.
Personally, I don't know whether I think this is an understandable recognition of reality or a terrible idea. Sure, Archbishop Welby thinks it's time to end a situation of "spending vast amounts of time trying to keep people in the boat and never actually rowing it anywhere," as The Guardian reports.
But, as my friend, activist Davis Mac-Iyalla says, "Where is the place of persecuted LGBT African Christians in all this?"
Are they abandoned? They mustn't be, even if the Anglican Communion accepts a de facto divorce/separation.
Related articles:
Anglican Church of Kenya conducts anti-gay purge (76crimes.com)
Kenya's Anglican church revokes priest's license, suspends four others, over gay sex allegations (Sept. 10, 2015, religionnews.com)
Petition to archbishops: End anti-gay purge in Kenya (76crimes.com)
Anglicans probe more gay priests (Sept. 8, 2015, Daily Nation)
Anglican Church suspends five clerics over homosexuality (Sept. 10, 2015, Standard Media)
Kenyan 'gay' priest facing expulsion from church (Sept. 6, 2015, Nairobi News)
ACK suspends four gay 'married with kids' priests (Sept. 10, 2015, Nairobi News)
U.S.-based church votes to support LGBTI Africans (July 3, 2015, 76crimes.com)