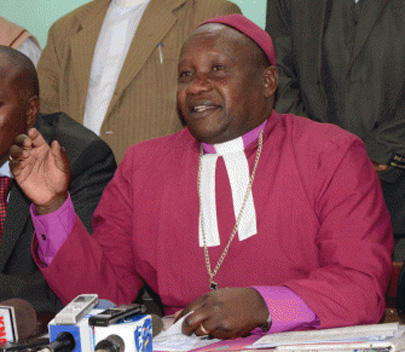 The Anglican Church of Kenya has suspended five priests suspected of engaging in homosexual activity.
One of the five is a senior clergyman at St. Andrew's Anglican Parish in Nyeri, central Kenya. Others are from the towns of Othaya, Karatina and Murang'a in the Mt. Kenya West Diocese.
A Christian organization seeking acceptance of LGBTI people in the church criticized the suspensions.
"From where I stand, it is unchristian to discriminate against others in church. We have the freedom of worship regardless of our sexual orientation. Where is God's love in all this?" said the Rev. Kenneth Changes, Nairobi-based leader of the organization. "The church is trying to divide us on sexual orientation, which is not acceptable at all."
The organization will soon meet to discuss the suspension and prepare an appeal, accompanied by letters to Mt. Kenya West diocesan Bishop Joseph Kagunda and Kenyan Archbishop Eliud Wabukala, Changes said.
Kagunda announced the suspensions today. He said the clergymen were investigated and found guilty by an appointed tribunal. They will not be allowed to serve in any Anglican Church in the country, he said.
He said he withheld their names because they still have a right of appeal and to repent and reform.  In addition, the Bible requires that disagreements and discipline be resolved internally.
"It has been our desire to resolve this issue as a church through the established structures without blowing the whistle. However, it must be noted that the Anglican Church of Kenya and particularly the Diocese is totally against any kind of gay practice and marriage," he said, according to Nairobi News.
The Church of Kenya, along with the Anglican churches of Uganda and Nigeria, has been a fierce opponent of inclusive Anglican churches in the United States and Canada that welcome LGBTI members and clergy.
Bishop Kagunda said the Church of Kenya is under pressure to allow same-sex marriages, but will not relent because such rituals would not please God.
"Anyone who feels that homosexuals and gay marriages should be allowed in Church should find a different denomination because the behaviour does not reflect the institution of marriage started by God," he told the Daily Nation.
If the five priests do not appeal, they will be excommunicated, Changes said.
Kagunda said the church started its investigation of the five clergymen after "a young man came seeking prayers for deliverance from a guilty conscience after he was lured into participating in homosexuality activities by one of our senior clergy."
According to the Daily Nation, Kagunda said the five priests are married with children and have taken part in same-sex activity without their wives' knowledge.
Related articles:
Kenya's Anglican church revokes priest's license, suspends four others, over gay sex allegations (Sept. 10, 2015, religionnews.com)
Anglicans probe more gay priests (Sept. 8, 2015, Daily Nation)
Anglican Church suspends five clerics over homosexuality (Sept. 10, 2015, Standard Media)
Kenyan 'gay' priest facing expulsion from church (Sept. 6, 2015, Nairobi News)
ACK suspends four gay 'married with kids' priests (Sept. 10, 2015, Nairobi News)
Obama in Kenya: 'Treat people equally under the law' (July 25, 2015, 76crimes.com)
Kenya buzzing with anti-gay worries as it awaits Obama's visit (July 21, 2015, 76crimes.com)
U.S.-based church votes to support LGBTI Africans (July 3, 2015, 76crimes.com)