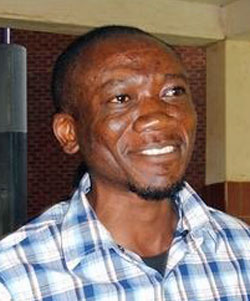 AIDS fighter Paul Kasonkomona can finally rest easy, more than two years after the government of Zambia arrested him for publicly suggesting repeal of the nation's anti-gay law.
He was acquitted last year of the charge that his televised comment should be punished as  "soliciting for immoral purposes."  The government appealed the acquittal, but today the High Court confirmed his innocence.
Kasonkomona was arrested in April 2013 immediately after appearing on local Muvi TV, and was faced with the charge that his appeal for reform was a form of "soliciting for immoral purposes in a public place."
He and other activists say that anti-gay laws lead to increased levels of HIV and AIDS by making LGBT people fearful of acknowledging their sexual orientation, even to a doctor.
Zambian law calls for a prison sentence of from 15 years to life for anyone convicted of having "carnal knowledge of any person against the order of nature," including permitting "a male person to have carnal knowledge of him or her against the order of nature."
Kasonkomona was arrested on April 7, 2013, detained until his release on bail on April 11, and faced court proceedings that started in May 2013.  His acquittal came in February 2014, followed by the High Court ruling in his favor today.
The Southern Africa Litigation Centre (SALC), which supported Kasonkomona's defense, called today's ruling  "a victory for freedom of expression in Zambia."
After Kasonkomona's arrest, Zambia's then vice president, Guy Scott, admitted that the arrest was politically motivated. He said in an interview: "The problem with this guy going on television was that we had to do something because if we had done absolutely nothing we would have got a bollocking from all these evangelical churches plus damn idiots. On the other hand, we didn't want to give him a particularly hard ride."
Kasonkomona's arrest came during a wave of homophobia that began with a news article claiming that four gay couples had tried to register themselves as married in March 2013.
Soon afterwards, police called on Zambian citizens to report suspected homosexuals.  Several human rights activists went into hiding to avoid arrest. Some gay couples were arrested, but eventually were released.
Kasonkomona, who is often described incorrectly as a gay-rights activist, has focused his work primarily on human rights in general and on AIDS prevention in particular.  He currently works as national coordinator for Engender Rights-Zambia.
In its news release, SALC said:
ZAMBIA HIGH COURT CONFIRMS ACQUITTAL OF HIV ACTIVIST, PAUL KASONKOMONA
Lusaka, 15 May 2015 – Today, Justice Judy Mulongoti confirmed the 2014 ruling of His Worship Lameck Ng'ambi in which he acquitted human rights activist, Paul Kasonkomona.
In April 2013, Kasonkomona was arrested after he appeared on a MuviTV programme where he spoke about the need to recognise the rights of vulnerable groups such as LGBT persons and sex workers in order to comprehensively address the HIV pandemic. Kasonkomona was charged under section 178(g) of the Penal Code with the idle and disorderly offence of soliciting in a public place for immoral purposes. This offence dates back to the English Vagrancy Act of 1898 and had never before been used to curb the right to freedom of expression.
Kasonkomona's trial started in October 2013. On 25 February 2014, after the close of the prosecution's case, Magistrate Ng'ambi ruled that the prosecution had not made out a prima facie case against the accused and acquitted Kasonkomona. The State appealed this ruling. In its submissions on appeal, the State argued that it was justifiable to limit the right to freedom of expression where persons expressed their views on the rights of LGBT persons. Justice Mulongoti confirmed the 2014 ruling that the State did not present sufficient evidence on all the elements of the offence.
"The judgment of the High Court is important because it confirms that it is not unlawful to lobby for law and policy reform and for the protection of the rights of marginalised groups," says Anneke Meerkotter, from SALC. "It in unacceptable that the State doggedly pursued criminal prosecution of a human rights activist when they never had any evidential basis for such persecution.The outcome of this case is a victory for freedom of expression in Zambia."
"The judgment is a great relief. This matter took more than two years to pass through the courts, and has had a chilling effect on freedom of speech in Zambia. With the judgment, we can finally move forward and work towards firmly establishing Zambia as a country in which democratic values such as freedom of expression and the tolerance of diverse opinions can thrive," says Paul Kasonkomona.
Kasonkomona was represented by Sunday Nkonde SC from SBN Legal Practitioners and supported by SALC.
Related articles