In this RGOD2 column, which first appeared in the San Diego Gay & Lesbian News, the Rev. Canon Albert Ogle discusses the annual Human Rights Day, annually December 10 and building coalitions of shared values.
The explosion of events on Dec. 10 to mark Human Rights Day is quite overwhelming. With all the LGBT activists from around the world coming to New York this coming week, who on earth is "minding the shops at home?"
Events will be impressive with memorable testimonies, and even greater photo opportunities. But are we largely speaking to each other, to like-minded people, while most of the world has turned off our rainbow channel? The money we will all spend on observing Human Rights Day could be better spent on funding several key groups that are struggling to have deeper dialogues with organizations and leaders who are leading the anti-LGBT movements in many of the countries we read about.
We just sent a couple of hundred bucks to Uganda last month so they could have a dialogue with 30 Catholic clergy and leaders. It was a success, and hearts and minds were changed so more people could access more health services. I know more could be done to help grassroots activists and service providers do more on the ground if they stopped having conferences in expensive hotels in cities like Kampala and funded local dialogues and enterprises like the Catholic dialogues. But these kinds of meetings are just not SEXY and don't make the headlines, so why bother?
"Preach the Gospel at all times; use words if you have to" (St. Francis)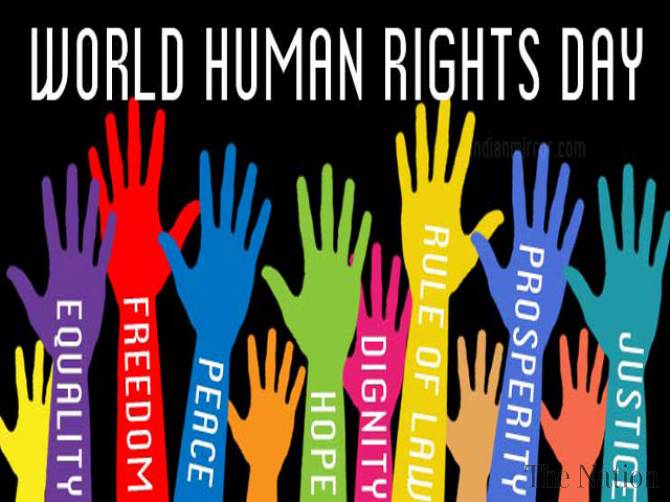 Part of my concern about the message being sent out on Dec. 10 is full of inconsistencies. How come LGBT organizations who want to highlight LGBT human rights violations often do so without any significant connection to even worse human rights violations to majority populations, like women or children?
Lester Feder's recent article in Buzzfeed hits the nail on the head when he described the impact a lot of western LGBT organizations had on the human rights atrocities in the Gambia.
Just because a few LGBT people were recently arrested, all hell broke loose, and Lester's comment about where have we been for the last 20 years, is an important reality check about our selective activism and narrow focus on LGBT issues to the exclusion of others. This selective activism will, over the long term, make it more difficult for other legitimate civil rights issues to move forward in many countries and will cause a resource war over who gets shrinking funding and which causes will not. It will also cause a "divide and rule" culture that I have certainly experienced in Uganda, even among organizations I thought were our partners.
One example in the past year is an organization known ironically as MARPS Network, who we helped to get some funding for "Most At Risk Populations" from the Arcus Foundation. Once the $50,000 was received, they distanced themselves from the very people and organizations they had conned into convincing to support them. The Anti-Homosexuality Bill created a spirit of spying and mistrust even within the LGBT and ally movement, and Arcus continued to fund MARPS Network to my surprise and shock. Divide and rule is an effective principle for governments, as it is for LGBT organizations and their funders. But, busy and engaged and globe-trotting as we all are, this train to equality is not moving.
If the hole is getting deeper, stop digging
The "human rights only" approach to LGBT issues in countries like Uganda and elsewhere has simply not worked and the legal and popular pushback from faith leaders and politicians has now led to a significant challenge to the international agreements on human rights in general.
Any significant reflection on the past five-year trajectory that was illuminated by Secretary Hillary Clinton's speech in December 2011 where she outlined the U.S.'s new and ill-prepared policy of "Gay Rights are Human Rights" has little to celebrate this day for the people of the Global South. Clinton's noble principles were received in the Global North with applause and with the election looming, more LGBT votes for Obama.
Upon reflection, our partners in the Global South (who were not consulted on any of these strategies and met with even greater and more organized opposition within their own countries) and the U.S. government and western partners and donors also failed to give them the resources they needed to meet the tsunami of hate that has followed. Our government gives a billion dollars a year to two significant religious organizations that are anti-gay and have extraordinary influence in all of the countries where it is illegal. Instead of giving a fraction of that money to gay-inclusive organizations in the Global South, the LGBT movement (in partnership with USAID) is having to raise a few million dollars annually for a Global Equality Fund that is seen as a success, but we have yet again isolated ourselves from the mainstream source of American aid and policy. This is not something to celebrate.
We give $250 million a year to World Vision, which recently denied equal domestic partner benefits to its loyal LGBT staff, while we congratulate ourselves for raising a couple of million bucks from the gay-friendly private sector, and this is seen as a positive thing? As an American taxpayer, I am horrified that we are supporting organizations that deny my rights in this country and have even greater influence abroad to deny the rights of millions of LGBT people, and we pay them to do this!
Meanwhile, my LGBT international efforts must be funded privately because a lot of government money is earmarked for anti-gay organizations that continue to have a lot of clout in Washington? Is this yet another example of the failure of this Administration to provide the resources needed for the rhetoric it actually still sincerely believes in? However, none of these blind spots will be acknowledged anywhere on the Eastern seaboard on Dec. 10.
The sad reality of this schizophrenic foreign policy is that Secretary Clinton's message was heard, not from a place of solidarity with the poor, neglected and most marginalized in many countries where homosexuality and gender equality have legal sanctions, but was seen as advocating new and special rights for behaviors that are still seen as taboo and associated with western decadence.
The train to equality in many of these countries has been running on this one rail for the past five years and it will either grind to a standstill or fall over completely unless a parallel track can be laid and secure its movement forward. This parallel track needs to focus on the delivery of services, the right to equal access to education, health and business opportunities, and should focus more on economic issues rather than sex. It needs to be tempered with more discussions with cultural and religious leaders who differ from us, and if we spent more money on taking to them instead of talking endlessly to one another or the State Department or the UN, our train might actually find itself running on common ground where we can partner with others who may disagree with us about gay rights, but would work with us on these access issues. The train cannot get much further without coupling our little LGBT carriages to the much more populated carriages of women and children who suffer and live in worse conditions than a lot of LGBT people I know, even in places like Uganda or Cameroon.
If we had been consistent in talking about the violations of human rights in the Gambia over the past 20 years, as Lester suggests, we might have more sympathy and allies that we do in that fascist hellhole. I have visited there and personally experienced some of the effects of dictatorial rule and corruption. It is a scary place for everyone, not just LGBT people. Multiply Lester's observation 80 times more and we realize there is a lot more education and coalition building needed if LGBT people will have any future in any of these places.If half the population of Africa and the world experiences inequality simply for being wives, mothers and sisters, LGBT people will never see it either.
Homophobia is rooted in sexism and until women and girls share in more human rights and equal access, LGBT people will continue to live in sexual apartheid and provide a convenient distraction to the deeper work of human liberation.
Divide and rule
When you have a well-educated religious leader like Justin Welby, Archbishop of Canterbury, who spoke over the graves of Sudanese Christians a few months ago by claiming that they were being murdered because some of us want gay marriage in others parts of the world, the international community has already started on that slippery road.
On his first ever visit to Africa, he should have condemned all forms of violence, including the murder of innocent Christian Sudanese and LGBT Africans, but suddenly we were pitted against each other. I completely disagree with what he did and wrote to his office to provide more information to him and to make sure he would never say anything like that again. However, the silence from his important office was simply another indication that the hard work of coalition building to defeat poverty, ignorance and violence is still in its infancy. Even the Church of England is failing desperately to make it happen and, like our former well-meaning Secretary of State, our leaders are making things worse for the people on the ground. They also think, they are saying the right things, as we all will do on Wednesday.
The disappearing heroes
I have seen the movies "Call Me Kuchu" and "God Loves Uganda" many times and the films are a kind of iconic photograph of where this movement found itself about three years ago. Things have gotten much worse in Uganda and I see many of the leaders and characters in the films moving on or leaving the country completely.
Straight allies like Maxensia Nakibuuka and other emerging young activists will be left to provide the basic and necessary services the indigenous community will need and the question for me today is this: What are we doing to support and build the coalitions needed by the time all of the activists in those two films are gone, retired or burned out? In three years' time, almost all of the people representing the LGBT movement in these two films will no longer be living in Uganda and who represented this brave courageous era. Who will carry this torch? There will be an LGBT movement for sure, but we cannot just keep talking to each other at UN events and cocktail parties and bringing out the same old faces and expect this train to keep moving forward.
Look around and ask yourself the question: What are we doing here, how much is this costing and imagine what I could do with this money at home to employ some LGBT people or give them healthcare? How are we preparing the next generation of activists and ensure the lessons learned in the past five years will not be so narrowly focussed when we interpret the meaning of "human rights" and its parallel rail of "shared values"?
RGOD2 looks at faith and religion from an LGBT point of view and is written by the Rev. Canon Albert Ogle, Vicar of St. Peter's, Lithgow in Millbrook, New York. Ogle is known around the world for his work in support of LGBT rights and HIV-prevention efforts. He is president of San Diego-based St. Paul's Foundation for International Reconciliation. Donations to the foundation can be made by clicking HERE.
Related articles