Christian Today reports: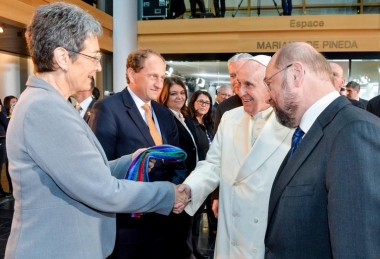 A top member of the European Parliament [on Nov. 25] handed over a symbolic gift to Pope Francis – a rainbow-patterned scarf.
Ulrike Lunacek, head of delegation of the Austrian Green party, said she offered the Pope the present "for gays, lesbians, and for peace" during the European Parliament meeting in Strasbourg [the official seat of the European Parliament in eastern France.] 
Lunacek's remarked to him, as reported by The Independent:
"I have to admit that I was a bit disappointed about the fact that you didn't address any of the other urgent things inside the church and outside.

"Women's issues, women's rights inside the church. Today is the International Day [for the Elimination of] Violence Against Women. I think you should have mentioned something like that.

"It would be great if you had spoken up in favour of same-sex marriage or also for the use of contraceptives, for example, especially in times of HIV and other situations.

"But I didn't hear that and that was a bit disappointing."
Christian Today reported further:
Lunacek is co-president of the European Parliament Intergroup on LGBT Rights, and is the first openly lesbian politician in the Australian Parliament. She was reportedly attacked with butyric acid as she was giving an interview during the annual Rainbow Parade in Vienna earlier this year. …
A photo from the moment Lunacek offered the scarf to the Pope appears to show Francis graciously accepting the gift. At the Synod on the Family last month, there was speculation that the Catholic Church was softening its approach to homosexuality and divorce. A mid-term report issued part way through the conference appeared to signal that traditional teaching was being relaxed, which caused outrage among conservatives.
However, though the Pope has stressed the importance of a more caring and pastoral approach to gay people, he said … last week that … "children have a right to grow up in a family with a father and a mother capable of creating a suitable environment for the child's development and emotional maturity."
…The Pontiff was in Strasbourg [Nov. 25] on a short, four-hour trip to speak on migration. As well as speaking up for the rights of immigrants, he used his address to condemn "throwaway culture and uncontrolled consumerism." which he said was causing European leaders to exploit people.
Related articles