Ugandan President Yoweri Museveni seems to have outsmarted U.S. gay rights activists by arranging for a temporary lull in his country's war on LGBT people, says the Rev. Dr. Kapya Kaoma, the Zambian native who analyzes African LGBT controversies for Political Research Associates in Massachusetts.
On Aug. 5, Kaoma wrote, "Now, at the U.S. Africa Leaders Summit, he is about to meet with the very people he has previously referred to as the 'homosexual lobby'—and with the law out of play, he can once again feign innocence, alongside other African presidents who are busy imprisoning LGBTI persons using colonial anti-sodomy laws."
One reward for Museveni's craftiness was the photo of him (above) with President Barack Obama and Michelle Obama, taken during this week's U.S.-Africa summit in Washington, D.C.

The South African gay lifestyle website Mamba Online stated that, by receiving Museveni, Obama "ignored his own sanctions, announced in June, restricting travel to the U.S. for Ugandans associated with LGBT human rights violations." [When the United States announced the travel ban, it did not list those who would be affected.]
In its article "Anger as Museveni & Obamas pose in White House," Mamba Online reported:
Melanie Nathan (Photo courtesy of Pride Shelter Trust)


"American activist Melanie Nathan expressed her outrage at Obama socialising with Museveni in the White House on her blog, describing it as a 'betrayal.'
" 'President Obama – I have been a huge supporter of yours. Where are your principles? – You and the First Lady have now welcomed this gay hating corrupt dictator into OUR White House!' she wrote.
"Nathan commented that the US Embassy that posted the picture, was the same embassy that denied seven LGBT Ugandans visas to the US for them to be able march with her when she was a Grand Marshal in the San Francisco Pride Parade in June.
" 'I am angry and as a lesbian American feel betrayed! There is no justification for this whatsoever. You have lost my support! I fought hard for you President Obama and I stuck up for you – often – not anymore! This is not a mistake, it's a slap across the face,' she added."
Kaoma urged, "Rather than give these African leaders a pass at the Summit we must support African human rights leaders who demand that colonial-era sodomy laws (and their neocolonial expansions supported by U.S. conservatives) be struck down. If we miss this opportunity, we will have allowed Museveni to divert us from our commitment to justice for African LGBTI persons—a dream that will only be realized when sexual minorities are decriminalized."
In his article, "Museveni Plays Politics with Human Rights," Kaoma wrote about the Aug. 1 Ugandan court decision that overturned the Anti-Homosexuality Act:
"The timing of the court's ruling should be viewed with suspicion. Some analysts claim that Museveni forced the courts to rush this ruling in time for his U.S. trip.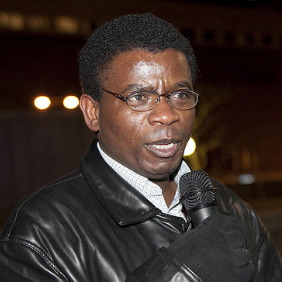 "Quite probably, Friday's ruling is Museveni's attempt to silence the international outrage that has been directed against him and his country since he signed the AHA into law in February. Beyond that, it is an attempt to clear his path to yet another term as president. (He has already been in power for 28 years.) Since Uganda's opposition candidates have condemned the law, this ruling works to the advantage of Museveni at home as well as internationally, allowing embargoed aid from the World Bank, the U.S., and other Western nations (approximately $118 million in total) to resume its flow into the country's coffers. …
"The process of dismantling these systems of oppression is tedious and difficult, and it requires perseverance, courage, creativity, sacrifice, and steadfast commitment. To endure the journey, we need to pause periodically to celebrate our progress, and when a panel of five judges unanimously nullifies a law that violates the human rights of LGBTI persons—even if the ruling is based more on technicalities than true justice—we are assuredly seeing progress. But after we have paused, momentarily allowing a relieved exhale to quietly escape our lungs, we must inhale once more and cry out even louder than before—tirelessly working for a durable and lasting justice."
Kaoma is an Episcopal priest and senior religion and sexuality researcher at Political Research Associates. He was the original researcher to expose the ties between U.S. right-wing evangelicals and anti-LGBTQ legislation in Uganda, and has testified before Congress and the United Nations. He is the author of "Globalizing the Culture Wars" and "Colonizing African Values," and appears as an expert voice in the 2013 documentary "God Loves Uganda." He received his doctorate in Ethics from Boston University.
For more information, read Kaoma's full article, "Museveni Plays Politics with Human Rights."
Related articles