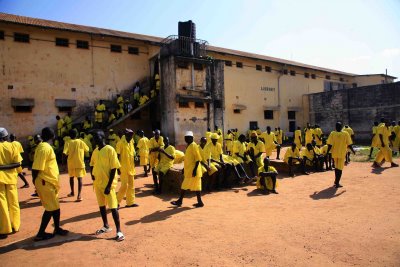 A gay man and transgender woman are scheduled to go on trial in Uganda starting May 7 in a case that threatens them with the potential of life imprisonment for sexual activity "against the order of nature."
If the trial proceeds, it will be the first case to go to trial in Uganda in the  recent history of Section 145 of the Penal Code for consensual same-sex relations, according to the LGBT advocacy group Sexual Minorities Uganda (SMUG).
All previous cases have either been dismissed for want of prosecution or have remained pending, SMUG said.
Gay businessman Kim Mukisa, 24, and Jackson Mukasa,  19, a transgender woman are not facing charges under the newly enacted Anti-Homosexuality Act of 2014, which also provides for a life sentence for same-sex sexual activity.  But up until the passage in December of the Anti-Homosexuality Bill, the former law was rarely enforced.
The advocacy group Human Rights Awareness and Promotion Forum — Uganda (HRAPF) has provided lawyers for several LGBT defendants, including Mukisa and Mukasa.
HRAPF rescued Mukisa from a mob that was attacking him on Jan. 27, but he was  then arrested by the police. Mukasa was arrested the next day.
During court proceedings, the defense team will challenge the constitutionality of the Penal Code provisions, "if strategically appropriate," SMUG said.
After failing to meet the strict  conditions set for their bail, the defendants remain in Luzira Prison while awaiting trial, said Adrian Jjuuko, executive director of HRAPF.
Related articles