A joint delegation of African and American activists is nearing the end of a busy week of pleading for tolerance, justice and improved health care for LGBT people in homophobic Cameroon.
Health-care professionals, the staff of the Papal Nuncio, LGBT prisoners and diplomats are among those who heard the message of the visiting activists, who were invited by the local group Camfaids (the Cameroonian Foundation for AIDS), which works for LGBT rights and against AIDS.
In an exhausting schedule full of meetings and visits, the activists have reached many key people in Cameroon with their message that the nation's gay-bashing must stop, both for the sake of human rights and as a strategy for curbing the spread of AIDS.
Their schedule has been so busy that there has been little time left for telling the rest of the world about their accomplishments.  Much of that task will be tackled after the trip ends tomorrow. In the meantime, here's a quick summary:
African Conference on Sexual Health and Rights
Two members of the activist delegation made presentations at the conference:
Maxensia Nakibuuka (seated), leader of a gay/straight health coalition in Uganda, chats after her presentation at the Conference on Sexual Health and Rights. (Photo courtesy of Maxensia Nakibuuka)

Maxensia Nakibuuka, an HIV-positive heterosexual woman from Uganda,  discussed her work creating a gay/straight alliance of home-based caregivers, establishing a health clinic that welcomes LGBT people and sex workers. and her upcoming work as newly appointed leader of the HIV outreach effort by the Catholic Church in Kampala, Uganda. As delegation member and journalist Andy Kopsa described Nakibuuka, "She is shaking things up. She is LGBT-inclusive and is on a mission to end the stigma that proves a deadly barrier to medical treatment.  This means expanding home-based care to reach the most marginalized and most at risk populations: not exclusively, but inclusively meaning LGBT, women and girls are treated equally as any other HIV/AIDS patient. No stigma."

Work with the World Bank to combat discrimination against LGBT people was one of the topics presented at the conference in Yaounde. Shown here is a World Bank panel on the subject that included Albert Ogle (second from left), Victor Mukasa of Uganda, MacDonald Sembereka of Malawi, and Maxensia Nakibuuka of Uganda.

The Rev. Canon Albert Ogle, an Episcopal priest from Ireland and the United States, discussed his work as founder and president of the St. Paul's Foundation for International Reconciliation, which works for LGBT rights and against AIDS by empowering grassroots organizations in many countries.  The St. Paul's Foundation partnered with Camfaids to organize  the trip to Cameroon. At the conference, Ogle spoke about efforts to improve health of lesbians, transgender people and women in general by working with larger organizations — the World Bank, the Catholic Church and World Vision.
Meeting at the Ministry of Justice
More later.
Visit to a drop-in health clinic for sex workers
More later.
Meeting with the staff of Papal Nuncio Piero Pioppo
A goal of the meeting was to ask the Catholic Church to renounce the anti-gay statements made by former Archbishop Simon-Victor Tonyé Bakot. More later.
Meeting at the U.S. Embassy
The one-and-a-half-hour meeting with U.S. Embassy staff included Ogle, Nakibuuka, Kopsa and a local LGBT rights activist from Camfaids.
After the meeting, Kopsa said that the "productive conversation" during that meeting left her hopeful. She added:
"Cameroon is no Uganda.  Cameroon and Francophone Africa (I am sure and more sure after our meeting) is the new front for LGBT rights on the human rights stage.  Uganda – for all its horrible issues – is light years ahead of the civil society here in Cameroon.

"But the first step is awareness that one needs help – the LGBT community needs help – and not just against the inhumane anti-homosexuality law that has 16 people imprisoned for being who they are – but to organize, collaborate and grow capacity and learning."
Meeting with local LGBT rights and anti-AIDS advocates
Several LGBT rights organizations took steps toward forming a coalition last summer after the murder of Camfaids co-founder Eric Lembembe, but that effort faltered. More later.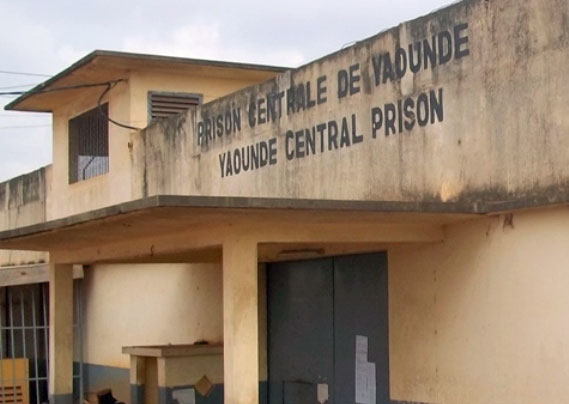 Yaounde Central Prison
The delegation met with six out of about 20 prisoners at Yaounde Central Prison who are serving sentences of up to five years for violating Cameroon's anti-homosexuality law or who are awaiting trial on such charges.
Kopsa wrote:
"Of the six, two have been 'condemned.' This is their word, 'condemned.' Their trials had taken place and sentences handed down. One man is to serve two years, the woman is in for five.

"The others – those not 'condemned' — still sit in prison. One has been in Yaounde for 7 months, one for 4 months, the other for 16 months. None has been tried and all are being held (counter to the Cameroonian constitution) without official charges. They are in prison for 'suspected homosexuality.'
Next stop: Douala
After the visit to the prison, members of the group traveled to the coastal city of Douala for more meetings and more advocacy. Look for more information on that part of the trip later.
Members of the delegation traveled to Cameroon on a shoestring budget, hoping for additional contributions that will allow the project to break even. Contributions are still being accepted through the Indiegogo website.
This article was revised Feb. 12 to indicate that the group met with the staff of the Papal Nuncio, not the Nuncio himself, who was out of the country.
Related articles