LGBT Nigerian: 'Religious leaders have abandoned us'
[BREAKING NEWS: Davis Mac-Iyalla reports that both the archbishops of Canterbury and York have now spoken out about Nigeria's harsh new anti-gay law. See update.]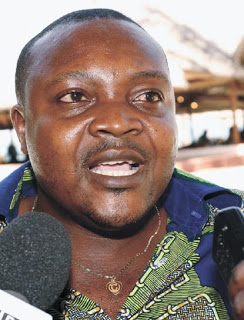 Nigeria native and gay rights activist Davis Mac-Iyalla cares deeply about the silence of leaders of the Anglican Communion about Nigeria's crackdown on LGBT people and its harsh new anti-gay law.  He feels abandoned, as he explains in his commentary below.
Mac-Iyalla is seeking signatures on an online petition to Justin Welby, the Archbishop of Canterbury, and John Sentamu, the Archbishop of York, urging them to speak out against the Nigerian law.
He wishes that they would take a stance like that of one Episcopal Church leader, the Rev. Gay Clark Jennings, whose commentary "The church's role in, and against, homophobia across Africa" is excerpted below Mac-Iyalla's comments here:
By DAVIS MAC-IYALLA

"People are asking me what the Archbishop of Canterbury's support would achieve. Justin's voice would give Nigerian LGBT Christians and other people hope that there is a bishop or man of God who cares. His voice would give hope to those hopeless in Nigeria. He has not yet extended pastoral empathy to those in Nigeria who still call themselves Anglicans with hope that they will not be abandoned.

Justin Welby, Archbishop of Canterbury

"If my own local parish in London did not feel so much like home to me I would now have no choice but to say goodbye to the Church of England.

"Like my brothers and sisters in Nigeria, I feel left alone. With the anti-gay law now in place, the support group Changing Attitude Nigeria has been outlawed. A word of comfort would have calmed their pains. I cry because the church of Nigeria has won and we lose. LGBT Nigerians have no place in the church."

About Changing Attitude Nigeria

"Changing Attitude Nigeria is an open LGBT affirmation and inclusion support group. We have become direct recipients of the anti-gay law. Any meeting and gathering under our name can attract up to 10-14 years imprisonment.

"We are angry. That's why the silence of the archbishops feels like they don't care about us. The position of the Nigeria Anglican bishops is not new to us, but the silence of the leaders of the Anglican Communion and the mother church [the Church of England] is heart-breaking. … Western religious leaders have abandoned us."
Changing Attitude estimates that there are more than 700,000 members of the Anglican Church of Nigeria.
As of the publication of this article, Mac-Iyalla's petition was just a few signatures short of the 1,600 goal that he set for it.
Some religious leaders in the Anglican Communion and in other denominations have taken positions on the law, but mostly those who have spoken out have been in Nigeria and in favor of it.
Nicholas Okoh, primate of the Church of Nigeria, "commended President Goodluck Jonathan for his courage in signing the anti-gay bill into law which has continued to generate reactions in some quarters in Nigeria and beyond. According to him, those not in support of the bill are like the biblical duo Adam and Eve, who questioned God for asking them not to eat the fruits from the Garden of Eden," Channels Television in Nigeria reported.  Okoh said that disobeying God's instruction to allow marriage only between men and women would bring disaster.
One leader in the Anglican Communion who has spoken against the Nigerian law is the Rev. Gay Clark Jennings, president of the House of Deputies of the Episcopal Church in the United States.  In a commentary, Jennings wrote:
The Rev. Gay Clark Jennings, president of the House of Deputies of the Episcopal Church (Photo by Mort Tucker Photography, courtesy of Religion News Service)

"The Anglican primates of Uganda and Nigeria enthusiastically support anti-gay legislation in their countries. I, like them, am a member of the Anglican Communion, a worldwide body of more than 80 million Christians. I am troubled and saddened that fellow Anglicans could support legislation that fails to recognize that every human being is created in the image of God.

"Western Christians cannot ignore the homophobia of these church officials or the peril in which they place Ugandan and Nigerian LGBT people. The legacy of colonial-era Christian missionaries and infusions of cash from modern-day American conservatives have helped to create it. …

"Western missionaries also bequeathed to Africans a literal understanding of how to read [the Bible]. Today, that literalism continues to encourage fundamentalist interpretation of difficult passages like the story of Sodom and Gomorrah. Although many scholars in Africa now understand that these passages are properly read in context of the ancient cultures that produced them, people can still fuel grass-roots homophobia by appropriating a handful of biblical texts that seem to vilify gay people.

"As a result, Christians who publicly advocate for more historically accurate biblical interpretations and more generous treatment of LGBT people can find themselves jobless, homeless and in grave danger. …

Howard F. Ahmanson Jr (Photo courtesy of O.C.Weekly)

"The voices of strident homophobic leaders in Africa have been amplified by large infusions of money from American right-wing culture warriors such as Howard F. Ahmanson Jr., who has bankrolled homophobia on both sides of the Atlantic and helped make common cause between right-wing American Anglican splinter groups and the Anglican churches of Nigeria and Uganda.

"Western Christians cannot fix the homophobia that is currently gripping Nigeria, Uganda, or other African countries. We can, however, stand in solidarity with progressive Africans and support their efforts to teach new ways of interpreting the Bible and understanding sexuality. When we see human rights abuses, we can speak out. And most of all, we can acknowledge with humility that we bear our share of the responsibility for this tragic legacy of empire and insist on repudiating contemporary efforts to expand its reach."
Related articles