Fallen civil rights leaders live on as we remember their birthdays
As human beings we need to mark time. It gives us a sense of journey, continuity, connection and purpose. All religious leaders share one thing in common more than anything else we may do — we mark time for individuals (birth, adulthood, marriage/significant relationship and death). Saints Days and key religious celebrations are calendared when a life comes or leaves the planet or when the moon or the sun shine upon us.
Without this human need for markings, life would have no direction or purpose. It is impossible for us to envision a life and community devoid of these essential guideposts. Our birth and our death remain constant markers for those who know us and love us.
This week we just remembered the birthday of Dr. Martin Luther King who would have been 85 years old if he had not been assassinated in 1968. This short documentary traces the connections between King's leadership in the civil rights movement and why he was a target for assassination.
It was both politically expedient for the administration of Lyndon Johnson, who was responsible for the implementation of the civil rights legislation that changed American forever, to find the perpetrator of this crime. The country was being torn apart. Rioting and community anger was being expressed in 40 states in direct response to the King assassination.
It was also important for King's family to bring closure to a bitter ending of a nightmare. There is a clip in the documentary where Dr. King's widow, Coretta King, shares her deep longing for closure and not for retribution.  James Earl Ray, a former US soldier, was found guilty and the conclusion of years of public enquiry was that Ray acted alone.
As one of  the millions of white Americans who blamed King for the civil rights victory,  Ray vengefully killed him in Memphis while Dr. King was on a mission to support local sanitation workers get a better deal from the city.

Remembering Eric Lembembe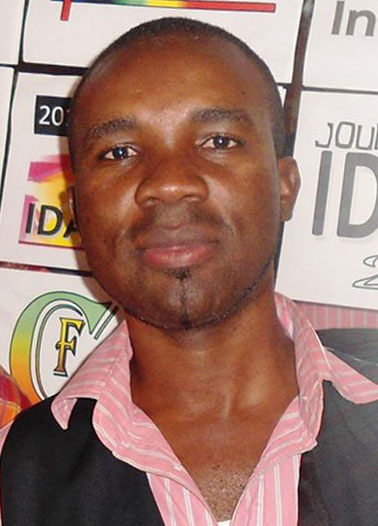 This week also marks an important milestone in the global civil rights movement with the birthday of Eric Lembembe this coming Sunday. Eric was only 33 when he was brutally murdered in Yaounde, Cameroon, last summer and was the leading LGBT advocate in the country, as well as a journalist who had uncovered a number of LGBT abuses by their government.
Eric wrote dozens of articles for my colleague, Colin Stewart ,who edits "Erasing 76 Crimes" and most recently reported on the death of Roger Mbede, who was arrested for texting another man the simple message that he loved him. As a result of this simple text, Roger spent 16 months in jail and his life and reputation were ruined because of the inhumanity of the criminal justice system in Cameroon. Eric also exposed blackmailers who posed as part of the LGBT community before extorting people who, like Roger, feared for their lives if it was even suspected they might be LGBT.
Roger died prematurely at 34 only two weeks ago, the latest victim of the horrors of LGBT global criminalization. Eric spent his life fighting the inhumanity of it all and, like King, paid the ultimate sacrifice. King was shot by Ray while standing on a motel balcony and the government wasted no time in searching for his killer. Eric was brutally tortured with an iron and had all of his limbs broken while in his own apartment and all his government could say was that, because he was a homosexual, he basically brought his murder upon himself.
It has taken an army of activists, US government intervention and many shadow reports (including the St Paul's Foundation's work recently in the Gambia) and many international rights organizations to force the Cameroonian government to re-open the investigation. Like Coretta King, family and friends do not want retribution, they only want to know what happened to Eric and to bring closure to their own nightmare. As his birthday approaches, we remember his parents and family and friends and renew our commitment to finding answers.
Facebook can provide a footprint of where we have been
Last week, I found some pictures on Eric's Facebook page
which, like a footprint of someone who passed this way a long time ago, remains another kind of marker. It shows the face of a brave young man in the very apartment where he was killed. It shows the many people and issues he concerned himself with as Executive Director of CAMFAIDS and the fragments of a life yet unfinished.
He was concerned about the men and women in prison because of their sexual orientation. He was concerned about getting out basic information to LGBT people about HIV and bringing the different organizations in Cameroon together (no easy task given there are two main cities with very different needs). He knew about the double discrimination of Cameroonian women and transgender people who remained at the bottom of the pile of throwaway people.
If the police and government did not go after them, then their families would. Corrective rape, and violence towards lesbians and transgender people remains one of the major concerns of CAMFAIDS and we owe a lot to the groundbreaking work Eric began.  A recent shadow report that will be presented by Eric's colleague, Michel Engama, to the Commission on the Status of Women next month in Geneva, highlights  some deeper concerns on the plight of LGBT Cameroonians and the government's need to respond more strategically  to their issues. Copies of the full report are available in French and English.
CAMFAIDS has invited the St. Paul's Foundation to send a delegation to Cameroon to build deeper linkages between gender inequality and LGBT persecution. The African Sexual and Reproductive Rights Conference is being held this year in Cameroon and Maxensia Nakibuuka and I will be speaking at the conference on some of those linkages and what we might be able to do to end the violence and persecution of LGBT people in Cameroon and elsewhere.
We hope to visit some of the LGBT prisoners held there and pray with them. We also hope to meet with religious leaders and faith organizations who provide health services to talk about what is happening in other parts of Africa and how we might be able to take Eric's pioneering and sacrificial work to a deeper level.
So February is going to be an important month for women's and LGBT issues in Cameroon and we are all inspired by what Eric Lembembe did to champion these linkages. His legacy may not be as populist as Dr. King's, but they shared a common dream of human dignity and equality, a sense that they may not live long enough to see the fruit of their work and they both had a lot of people who wished them dead.
Unlike King, who was despised by some white Americans, Lembembe was despised by fellow Africans simply for being honest about the way God made him. Eric, like King, was also a man of faith, a practicing Catholic who dealt every day with the effects of homophobia spewing from some of the top Catholic leaders in the country.
In Canada, Denis Leblanc has been one of our greatest allies with exposing some of these inconsistencies between action and reality. He just completed a review of the AIDS Global Fund work in Cameroon and it paints a very difficult environment that Eric had to advocate within.  Anyone with connections to the Global Fund or concern for some form of equity in Cameroon will be appalled by what Denis has uncovered. But what are we going to do about it?
Differences between the American and Global LGBT civil rights struggle
In the American civil rights struggle, the polarization was simple, but it is much more complicated for African civil rights leaders who are actively opposed and condemned by their fellow Africans, spiritual leaders and families. I wonder what Dr. King might say to the good people of Cameroon, had he been physically around today?
So mark your calendars this Sunday as a day when we give thanks to God for the life and witness of another civil rights leader, taken from us too soon. His work continues through us. The government of Cameroon has a responsibility to his family and friends to find the perpetrators of this murder and bring them to justice.

Support the delegation to Cameroon
There is still time for readers to support the international delegation to Cameroon and you can read about it here and make a contribution. This delegation resulted in in direct request from the Cameroonian LGBT community to come and be with them, speak and the conference and visit key faith organizations and the prisons. By supporting this mission, you are celebrating and continuing the legacy and work of Eric Lembembe and all he represents within a very challenging global liberation movement.