As 2013 comes to an end, this blog's ally, the Rev. Canon Albert Ogle, president of the St. Paul's Foundation for International Reconciliation, reviews both the progress and setbacks of 2013 from the viewpoint of that organization's advocacy of LGBT rights:
BY THE REV. CANON ALBERT OGLE
As 2013 ends today, time provides us with a marker to review the progress we have made and the challenges ahead. It was not a good year for international LGBT rights or improving access to resources designed to prevent more people from being infected with HIV.
Progress was made in the USA and Europe giving LGBT couples the opportunity to re-shape their shared lives when the Supreme Court made its historic decision on marriage equality. LGBT military personnel began to be treated equally while a number of other European countries also voted for marriage equality and the right for LGBT parents to adopt children. However, the losses in 2013 far outweighed our gains, from Eric Lembembe's brutal murder in Cameroon, to recent anti-gay sentiments and laws in India, Nigeria, Russia and Uganda.
The Foundation's high points this year were undoubtedly the creation of the Good Samaritan Consortium in Uganda with the Catholic Archbishop's World AIDS Day message that Catholic health services will not discriminate. http://sdgln.com/social/2013/11/29/rgod2-celebrating-another-breakthrough-roman-catholic-church 
Maxensia Nakibuuka was also appointed to coordinate HIV services for the Catholic health system and we began some important conversations in Rome as a result of the new openness created by Pope Francis.
These breakthroughs were closely followed by our two very significant panels discussing LGBT issues (poverty and development) at the World Bank in Washington, D.C. The increasing legislative barrage against LGBT people means it is now more difficult than ever to break out of the suffering caused by poverty and discrimination. Or donors and supporters are invited to review all of our accomplishments here: 2013 Foundation Annual Report.
We are grateful to our volunteers and donors for making all this possible and we hope you can find a way to make an end of year donation so the work can continue to build through 2014. Please DONATE HERE.
You can read a summary of our shared achievements here:
LGBT rights 2013 — a busy year at St. Paul's Foundation
A summary of this year's work of the St. Paul's Foundation for International Reconciliation, which supports LGBT rights and HIV-prevention efforts worldwide:
January
Albert Ogle was interviewed on New Zealand's "Gay Talk Tonight" online talk show. Board, staff and volunteers worked to link bank accounts to the Quickbook system and we had a successful first accounting review carried out for 2012 by Richard R Gay. Colin Stewart released his new publication "From Wrongs to Gay Rights."
February
The Foundation gave awards to Rev. Mike Schuenemeyer of United Church of Christ in Cleveland and human rights attorney Eric Isaacson from the San Diego Unitarian Universal Church in San Diego. We held our first Valentine's Day fundraiser for the work in Africa. Seven volunteers were trained to provide Internet support to parents and friends of LGBT people, including Angeline Jackson's project in Jamaica.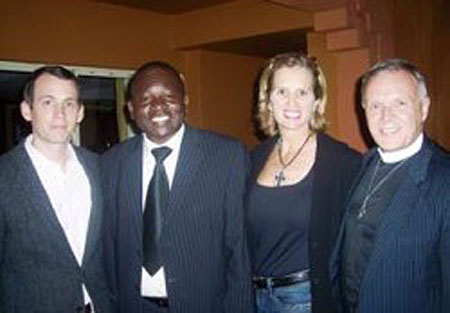 March
Albert Ogle worked with Robert Mbega and Maxensia Nakibuukka to form the Good Samaritan Consortium in Uganda in an attempt to seek sustainable funding for a coalition of 14 service providers working with vulnerable populations i.e. MSM, LGBT, IV drug users and commercial sex workers.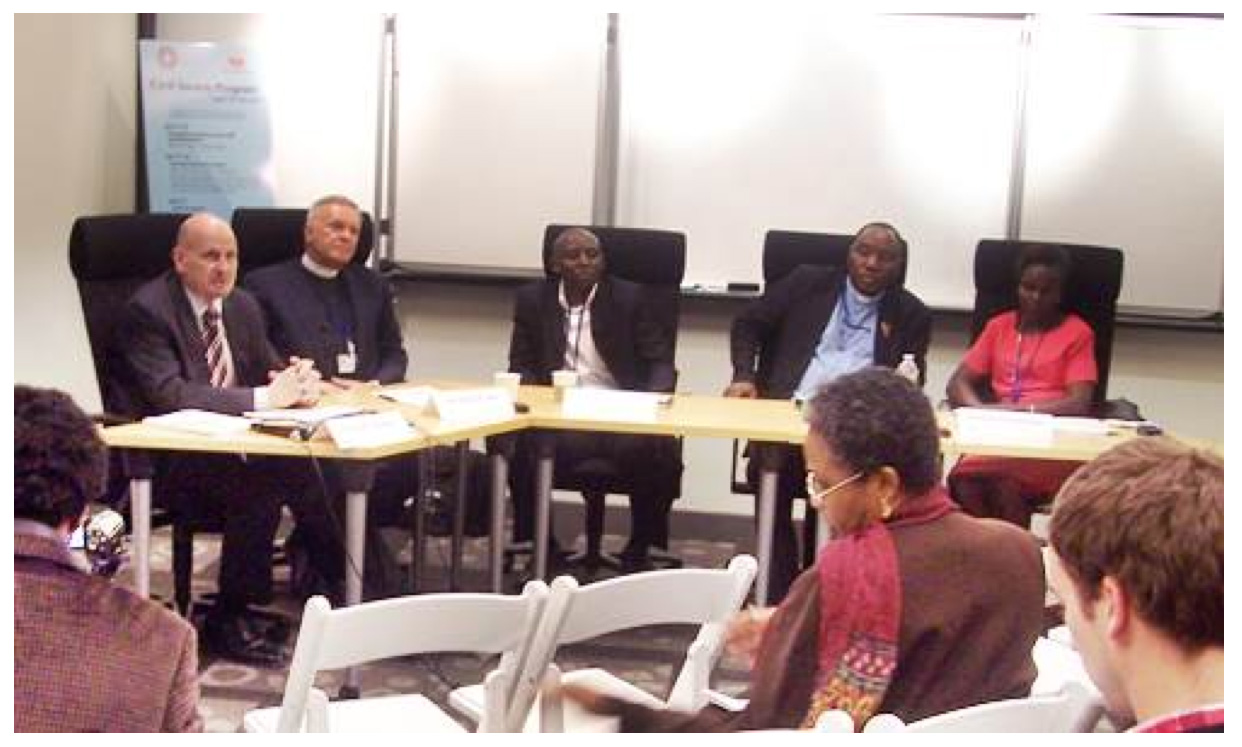 April
The Foundation was invited to present a panel of experts on LGBT poverty issued at the World Bank and Washington National Cathedral also sponsored by GLOBE and the United Nations Foundation. A full report of the panels can be read here.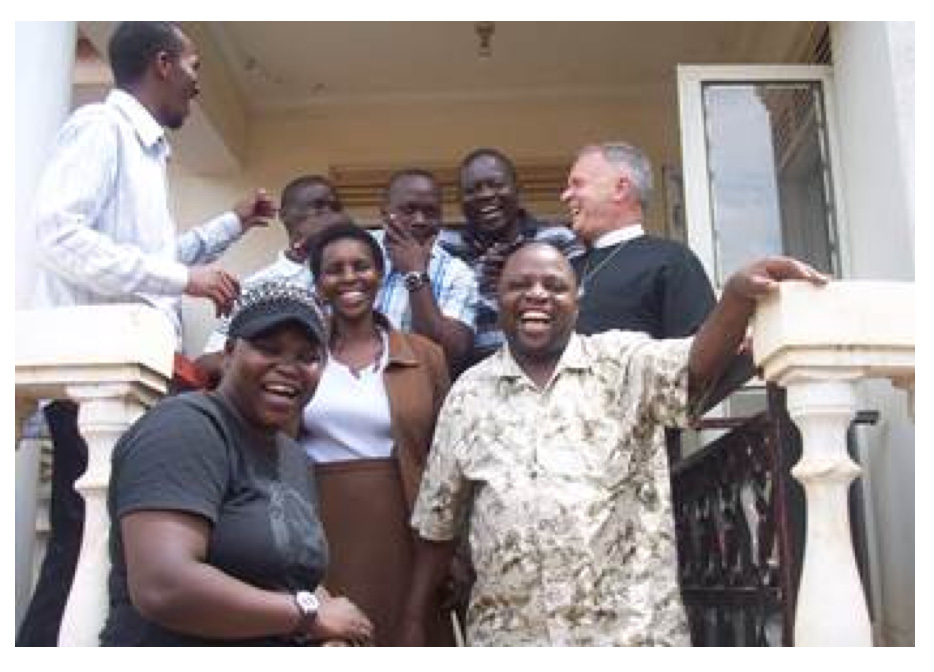 May
Albert Ogle returned to Uganda to work with the emerging Good Samaritan Consortium and advocates from funding for vulnerable populations to the Secretary of State, PEPFAR and USAID. He was also invited to meet with MSM experts at UNAIDS in Geneva to ensure the AIDS 2015 plan included workable strategies for decreasing higher infection rates in key vulnerable populations.
June
Roger Ross Williams was made Grand Marshall in the San Francisco Pride Parade for his important work on LGBT global equality through his film "God Loves Uganda." Following a youth conference in New York attended by a representative of St. Paul's, the Foundation presented a forum at St Paul's Cathedral in San Diego on the work on behalf of LGBT rights by the Unitarian Universalist community at the United Nations.

July
Eric Lembembe, an LGBT leader working on HIV issues, was brutally murdered in Cameroon and there was a poor response from government. CAMFAIDS invited the Foundation to raise the funds needed for his funeral and demand an investigation. The Foundation completed its three-year commitment to the ministry of Bishop Christopher Senyonjo, who was featured in the controversial film "God Loves Uganda." Albert Ogle rode with San Francisco's Pride's Grand Marshall, Roger Ross Williams.
August
Ed Breeding and Lindy Miles completed "Love Heals Homophobia," a short film with four African-American straight clergy who trace their journey to full inclusion of LGBT people in the hope it will influence moveable middle clergy leaders in Africa, the Caribbean and USA. The Foundation supported Quality Citizenship Jamaica's non profit incorporation costs.
September
Good Samaritan Consortium had its second strategic planning retreat in Uganda and two grant proposals were created to apply for funding. San Diego welcomed Roger Ross Williams for the premiere of "God Loves Uganda." An asylum seeker we had been supporting all year in Washington finally got work permit approval.
October
The Foundation co-sponsored the first LGBT representative to the World Bank's Annual Meeting, Khemraj Persuad from Guyana, and took part in a follow-up panel on LGBT and Poverty. We sponsored two Cameroonians to attend the African Human Rights Commission in Banjul, Gambia and work with the Francophone community to increase planning and resources. Four Foundation representatives met with leaders of the San Egidio Community in Rome and the Anglican Center.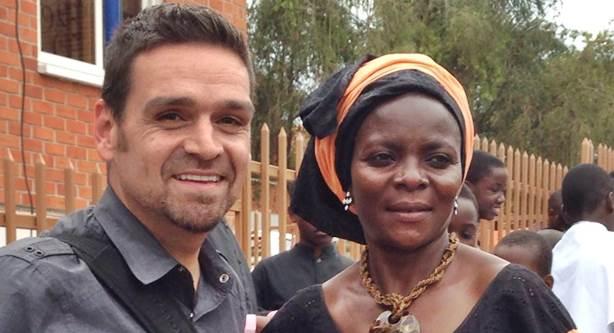 November
Following the premiere of the film "Love Heals Homophobia" in Washington D.C., we distributed 1,000 copies to our supporters and interested clergy. San Diego nurse JP Conly spent two weeks in Uganda with the Good Samaritan Consortium.
December
The Roman Catholic Archbishop of Uganda held the first World AIDS Day commemoration with 3,000 attendees and expressed his support to the Good Samaritan Consortium to open up Catholic health and social services to previously excluded vulnerable populations. He appointed Maxensia Nakibuuka to coordinate all Catholic HIV services in Uganda.