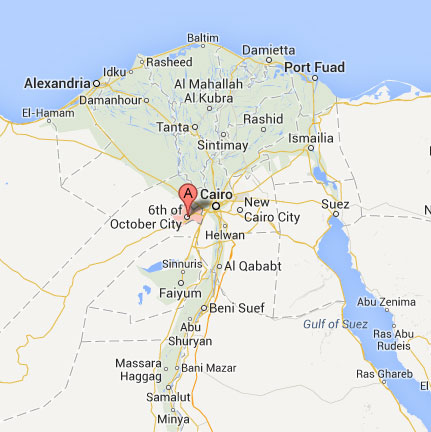 Police in Egypt arrested 10 people on Nov. 5 on homosexuality-related charges in the western Cairo suburb known as 6th of October City.
The arrests came about a month after 14 men were arrested for allegedly engaging in gay sex at a gym/sauna in the El-Marg district in northeastern Cairo. Those men reportedly are still incarcerated.
Activist/commentator Scott Long reported that the 10 new arrests occurred during a raid on a party of about 200 people celebrating "Love Day," an unofficial Egyptian equivalent of Valentine's Day.  The raid was requested by the military, who have a checkpoint near the house where the party was held, Long said. He added that armed plainclothes police led the raid:
They focused on young people and so-called "ladyboys" … (my friend who spoke to guests used the term in English; it has filtered into Egyptian slang), men who look "effeminate." They zeroed in particularly on men wearing belly-dancing dress.

Click on the image for the blog's list of people in prison or awaiting trial for homosexuality.

In the end, however, they only arrested 10 people. They seized the host, a female bartender, and a man who works as a belly-dancing teacher (his wife, also at the party, was taken in as a witness). Along with them went four other men who seemed unmanly in dress or manner, and three kids under 18.  Police slapped and beat all of them, and kicked and fingered some in the ass. At the same time, the officers seemed uncertain what the guests were guilty of; the presence of women at the party especially flustered them.

They called the men "khawalat" and accused them of fujur ("debauchery," the legal term for consensual sexual relations between men) but also threatened them with charges for adultery. (Consensual adultery is not a crime in Egyptian law,)

The vans took them all to a police station in 6 October City. More beatings followed. The officers forced the "effeminate" men to clean the station toilets as punishment.
The prosecutor ordered the arrestees — nine men and one woman — to be held for 15 days and to undergo forensic anal examinations, which found nothing. Such tests, as Long noted, "are abusive and torturous, devoid of any medical value."
Egyptian police typically arrest LGBT people on charges of "sexual immorality" or "debauchery" because the country does not have a law explicitly banning homosexual activity.
For more information, including how the Nov. 5 arrests were reported in the Egyptian press, see Long's full article in his A Paper Bird blog, "Military manhood: More arrests for homosexual conduct in Egypt."
Related articles