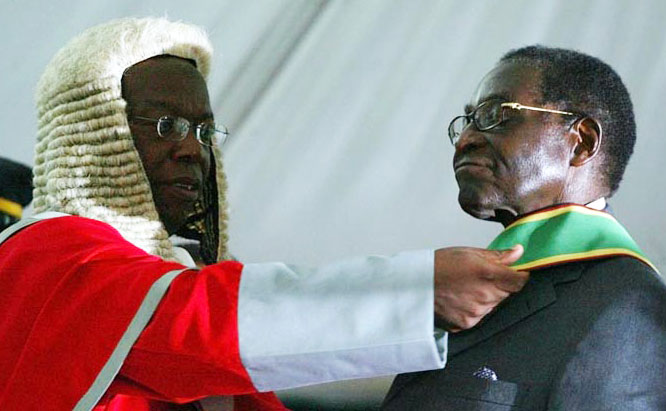 MUGABE'S LATEST ANTI-GAY TIRADE
As has become the norm, as soon as Zimbabwe President Robert Mugabe was inaugurated for his seventh term in office, he resumed making scathing remarks against homosexuality.
During his inauguration ceremony on Aug. 22, attended by thousands of people as well as African dignitaries Mugabe spoke at length about Zimbabwe, trade, the economy and international relations. Ironically, he also spoke about peace and the need to maintain peace before launching into a homophobic tirade describing same-sex marriage as "filthy. Let's not offend nature."
Members of the LGBT community in Zimbabwe were disappointed, but not surprised.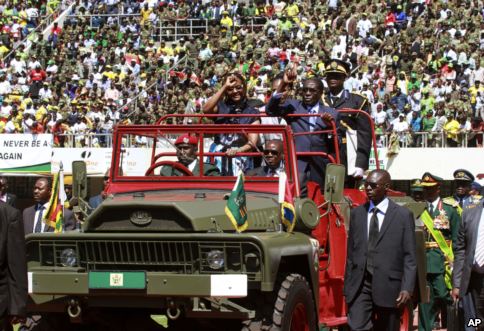 "For a man who is taking office amid so much controversy, he owes it to all Zimbabweans to protect their rights. He thrives on the politics of intolerance. By singling out a small group such as LGBT and declaring their rights as 'filthy,' he makes LGBT people a target of hatred and violence. One really wonders if all this talk about peace is sincere,' said GC, a human rights activist from Harare.
Mugabe and his Zanu PF party frequently denounce homosexuality. They were at the forefront of the criminalisation of same-sex marriage in the new Zimbabwean constitution.
"It did not come as a surprise, Mugabe is very homophobic and he has used the issue to garner support," said one LGBT rights activist from Harare. "He has created an environment where people are not interested to learn about LGBT issues but about the eradication of the practice of homosexuality. This is evident in laws such as the sodomy law, and recently the constitution. Although the focus is on marriages, we have seen the repercussions of such laws on the lives of LGBT people."
LGBT people expressed mixed feelings about Mugabe's remarks. Some are upset and nervous, of course.
"This is his first day in office and already he is attacking us, not that it's anything new. The homophobic messages make the environment very tense for LGBT people. On all national occasions he has to attack LGBT people. We can only hope that he does not stiffen laws. This is a major concern right now." — MT, Chitungwiza.
'There seems to be an obsession with same-sex marriages, yet for many LGBT people, they are at a point where they are struggling for recognition for tolerance. He makes it appear as though all LGBT people want to get married. That's what ordinary people have been fed and thus are not interested in understanding our daily struggles." — Another LGBT citizen.
Some seem to have devised methods of handling the stress:
"For some of us, we have developed thick skin. We listen to his speeches to hear what nonsense he has to say. I know how to prepare my week after his remarks because in my neighborhood there is no peace for me as aim an openly out gay man. ZANU PF youths will be on my case this whole week, some demanding money, others threatening to beat me but I've gotten used to the threats. There is nothing I can do." — TG, Harare.
"It can never be an event if he does not mention homosexuality. It's his trademark. He should thank us. We have made him famous." —  TN, Bulawayo.
As the octogenarian leader takes office for what many speculate could be his last term, one can only hope that his homophobia does not become a legacy that will be perpetuated by those who come after him.
Related articles