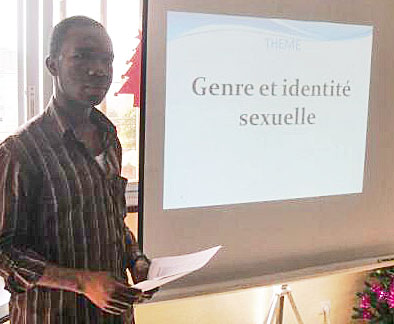 AIDS fighters in Cameroon have been improving their skills through workshops that expand their knowledge of the disease and the challenges it creates for sexual minorities.
Jules Eloundou, president of the anti-AIDS group Cameroon Humanity First, said before workshops held in Yaoundé on Jan. 9-11, "Some of our peer educators do not have the basic knowledge to lead their peers to change their behavior in response to the issue of HIV / AIDS and STIs. They therefore experience difficulties in their educational talks."
Serge Douomong Yotta, executive director of Affirmative Action, another of the three organizations whose leaders were trained during three days, said, "This training is timely for our Community-Based Organizations (CBOs). We are still very young, needing technical skills and education to expand and improve our  programs on the ground. "
He acknowledged that he himself learned much during the workshops.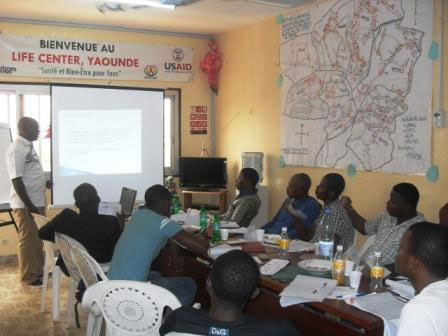 Peer educator Eitel Joris E. from the Cameroonian Foundation for AIDS (CAMFAIDS) said that the workshops improved his understanding of how STIs and HIV / AIDS are transmitted and can be prevented, as well as the vulnerability of homosexuals to HIV.
"The module on peer education was also instructive," he said. "It clarified our roles and the skills we need."
"Aspects" of homosexuality
The workshops, held at the Life Center hall of Horizons for Women in Yaoundé, were led by Simon Peter Eyene, Arouna Tena and Valentin Mondobela, who are facilitators from the Cameroon National Association for Family Welfare (CAMNAFAW).  Four leaders and peer educators attended from each of the three sponsoring organizations — CAMFAIDS, Affirmative Action, and Humanity First.
The goal was "to strengthen the knowledge of participants about different 'aspects' of homosexuality — differences in sexuality, gender identity, sexual identity, self-esteem, roles and gender attributes in the Cameroonian context," says Aruna Tena trainer. Other topics were interpersonal communication skills and fundamental laws and human rights.
Pilot program

The workshops were part of a pilot program "Human Rights and the HIV Response in Cameroon," also known as "Support for Sexual Minorities." The program has been funded by the United Nations Development Program (UNDP), starting in December 2012. Its goal is to assist the Government of Cameroon in achieving certain objectives, including reducing the vulnerability of populations most at risk of HIV infection (MARPs), particularly men who have sex with men (MSM).
— Eric O. LEMBEMBE
Related articles