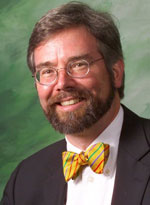 The U.S. law that Ugandan activists are using to sue an American pastor for his alleged hate crimes in Uganda has roots stretching back to the Founding Fathers.
The law in question — the "First Judiciary Bill (the Alien Tort Statute)" was "one of the first laws created by George Washington," said Eric Isaacson, an attorney who has been working for same-sex marriage, particularly in preparing legal papers in opposition to California's anti-gay Proposition 8.
In an interview with the Rev. Canon Albert Ogle, Isaacson said the fate of the lawsuit filed by Sexual Minorities Uganda (SMUG) will depend in part on what position the U.S. Supreme Court adopts on a lawsuit filed by Nigerian nationals against Shell Oil for its actions in Nigeria.
In the SMUG case, anti-gay pastor Scott Lively has asked for dismissal of the lawsuit, and federal Judge Michael A. Ponsor is weighing that motion.
Here is the section about Lively from Ogle's interview of Isaacson:
Albert Ogle: Pastor Scott Lively recently appeared in court in Massachusetts charged with crimes against humanity by Sexual Minorities Uganda. What can American courts do about the exportation of homophobia through the kinds of propaganda campaigns illustrated by this case?

Eric Isaacson: "One of the first laws created by George Washington was the First Judiciary Bill (the Alien Tort Statute) saying American courts would have jurisdiction over claims by aliens in violation of The Laws of Nations" (a tort is simply a wrong), which allowed foreign aliens to use the courts of the newly established Republic to find justice for grievances that may have occurred outside the jurisdiction of the U.S.

The law has not been used much over 200 years but it has long been recognized been used against piracy on the high seas and also used to fight the slave trade and in more recently in the 1970s used against basic human rights violations abroad. So there is legal precedent for Sexual Minorities Uganda to bring charges against an American pastor in the American courts for his role in meeting with Ugandan lawmakers to raise levels of homophobia and punishment for the LGBT community.

There is an important case before the U.S. Supreme Court where some Nigerian nationals living in the U.S. are bringing charges against Shell Oil for their role in the 1995 execution of a local rights activist, Barinem Kiobel, and the systemic persecution of his ethnic minority. Shell Oil is basically supporting what the Nigerian government did to set up false charges against Kiobel.

There is a lot of attention on this case because if the Court rules against the charges, then the Lively case will go nowhere. Extraterritorial wrongs and how our courts deal with them are now clearly open for interpretation.

One of four applications of this law has historically been about piracy on the high seas —  it strikes me as ridiculous to see corporations (who are sometimes engaged in violations of human rights –a kind of piracy!) are not brought to account in US Courts. This larger case will assert the right of foreign nationals to seek legal recourse through our courts and interpret the First Judiciary Bill/Alien Torte Act for our time. I would also be interested in filing an amicus curiae brief to support the claims of Sexual Minorities Uganda, given Lively is citing his religious liberty as a reason to allow him to deliberately misinform Uganda members of parliament about LGBT people.
Ogle's full interview with Isaacson covers faith and gay rights, the upcoming U.S. Supreme Court's ruling on same-sex marriage and the Defense of Marriage Act. It can be found here:
Related articles