The Initiative for Equal Rights (TIERs), a leading human rights NGO in Nigeria, is working on a project to document the life histories and experiences of queer men in Nigeria.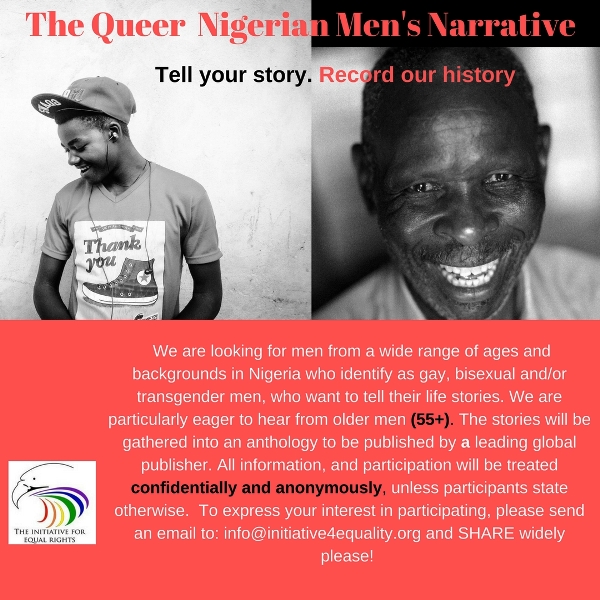 The NGO is currently looking to capture the life stories of Nigerian men from a wide range of ages and backgrounds who identity as gay, bisexual and/or transgender. The organizers have a particular interest in stories from older men (55+). The stories will be gathered into an anthology and published by a leading global publisher.
As stated by TIERs in their open call:
The book, when published, "will deepen the global perspective on the queer experience in Africa, and Nigeria specifically – beyond the 'doom and gloom' of international headlines."
They also stated that part of the many reasons why they have decided to carry out the project is "to document the lives of queer men in Nigeria and to uncover the voices of a group of people often excluded from the accepted narrative of Nigerian history and society" with the hopes that  "the presence of queer voices will reduce stigma and discrimination, by creating broader awareness through human stories."
TIERs aims to interview 50 to 60 men, with the goal of reflecting Nigeria's diversity and complexity in terms of sexual orientation, gender identity,  socio-economic status, ethnicity and religion.
Interested individuals can send an email to info@initiative4equality.org. All submitted entries will be treated confidentially and anonymously unless stated otherwise.
Related articles: