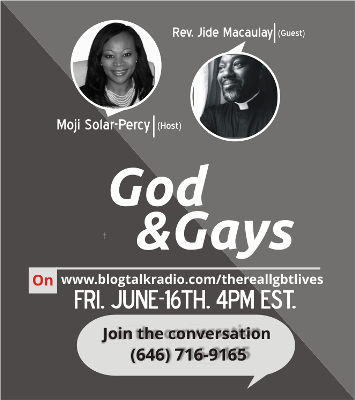 A U.S./Nigerian LGBT-focused online radio show titled "The Real LGBT Lives" is set to explore the complex and controversial issue of homosexuality and God.
Moji Solar-Percy, a U.S.-based Nigerian talk show host, will discuss the issue with the Rev. Jide Macaulay, the gay Nigeria-born founder of House of Rainbow, an LGBT community church with its headquarters in the U.K.
The show, titled "God & Gays," will explore the following concerns:
What does God really think of homosexual men and women?
Why are religion and homosexuality always at odds?
Is the Bible an instrument of truth or a weapon of mass destruction?
What does the Bible really say about the LGBTQIA+ person?
The show will be live on Friday, June 16, 2017, at 4 p.m. Eastern Time in the United States (which is 9 p.m. in Nigeria).
Interested persons, especially Nigerians, are encouraged to participate by calling in on the live show via the provided the phone number.  + 1 (646) 200-0386.
To learn more about the show, click HERE.
Related articles: