Bangladesh activist and French leaders confer in support of LGBTQ+ rights
Human rights defender meets French President and LGBTQ+ rights ambassador.

---
CLICK to receive an email notice of each new article on Erasing 76 Crimes
---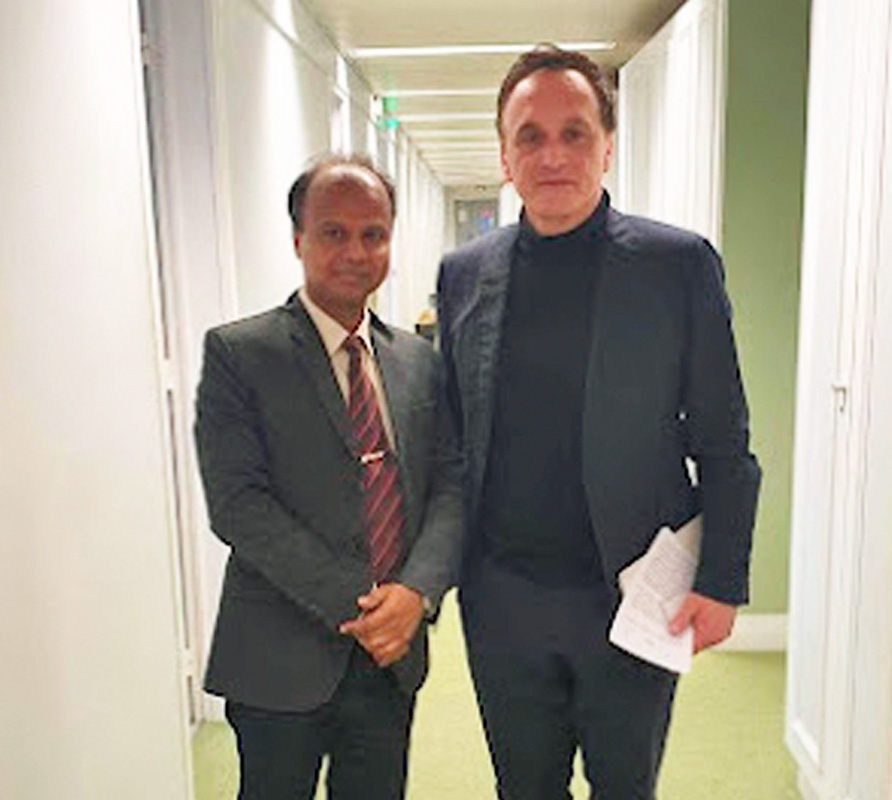 This article is based on reports from JusticeMakers Bangladesh:
On March 16, 2023, Shahanur Islam, a human rights defender and lawyer from Bangladesh and also founder of the LGBTQ+ rights group JusticeMakers Bangladesh, had an official bilateral meeting with Mr. Jean-Marc Berthon, the ambassador for LGBT+ Rights of France, at his office in Paris.
Then, on March 17, Islam met French President Emmanuel Macron at a reception for LGBTQ+ activists and urged him to do more for human rights in Bangladesh.
During the March 16 meeting with Berthon, Mr. Islam brought attention to the current human rights situation faced by lesbian, gay, bisexual, transgender and queer people in Bangladesh. He highlighted the challenges and difficulties they face in their daily lives, including discrimination, violence, and criminalization.
Islam also announced plans to establish a new platform in France, called JusticeMakers Bangladesh France with the aim of fighting against discrimination and impunity towards sexual-LGBTQ+ minority communities in Bangladesh.
Berthon welcomed Islam to his office and assured him that he will continue to support the LGBTQ+ minority people in Bangladesh. He also expressed his admiration for Islam's commitment to defending human rights and his efforts to promote equality and justice in his country.
The meeting between Islam and Berthon is an important step towards raising awareness about the human rights situation of LGBTQ+ people in Bangladesh and seeking international support to address these issues. It highlights the need for continued efforts to promote and protect human rights for all, regardless of their sexual orientation, gender identity, or other characteristics.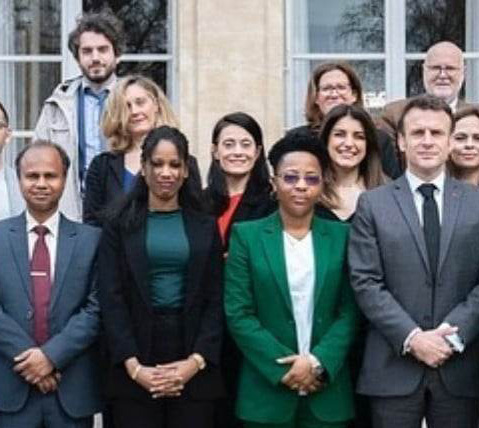 During the May 17 reception at the Élysée Palace in Paris, Macron was host to 14 human rights defenders from around the world, including Islam.
Islam was invited to speak as a laureate of the 2023 Marianne Initiative for Human Rights Defenders, which aims to support human rights defenders globally. The winners of the 2023 Marianne Initiative come from Bahrain, Bangladesh, Cameroon, Colombia, Iran, Mali, Uganda, Peru, Russia, El Salvador, Syria, and Venezuela, representing all continents.
During the reception, Islam drew the French president's attention to the widespread human rights violations against ethnic, religious, and sexual minorities in Bangladesh. He highlighted the alarming issues of the criminalization of homosexuality and the lack of constitutional recognition for minority groups that need to be addressed.
He urged Macron to join hands with him in the fight for justice and human rights for all, providing financial, moral, and technical support. This could include funding for projects and training for his team to help protect and prevent human rights violations in Bangladesh.
Islam said that his meeting with Macron raised hopes for the protection of minority rights in Bangladesh and for international support for the work of human rights defenders globally.