Rights of 286 LGBT Nigerians violated in 2018, report says
Without any protection against anti-gay discrimination in Nigerian law, LGBTI Nigerians continue to suffer human rights violations based on their real or perceived sexual orientation.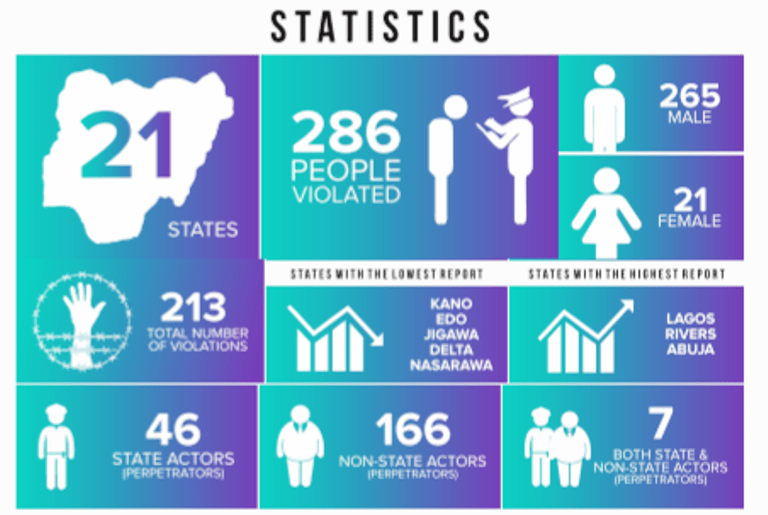 By Mike Daemon
The Initiative for Equal Rights (TIERs), a Nigeria-based human rights organization, has published a report, showing  that the human rights of approximately 286 LGBTI persons were violated last year by state and non-state actors with a total number of 213 violations recorded.
The report was put together in collaboration with other seven human rights organizations spread across six geo-political zones in the country. The reported violations occurred in 21 of Nigeria's 36 states.
Blackmail, extortion, invasion of privacy, arbitrary arrests, and unlawful arrests topped the list of the most violations. Mass arrests and unlawful detention were the fastest-rising categories.
Lagos, Rivers, and Abuja were the states with the most reported violations. Kano, Edo, Jigawa, Delta, and Nasarawa had the fewest.
The report showed that the most affected victims were men — a total of  about 265 persons. Only 21 females were recorded as victims.
The report examined the reporting style of various media on LGBTI issues as well as the behavior of people in leadership to LGBTI rights in the country, which included civil rights activists, religious leaders, and  politicians.
The report expressly condemned the human rights violation of LGBTI people citing several sections of the Nigerian law which showed that both state and non-state actors were crossing the line in terms of how they have dealt with LGBTI issues.
It also reviewed how some legal documents, such as the International legal framework, and the regional legal framework could be used to protect the rights of LGBTI persons in Nigeria.
To access the full report, CLICK HERE.
Source: Rights Africa
Related articles: