More than 500 Ugandans and their allies protested in London for the release of opposition politician/singer Robert Kyagulanyi, whose stage name is Bobi Wine. They also demanded equality for all Ugandan citizens, including LGBTI people.
The protest on Thursday (Aug. 23) in London focused on Ugandan corruption and repression in general, but specifically on the mistreatment of Kyagulanyi.
Kyagulanyi was arrested on firearms charges on Aug. 13 after his driver was shot by security forces during a political campaign visit to the town of Arua. Those charges were dropped on Thursday, but he was immediately re-arrested and charged with treason in connection with an incident of rocks being thrown at President Yoweri Museveni, also in Arua on Aug. 13.
Kyagulanyi is seeking his release on bail so his family can fly him out of the country for medical treatment of injuries he has suffered while in custody.
Protests against his mistreatment and the government's handling of the case have been held at several locations in Uganda as well as in Nairobi and London.
Organizers of Thursday's demonstration in London reported:
Outside the Ugandan embassy and the official residence of the UK prime minister, the protesters held placards with messages demanding for an end to dictatorship, torture, corruption and imprisonment of singer-politician Bobi Wine and others in Uganda by the Museveni regime. They demanded equality for all citizens including LGBTI people.
Additionally, the messages included demands for the UK to impose sanctions on the Ugandan regime; for the UK to stop colluding with Uganda's tyrant Museveni, putting an end to 33 years of terror in Uganda; and for the Ugandan army to stop murdering and torturing civilians.
The protest was held just an hour after Bobi Wine (the stage name of Ugandan member of parliament Robert Kyagulanyi) was presented before a general court martial and a magistrates court in the northern part of Uganda.
The protesters were entertained by Ugandan UK-based musicians who sang the inspiring songs by Hon Bobi Wine. It was refreshing to see that some people came with their families, including younger children dressed in red, a colour that symbolises the people power movement in Uganda.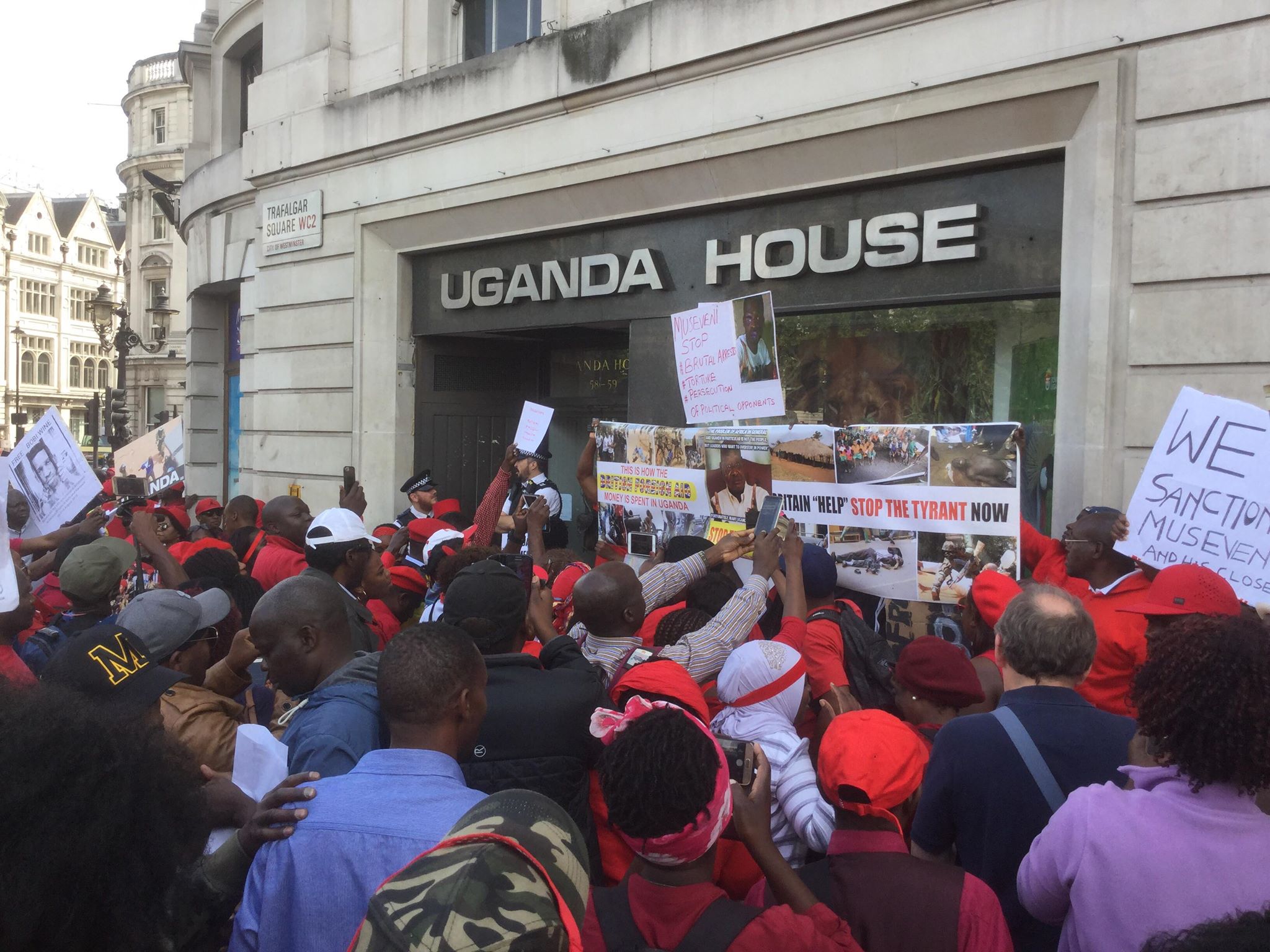 Protesters danced to the social, economic and political transformation music composed and song by  Bobi Wine. They echoed the famous lines of the Freedom song by the jailed musician:
"We are fighting for Freedom.

See our leaders becoming misleaders.

See our mentors becoming tormentors,

Freedom fighters becoming dictators.

They look on the youth and say we are distractors.

We are fighting for freedom.

The fight for democracy requires everybody to get involved no matter your age, gender, sexual orientation, job, tribe, among others."
According to Ugandan human rights activist Edwin Sesange, "Bobi Wine is using his music to change Uganda. Even though Bobi previously had a different view toward the LGBTI community, he has apologised and his views have evolved. He has composed many songs calling for tolerance and respect for all Ugandans, irrespective of their differences. He is the kind of politician Uganda and the world needs now."
Prince Dickson Wasajja, the chairman of the Forum for Democratic Change (FDC) UK , told the crowd:
"The Ugandan government should stop using the state machinery to persecute, torture, murder and silence opposition politicians. Even though the government lost interest in the case in which Bobi Wine was charged for possession of guns and ammunition, it is a public secret known many in Uganda and internationally that these guns were planted to implicate Hon Bobi Wine. This primitive act should stop, and this is the time for tyrant Museveni to go."
Protester Godfrey Kawalya said:
"It is very sad to see that the Hon Bobi Wine was rearrested immediately after being set free by the infamous Uganda general court martial. This is not the kind of Uganda that United Kingdom should call their closest ally. I therefore call on the UK government to impose sanctions on the dictator and expel Uganda from the Commonwealth for its escalating abuse of the basic human rights."
Protester Josephine A. called on the protesters to lobby their members of parliament to continue putting pressure on the UK government to put sanctions on Uganda for its abuse of human rights and to demand a peaceful transition in Uganda.
Related articles: