Is the Episcopal Church really LGBT-friendly?
How LGBT-friendly is the Episcopal Church?  That question was briefly raised during the Intimate Conviction conference in Jamaica in October 2017.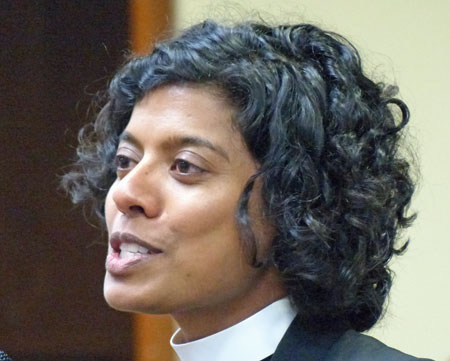 In many ways, the Episcopal Church in the United States has been at the front lines of the battle for acceptance of LGBT people within the international 80+-million-member Anglican Communion of churches descended from the Church of England.
The installation of an openly gay Episcopal bishop in 2003 created a deep rift in the Communion. The approval of same-sex marriages in 2015 led to exclusion of the Episcopal Church from some Anglican Communion functions.
But the Episcopal Church is not unified in its acceptance of LGBT Christians, including openly LGBT clergy, says the Rev. Winnie Varghese, director of justice and reconciliation at Trinity Church, Wall Street, New York:
"We're still struggling in the Episcopal Church. We're creating ghettos — where it is safe, where it is not."

— the Rev. Winnie Varghese
One of a series of glimpses of the Intimate Conviction conference, October 2017, Jamaica.
A video of the morning of Day 1 of the conference is available. Varghese's remarks start at approximately 2:05:30. Also available: the schedule of speakers at the conference and videos of the afternoon of Day 1 and all of Day 2 of the conference.
Related articles: