Hope is blooming in the Gambia, thanks to the ouster of Yahya Jammeh, the Gambia's despotic and violently homophobic former president. Four months after the election of a moderate businessman as president, the West African nation's foreign minister has proposed repealing the country's anti-gay law.
The online publication SMBC Network Gambia reports that news in an article that is reprinted here after some modest additional editing:
Gambia's Ousainou Darboe supports repealing of anti-homosexual law
Gambia's Foreign Secretary Ousainou Darboe says he will support the repealing of an anti-homosexual law that soured relations between the West African nation and the European Union.
Darboe said homosexuality was an imaginary issue Jammeh used to oppress innocent Gambians, but the phenomenon was not an issue in the small country.
"The [crime of] 'aggravated homosexuality' was a distraction and it should be taken out of the laws… You pass laws to deal with situations, not an imaginary problem," says Mr. Darboe.
"Homosexuality [as an issue] was perhaps something Jammeh imagined in order to bamboozle the clerics that were surrounding him. … He used gays as a propaganda tool in order for him to continue to repress people."
Darboe's UDP party, the country's largest political group, gained the majority in the country's lawmaking body and says his United Democratic Party will support the repeal of the law, which punished homosexuals in the country with up to life in prison.
Dozens of men and women were arrested between 2012 and 2015 on allegations of being gays, including a young 15-year-old boy. They were tortured and paraded on national television but later released as international pressure mounted on Jammeh,
Gambian political leaders, except Omar Jallow, who advocated for the legalization of the act, have all denied the existence of homosexuality [Editor's note: or perhaps denied the existence of any problem related to homosexuality?] in the country, claiming it is not "an issue."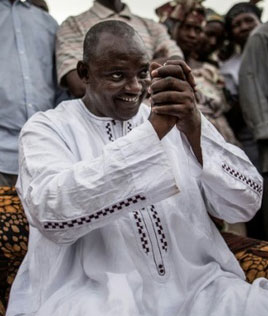 During his meeting with EU Commissioner Neven Memica in February, President Adama Barrow has defensively said "gay is not an issue in Gambia" when asked what his government intends to do with their rights.
Gambia is a majority-Muslim country with a good Christian population where homosexuality is considered an "ungodly act." Thus all political leaders, even those with liberal views, try avoiding it.
Darboe, like all others, won't recognize it as a problem, let alone to give it attention.
The crime of "aggravated homosexuality" carries punishments of up to life in prison. Among those who could be charged with it are "serial offenders" and people living with HIV who are deemed to be gay or lesbian.
Exactly what constitutes "homosexuality" or a "homosexual act" is not defined in Gambian law.
Rights activists say that makes Gambia's criminalization of homosexual activity even more likely to be used broadly and arbitrarily.
Related articles:
Gambian leader shuns his predecessor's anti-gay stance (February 2017, 76crimes.com)
'Hope for change': Gambian voters oust anti-gay strongman (December 2016, 76crimes.com)
Gambia: Grim tale of torture; man expects to die in captivity (January 2015, 76crimes.com)
Days after Obama photo, Gambia arrests 12 in gay raids (August 2014, 76crimes.com)
Gambia plans life sentences for gay 'repeat offenders' (September 2014, 76crimes.com)
Gambian president scapegoating LGBTI (December 2014, 76crimes.com)
Report: Gambian arrests of alleged LGBTI now total 16 (November 2014, 76crimes.com)
Report: Gambian arrests, detention, search for gays (November 2014, 76crimes.com)
Gambia must stop wave of homophobic arrests and torture (November 2014, 76crimes.com)
UNHCHR alarmed at LGBT arrests, detentions in Gambia (November 2014, 76crimes.com)
Gambia: Life Sentence for 'Aggravated Homosexuality' (November 2014, 76crimes.com)
Gambia: "ungodly" gays "detrimental to human existence" (November 2014, 76crimes.com)