Visual artists, musicians and designers are pushing for an end to repression of LGBTI people worldwide by shining a spotlight on the 76 or so countries with anti-homosexuality laws. Some examples from recent months and recent years:
Music
In the United Kingdom, the LGBTQI+ Voices of the Revolution project is organizing a musical program to tour music festivals, music venues and protest sites during summer 2017. A "range of global LGBTQI+ grassroots movements and disapora LGBTQI+  activist movements who have fled homophobic persecution to the UK" are seeking 12 musicians from countries where it is illegal to be LGBTQI+ to perform in the group.
Interested musicians, artists, activists and event coordinators should contact queertoursoflondon@gmail.com by the end of January 2017.  Organizers stated:
"The programme [will bring] together an inspirational line-up of all-LGBTQI+ musicians from countries where it is illegal to be LGBTQI+ to collaborate, create and perform with each other. They will be under the musical direction of leading pioneering LGBTQI+ composers and will perform together collectively as "LGBTQI+ Voices of the Revolution."

"For this year's 50th anniversary of partial decriminalisation of homosexuality in England and Wales, "LGBTQI+ Voices of the Revolution" brings life to our struggle for liberation today and highlights the ongoing issues we still face. The focus is the ongoing criminalisation of homosexuality across the world (76+ countries) and Britain's responsibility in challenging it, which started with the British Empire's colonial legislation."
For more information, see:
Fashion
"Trans model Valentijn de Hingh is helping to bring attention to the plight of LGBT people around the world with a stunning dress made of flags from the 72 countries where homosexuality is illegal.
"During the opening walk of EuroPride in Amsterdam [in July 2016], 72 flags of 72 different countries where homosexuality is against the law were present, in 12 of these countries you still get the death penalty for being gay," writes Pieter Henket, the photographer who captured the stunning dress.
"The COC (Dutch organization for LGBT men and women) collected these flags and together with Fashion designer Matthijs van Bergen and artist Oeri van Woezik they decided to make these flags into a giant rainbow dress," writes the Dutch photographer who currently lives in New York City.
De Hingh, who became the first transgender person ever to have been represented by IMG Models, posed in the dress at the famous Rijksmuseum in Amsterdam, which played host to EuroPride this weekend.
Visual arts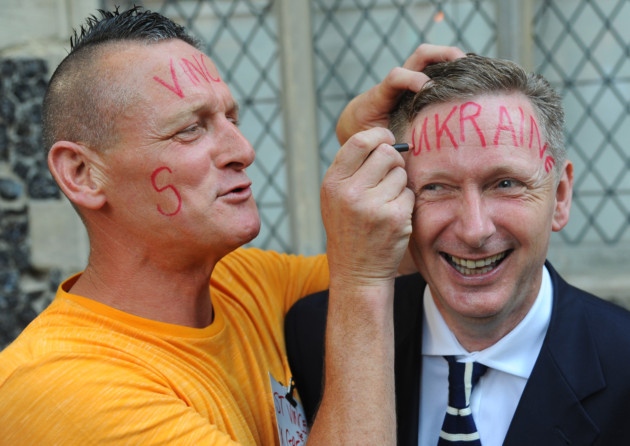 Related articles: