Don't fall for photo of man (repeatedly) burned alive
Until credible evidence emerges, it's probably wise to set aside a widely shared story on Facebook that a man was burned to death in South Sudan because he was gay.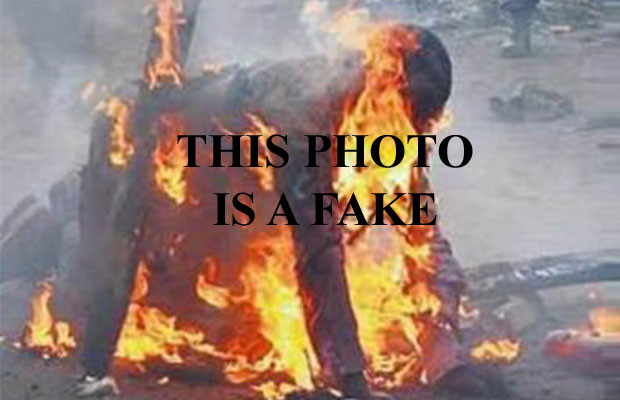 The article appeared on Hot in Juba, a website that describes itself as an "all round celebrity gossips and entertainment news website," based in Juba, South Sudan's capital. Coverage of that alleged incident has not been spotted on more traditional news websites in South Sudan, including those of the New Sudan Vision, New Nation, South Sudan Today and South Sudan Nation.
The photo that accompanied the story in definitely bogus. Probably it depicts an event that actually happened somewhere, perhaps in South Africa, but it definitely was not taken in South Sudan.
That same photo has been used to illustrate many articles painting a variety of  people as villains, including homophobes, vigilantes, anti-government partisans, Muslims and outraged family members. The outrageous incident shown in the photo allegedly occurred in: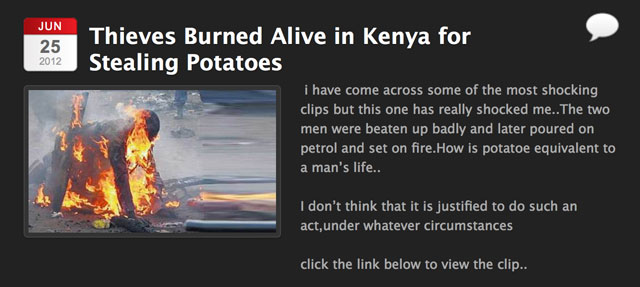 South Africa in 2008: "The picture of a man being burnt alive made the front pages of most newspapers in South Africa yesterday after a week-long outbreak of xenophobic violence reached new levels of horror…. The victim in the pictures, a Zimbabwean, is believed to have died later in hospital."
Northern Nigeria in 2011: "Women and children, burnt alive and impaled. Its muslim par-tay!"
Kenya in 2012: "Thieves Burned Alive in Kenya for Stealing Potatoes" with a link to a horrid video.
Pakistan in 2012: "A man accused of blasphemy, according to Islamic religious law, was extra-judicially killed in Pakistan outside a police station in the Chani Ghoth area of the Bahawalpur region in the Punjab. "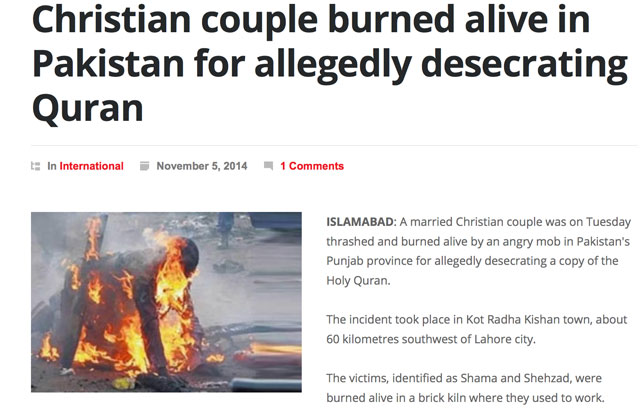 Pakistan in 2014: "Christian couple burned alive in Pakistan for allegedly desecrating Quran"
Burundi in May 2015: "Witnesses told BBC a man was even burned alive for supporting the government. "
Southern Nigeria in September 2015: "Thief Served Jungle Justice In Port Harcourt"
Ghana in September 2015: "An alleged robber has been killed and burnt to death by some residents of Kasoa [Ghana]." A separate article about that incident is more credible; it uses a different photo and includes comments from reporters on the scene.
Central Nigeria in October 2015: "25-Year Old Who Killed Man Who Stopped Him From Fighting His Sister, Burnt To Death By Mob"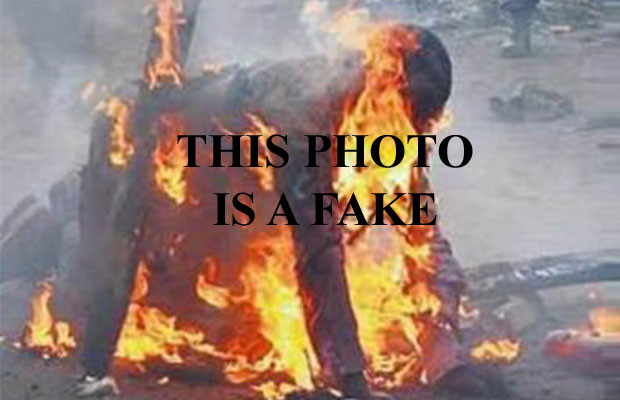 In addition, although the Hot in Juba website couldn't resist the temptation to publish the misleading photo, it was at least honest enough to label it with a disclaimer:  "Photo Not Related."