As Egyptian police continue their crackdown on LGBTI people, here's a quick update on recent events, followed by suggestions for action.
Arrests of alleged transsexuals in a tourist area of Cairo (Feb. 26)

"Egyptian police arrested seven people on [Feb. 26] for 'debauchery,' the charge routinely used against men accused of homosexuality, according to a report in the Egyptian tabloid Al-Youm el-Saba. The paper identified the seven as "transsexuals," but details of the account could not be verified." (BuzzFeed)
In differing versions of the event, Egyptian police made the arrests in response to a tip from a transgender police informer or tracked them down online, using fake Web pages. (Activist/analyst Scott Long on his A Paper Bird blog)
TV host faces defamation trial over police raid on Cairo bathhouse (Feb 24)

Controversial television presenter Mona Iraqi will face trial in April on charges of defaming a number of men who were charged with 'debauchery' after a police raid on a central Cairo bathhouse.
Iraqi, who was referred to trial by the prosecution along with Tarek Nour, the owner of Al-Qahera Wal Nas channel on which her investigative news show is broadcast, claimed that she had led police to the bathhouse. (Ahram Online, Feb. 24)
Man arrested at Egyptian bathhouse attempts suicide (Feb. 16)
"One of the 26 men who was charged with 'debauchery' in December after Egyptian police raided a bathhouse has reportedly tried to take his own life.
"El-Watan, an Egyptian newspaper, … reported it spoke with a man who claims he set his hands and feet on fire because of what he described as the constant harassment to which his co-workers at a Cairo restaurant subjected him.
" 'I'm harassed constantly in my workplace by the words of the people and the looks in their eyes,' said the man, according to a translation of the El-Watan article that former Human Rights Watch staffer Scott Long posted to his blog."(Washington Blade), Feb. 16)
Egyptian court acquits all 26 arrested in bathhouse raid (Jan. 12)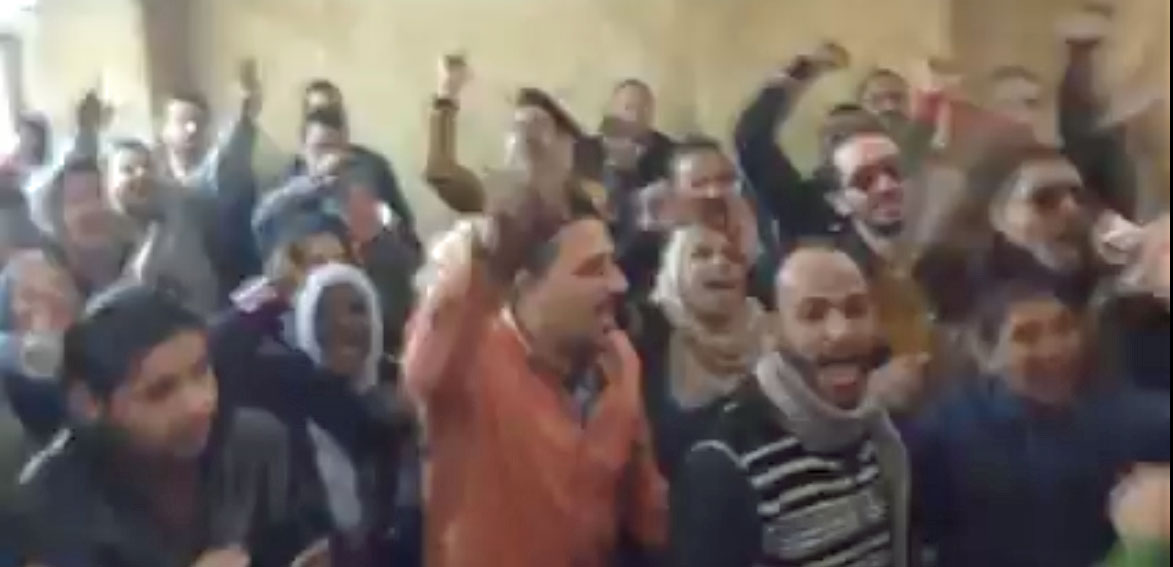 The acquittal in Egypt on January 12, 2015, of 26 men accused of "practicing debauchery" is a rare success in protecting the rights to privacy and nondiscrimination, said Human Rights Watch). See also this blog's coverage.
Prosecutors' appeal of the acquittal was dismissed on Jan. 26.
OVERVIEW
From Scott Long after the acquittal of the 26 defendants:
In this one case, the regime and its lackeys are red-faced and in full retreat. That doesn't mean, however, that the crackdown against LGBT people in Egypt is over. Remember:

Well over 100 people convicted for the "habitual practice of debauchery" since October 2013 still sit in prison. …
What happens to Egyptians accused of being gay, or transgender, or lesbian is part of the overall human rights situation; and that is appalling. As the Revolution's fourth anniversary impends, the counter-revolution is in charge. The government menaces human rights activists with possible life sentences. More than 25,000 alleged Muslim Brotherhood supporters languish in concentration camps without trial. My friend Yara Sallam and 23 others are serving two years behind bars for a peaceful protest march. Security forces persecute everyone from alleged "atheists" to street merchants. Until real rule of law restrains police power in Egypt, anybody different will be under threat.

Domestic and international pressure helped bring justice in the bathhouse case, but the work must continue — not just for LGBT Egyptians, but for all victims of human rights abuse.
WHAT CAN BE DONE?
Two suggestions from Scott Long for applying pressure on Egypt:
The United States provides Egypt with more than $1.2 billion a year in military aid, with the option of easy U.S.-backed credit for further arms purchases. Demand change in Egypt if that aid is to continue.

Sharm el-Sheikh

With thousands of companies invited to learn about investing in Egypt on March 13-15 during the Egypt Economic Development Conference in Egypt'sSharm el-Sheikh resort city, each of those companies should be asked:

How will they use their leverage to improve Egypt's dismal human rights record?
How do they think their gay or lesbian or transgender employees in Egypt will fare?
Related articles