"Parents are kicking out their kids as young as 10 years old because they are LGBTI, for fear that having the kids in the house will incur the wrath of God." 
– Jamaican activist lawyer Maurice Tomlinson, explaining the intensity of his country's homophobia.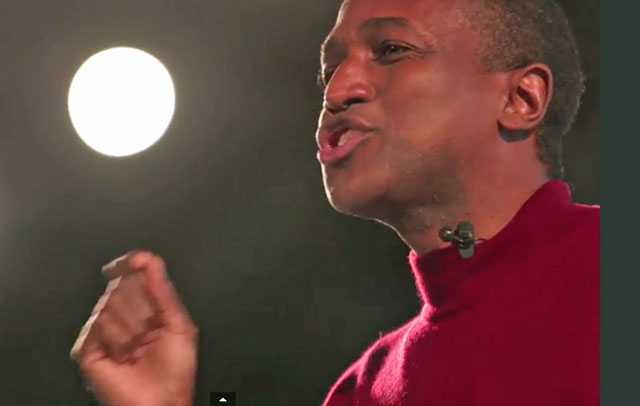 In an 8:25-minute video, Jamaican lawyer and activist Maurice Tomlinson urges Americans to help counteract the harm that their anti-gay countrymen have done in his country and throughout the world.
The video is the second of 11 discussions of international LGBTI issues that are designed to "reverse the megaphone," allowing activists from abroad to tell Western viewers about the challenges that LGBTI people face worldwide. The videos were recorded at a December 2014 meeting in New York.
The series, called "Quorum: Global LGBT voices," is presented by The Daily Beast. The Erasing 76 Crimes blog is a member of the advisory board for this project. In that role, it helped The Daily Beast select Quorum speakers, including Tomlinson, who writes for the blog.
His video is on the Quorum page and on YouTube.
In the video, Tomlinson describes the response from anti-gay Jamaicans when the news spread that he had married a man:
"I was no longer an activist.  I was now a freak. … The death threats were coming fast and furious. Their ferocity and intensity made me realize very quickly that I had to leave, especially when one of my students published my address and my time-table online.  "
Because of those threats, he decided that he needed to move to Canada.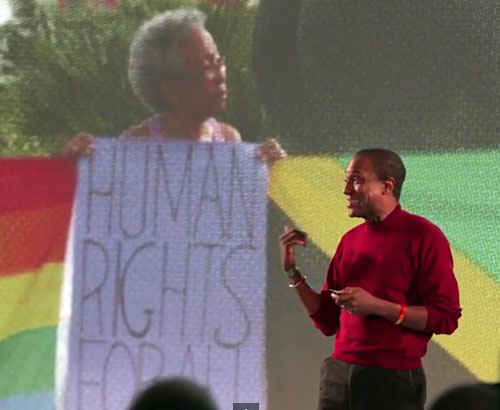 But he still sees reason for hope: "A lot of the hate is driven by fear and ignorance. People need to know us. They'll understand that we are their brothers, their sisters, their pastors, their lawyers, their teachers."
Jamaican homophobia is intensified by conservative American religious leaders who visit the island and preach that "gays are a threat to children and they must not be decriminalized or given any rights," Tomlinson says.
He asked for help.
"Be a global voice. Do not remain silent. Everyone can make a contribution to the global LGBT liberation struggle," Tomlinson said.
To gay-friendly churches in the Global North and Global South, he said, "There are supportive voices. We need them to be amplified. We need them to be supported, because the church is largely responsible for the hate that is being perpetrated — not only in my country, but globally.
"To the local leaders, to elected officials, we need you to lead. You were not elected to deny the rights of citizens that you were elected to serve.
"To our allies, there's much that you can do, but it starts with education."
He urged travelers to consider boycotting countries that mistreat their LGBTI citizens — and to tell those countries that they just lost tourist dollars because of their anti-gay stance.
Finally, he urged people to remember and support activists struggling for fair treatment for LGBTI people in many countries, such as the 76-plus countries with anti-gay laws.
"Recognize the agency of those who are in-country doing the hard slogging to change hearts and minds," Tomlinson said.
Related articles