Nine young gay men have been released after being held in police custody for five days in western Uganda.
Without knowing it, the men had put their lives in jeopardy by visiting an STI screening clinic, which attracted the attention of a homophobic mob.
Police at first detained the men on Jan. 15 to protect them from the mob, which threatened to beat or kill them. Once they were in custody, police began considering filing sodomy charges against them.
As described by local witnesses, the incident began on Thursday, Jan. 15, when a medical team from a hospital's STI clinic carried out a screening, testing and treatment visit to a rural district in collaboration with the town council.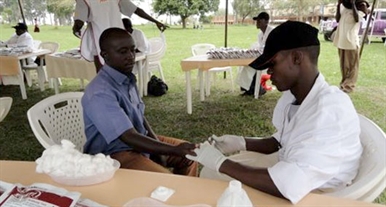 The visiting clinic had been arranged by the Rainbow Health Foundation  (RHF), which serves gays and men who have sex with men (MSM) in western Uganda.
The clinic's medical services went as planned, with the day's activities ending without incident.
But then, some of the young men who had attended the clinic stayed around and went to visit one of their friends in town. They did not know that some people in town were planning to hunt them down and attack or even kill them.
A mob started to gather at the home where the young men were visiting.
Some of them had been followed there by members of the local Community Policing Team who had been reporting to members of the local council.
Gossip spread about a probable ambush of homosexuals. Local officials notified police.
The police acted quickly, taking the nine men into custody before any action had been taken by the gathering mob. The men were rushed to the local police station.
"The mob kept increasing. They followed the boys to the police station, chanting and saying, 'Show them no mercy,' " said Dismus Aine Kevin, director of the RHF. He said that the "angry mob made it clear they wanted to break down the police doors" to get at the young men.
The police decided to take the boys away from the local station to the district police headquarters.  The mob, continued to increase "by the minute."
As the situation worsened, reinforcements were called in and armed police officers arrived with a vehicle. They moved the young men again — this time to the much more secure district police station — and put them into cells.
RHF requested legal assistance from Human Rights Awareness and Promotion Forum (HRAPF).  This non-governmental organisation provides legal assistance and advocacy to promote respect and observance of human rights of marginalised groups, including MSM. They also received support from DPI, the Defenders Protection Initiative.
The following day, on Friday, Jan. 16, a group of lawyers from HRAPF arrived to try to negotiate for release of the young men. They were not successful.
Police revealed to the lawyers that they had opened a file focused on the possibility of charging the men with sodomy. But police said they had not concluded their investigations, so the men remained in jail cells. The nine men had not yet made any statement to police.
RHF officials visited the local council chairman, who confirmed what had occurred. The Councillor also said "he wished that at least two of them had been killed, so the others would learn a lesson."
On Saturday, Jan. 17,  Dismus visited the nine jailed men. He said: "Their souls are tortured and tormented but they are holding up. We cracked a few jokes to put smiles on their face. It is hurting to see them all so helpless. They were subjected to a medical examination, included anal examination, and asked questions about their sexuality."
RHF initially appealed confidentially to a small group of trusted international activists, including to this reporter, for emergency assistance and referrals to assist the young men.  Lawyers continued to press for the release of these young men.  Finally, on Tuesday, Jan. 20, the young men were released after spending five days imprisoned.
Due to a lack of funds, they have all returned back to their own towns, to the same places that wanted them dead. Activists in western Uganda now have the added financial burden and responsibility of monitoring these young men for their safety.
The young men are living in fear for their lives; some are house hopping, others are hiding in fields; these young men are in real danger should they be found. Tomorrow, Jan. 28, they are to report to police, some don't have transport fare to get there.
Donations are desperately and urgently needed !
These young gays urgently require shelter in a safe house, help to integrate in new, safe environments and support for them to acquire small loans for survival. RHF activists are prepared to assume these responsibilities, but for the costs.
Financial support is desperately needed. We appeal to our readers to be generous. Please, click on the Pay Pal icon at Right to link with PayPal – all you need is an e-mail address and a credit card to make a secure donation directly to RHF's PayPal account. On the PayPal site, click on "Send." Then enter the address "[email protected]" and the amount you wish to contribute.
*****
Editor's note: Out of concern for the safety of these young men, we delayed publishing this news until RHF cleared us to do so. We have edited this news article by deleting locations, again out of concern for these young men whose situation remains desperate. RHF activists continue to actively monitor the situation.
Related articles
Click here to see all of our news on Uganda from 76crimes.com