Don't forget Zambia's oppressed LGBT community, who continue to endure  homophobic repression even as Uganda and Nigeria teeter on the verge of adopting their own new repressive laws targeting their LGBT citizens.  Zambia has been conducting a harsh anti-gay crackdown since last spring. Four people are facing prosecution for  homosexuality. A fifth is on trial for suggesting that Zambia's anti-homosexuality law should be repealed.
If a Zambian resident is accused of being gay, police can conduct a raid without having a warrant, as shown in this account of police harassment of "Vera" (not her real name):
"I had a pleasant weekend that ended with some terrible news. It made me feel physically sick. My friend Vera had her house searched by the police after her nephew reported her as a 'practicing homosexual.' The 17-year-old nephew is mentally unstable and incredibly homophobic. I have always pitied him because I too have struggled with my mental health (recurring severe depression and anxiety). Now I feel nothing but rage towards him.
"Three neighborhood police officers turned up at Vera's door requesting that she hand over her passport and follow them to the police station for questioning. When she refused, they said they had no choice but to search her home even though they had no warrant. They told her that this was just a 'friendly' search and that a warrant would only worsen her predicament, as procedure would require the involvement of police headquarters. It seems like there was no way of arguing with them, so she let them in. They snooped around her bedroom, her closets, and digital camera. Whatever they were looking for was not to be found. They simply left, but not before giving her some 'neighborly' advice on how to control her nephew.
"Needless to say, Vera is in shock. We all are. I'm still not in a position to think clearly about this. At first I thought the police had acted unprofessionally and out of order, then I had a look at the Police Act in the Laws of Zambia, and it states that 'in the interest of public order or public morality' it is lawful for a police officer to search without a warrant any premises where they suspect 'dissolute or disorderly characters are resorting.'
"Let me restate that: If the police suspect or have been tipped off that you are gay, they have every right to search your home and personal belongings without a warrant.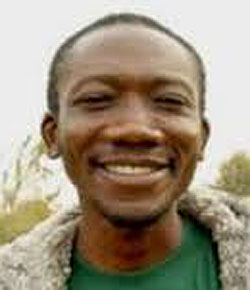 "Even though there are no laws against being gay (only gay sex is prohibited), we've seen in the past few months (with Paul Kasonkomona and Manese Phiri*) that government will bend the law to persecute people with positive attitudes towards LGBT issues. So if the police searched my home and found, say, a book about Johannesburg Pride, that would possibly serve as incriminating evidence.
"She says she is clearing her home of all possibly compromising items. So am I.
"This is no way to live."
* AIDS activist Paul Kasonkomona is on trial for suggesting the repeal of Zambia's anti-homosexuality law, while Dr. Manese Phiri, a medical adviser at the Society for Family Health, outraged students at Evelyn Hone College recently when he  spoke in favor of gay rights.
Juliet Mphande, director of the Zambian LGBT rights group Friends of Rainka, criticized the law that allows police to persecute sexual minorities through warrantless searches on the basis of hearsay. She said:
Friends of Rainka logo

"The plight of sexually diverse and gender-variant Zambians remains urgent — when family members begin to believe it's their 'god'-given right to report their own family members to law enforcement agencies and the law enforcement agencies are only too quick to harass and effect arrests of innocent citizens based on hearsay.

"A growing impunity and lack of respect for the rule of law highlights a growing decay in the moral fabric of Zambian society, reinforced by religious belief and the careless utterances of state actors. The fact that innocent and productive members of the Zambian citizenry can be deprived of their rights to education, to own property, to health, etc., be intimidated, harassed and beaten in the privacy of their own homes and detained on account of their real or perceived sexual orientation and gender identity is stark evidence of the increase in violations of the rights of individual set forth in the Zambian Constitution. The  presumption of innocence until proven guilty is negated.

"This trend has been evidenced in the increase of various ongoing trials in the country. specifically the case of James Mwape and Philip Mubiana in Kapiri Mposhi as well as other cases that for security reasons have not made it into the international media.

"It goes without saying that Zambia's democracy and human rights record is on trial. We therefore call for urgent action and immediate from the citizenry, regional and international bodies to remedy this pervasive situation."
Related articles