The latest on debates over how Russia's new anti-"gay propaganda" law will or won't affect the upcoming Winter Olympics in Sochi, Russia, and whether to boycott the games:

Russia: Putin Says Sochi Welcomes Gays (Associated Press)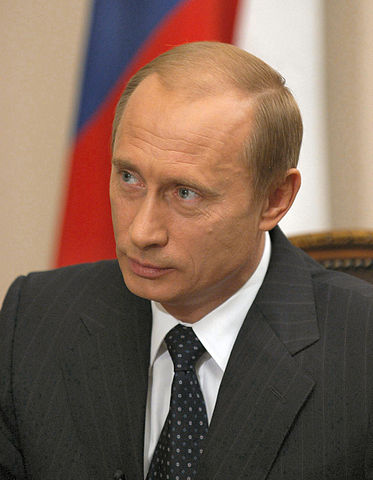 President Vladimir V. Putin promised Monday that gay athletes and guests at the Winter Olympics in Sochi would feel at ease, seeking to assuage fears fueled by a recent Russian law banning so-called gay propaganda.
Speaking at a meeting with leaders of Russian winter sports federations, which was also attended by Thomas Bach, the president of the International Olympic Committee, Mr. Putin said Sochi would be fully tolerant.
Preparations for the Sochi Olympics have been overshadowed by international criticism of a recently enacted Russian law outlawing "propaganda of nontraditional sexual relations among minors."
Many worry that law may apply to gay athletes and visitors. The International Olympic Committee has said it received assurances from Russia that it would respect the Olympic Charter, which prohibits discrimination.
Australia reassured on gay, security issues for Sochi (Reuters)
Australia's Olympic team have been reassured by Russian President Vladimir Putin's promise that gay athletes will be welcome at next year's Winter Games in Sochi, Chef de Mission Ian Chesterman said on Wednesday. …
Russians plan 'gay games' in Moscow after Sochi (Agence France-Presse)
A Russian group is planning to hold a "gay games" in Moscow days after the Sochi Olympics and is calling on international athletes to come and support the event.
Viktor Romanov, the chairman of the board of the Russian LGBT (Lesbian, gay, bisexual, and transgender) Sport Federation, said the event — which will be for Russian amateur sportspeople — was set to open in February 2014 after the closing ceremony of the Sochi Olympics.
"We are starting on February 26 so that people who want to — sportspeople, officials, journalists — can travel from Sochi to Moscow to support us," Romanov told AFP in an interview late Monday. …
Romanov insisted the group was not breaking a controversial law signed by President Vladimir Putin in June that bans the promotion of homosexuality to minors.
"The law does not cover us because we are not doing propaganda of homosexuality, but propaganda of sport and a healthy lifestyle," Romanov said.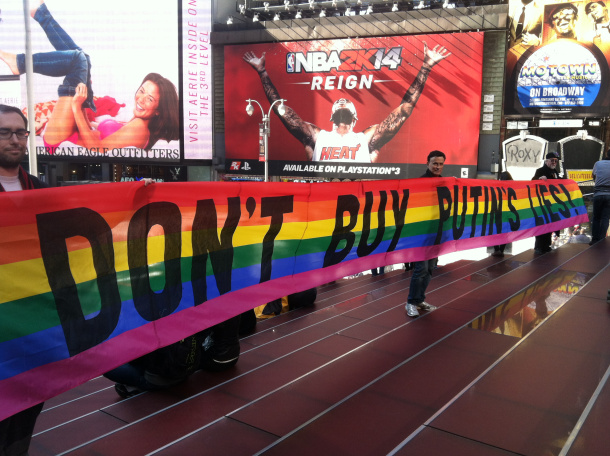 Gays Protest Putin's Homophobic Laws at U.S. Olympic Committee Sochi Launch (O-blog-dee)
New York, NY (October 29, 2013) — Two dozen members of Queer Nation interrupted the smooth flow of the opening event of the US Olympic Committee's Road to Sochi tour, which launched in Times Square today.
As the Road to Sochi event began at 12:00 pm with a press conference featuring Olympic and Paralympic athletes, Queer Nation unfurled banners that read "Don't Buy Putin's Lies!" and "Boycott Homophobia" just yards from the press conference stage and chanted "USOC Out of Sochi" and "Olympics Out of Russia" for roughly 30 minutes. …
Related articles