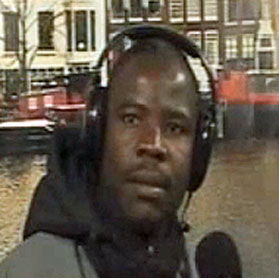 In a Dutch radio/TV interview, LGBT rights blogger Peterson S. Ssendi, 53, of Uganda describes his work to save lives threatened by his country's anti-gay attitudes in his country and elsewhere.
In many countries, "they don't think gays are people," he said on the English-language program "English Breakfast Radio."
He discussed a $1,000 fine by the Ugandan government for a radio show that included gay-rights activists,
Ssendi began his blog after he was barred from interviewing gay-rights activists on his radio show.
His work "is very risky," he admitted. "I get threats every time I post something on the blog."
"The community and evangelical organizations teamed up to confuse the public [with the idea] that being a gay is funded by foreign agencies. They think one can pay someone to change their way of life," he said.
His interviewers were much better acquainted with the current controversy over the Russian crackdown on LGBT people than they were with the ongoing struggle in Uganda.
In response, Ssendi briefly discussed older issues in Uganda — the long-debated  Anti-Homosexuality Bill (nicknamed the "Kill the Gays Bill") and the death of Ugandan LGBT activist David Kato.
"They don't want to think that gay people are people who deserve rights and freedoms," Ssendi said.
For more information, watch the interview on YouTube or listen to it on Soundcloud.