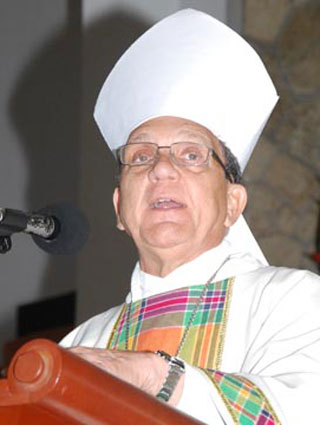 Several of Jamaica's churches have voiced very vocal opposition to the case brought by Javed Jaghai challenging the country's 1864 anti-sodomy law. These churches have also planned island-wide anti-gay demonstrations for Sunday, June 23, in advance of the first hearing of the case on June 25. In response to a Parliamentary conscience vote which the government has promised to call before the end of the year, the churches have also launched an island-wide petition demanding that the government keep the law.
In light of this growing tide of anti-gay religious rhetoric, I wrote to the Roman Catholic Archbishop of Kingston, the Most Rev. Charles Dufour, to get his views on the criminalization of private acts of intimacy between consenting adults. Kingston is Jamaica's largest Catholic Diocese and I therefore expect that Archbishop Dufour's position will mirror that of the island's Catholic church. His response is attached as a PDF file. Excerpts include:
As Chief Shepherd of the Catholics in Kingston, I do not feel that I need to make any special declaration at this time in the present debate as the present position of the Catholic Church was clarified by the Holy See in 2011 [Editor's note: "Mr. President, the Holy See takes this opportunity to affirm the inherent dignity and worth of all human beings, and to condemn all violence that is targeted against people because of their sexual feelings and thoughts, or sexual behaviours" and more.] following the declaration of 2008 which you kindly quoted. [Editor's note: "The Holy See continues to advocate that every sign of unjust discrimination towards homosexual persons should be avoided and urges States to do away with criminal penalties against them" and more.]

These documents are easily available online. I find, however, that the concluding remarks of Archbishop Tomasi in his 2011 intervention at the U.N. in Geneva very useful in the present debate.

"And finally, Mr. President, we wish to call attention to a disturbing trend in some of these social debates: People are being attacked for taking positions that do not support sexual behaviour between people of the same sex. When they express their moral beliefs or beliefs about human nature, which may also be expressions of religious convictions, or state opinions about scientific claims, they are stigmatised, and worse — they are vilified, and prosecuted. These attacks contradict the fundamental principles announced in three of the Council's resolutions of this session. The truth is, these attacks are violations of fundamental human rights, and cannot be justified under any circumstances."

It is my wish that such attacks against persons who uphold the definition and sanctity of marriage as a union between a man and a woman never become a reality in our Island.
It is important to note that Archbishop Dufour avoids answering the question directly and instead points to a 2011 statement made before the United Nations by the Holy See's representative, Archbishop Tomasi. In this statement, Tomasi said:
Archbishop Silvano M. Tomasi

"[F]or the purposes of human rights law, there is a critical difference between feelings and thoughts, on the one hand, and behavior, on the other. A state should never punish a person, or deprive a person of the enjoyment of any human right, based just on the person's feelings and thoughts, including sexual thoughts and feelings. But states can, and must, regulate behaviors, including various sexual behaviors. Throughout the world, there is a consensus between societies that certain kinds of sexual behaviors must be forbidden by law. Pedophilia and incest are two examples."
The position of the Archbishop of Kingston is markedly different from that taken by the Jamaican-born Roman Catholic Bishop of Antigua and Barbuda, and the Catholic Bishop of Rouseau. Both Bishops publicly declared their support for the decriminalization of sodomy. Archbishop Dufour's statement can possibly be explained by the fact that two senior Deacons in his church, along with several high-ranking members, have united to form a group called Christians for Truth and Justice to oppose the constitutional claim brought by Javed Jaghai..
Archbishop Dufour's evasive response also mentions same-sex marriage. This issue was never put to him. However, this red-herring issue is often used by the church to distract from answering the central question: Do they believe that consenting adults should be criminalized for their private acts of intimacy?
I replied to Archbishop Dufour with this letter:
Your Grace,
Thank you for your correspondence on this matter

As a proud Montegonian, I celebrate with you the elevation of the newly enthroned Bishop of Montego Bay. I also wish him all the very best in his service to the most vulnerable and marginalized groups in that part of the island. I would be grateful if you would extend to the Bishop my very best regards.

I also thank you for your clarification on your position within the hierarchy of the Roman Catholic Church in Jamaica. I however believe my confusion might be reasonably excused in light of the fact that the Archbishop of Kingston has often represented the Catholic Church at state and other civic functions. The office of Archbishop is also the highest office attainable within the Jamaican Catholic Church. That position is held by you.

With respect, your letter did not address the question which I posed. Permit me to repeat the essential section "[K]indly explain the Church's views with regard to the country's anti-buggery law." I regret that your reference to Archbishop Tomassi's 2011 statement was not helpful, as he spoke to criminalizing sexual activities such as pedophilia and incest. Both of these activities are universally discouraged by modern scientific evidence, although they were extensively practiced by celebrated figures in the Judeo-Christian tradition. These include Abraham, who married his sister Sarah, and Mary, the mother of Jesus, who was married while still in her teens. Conversely, you may be aware that since 1990 the World Health Organization has declassified homosexuality as a mental illness.

Further, your reference to marriage is, again, not relevant to this discussion. What is being inquired into is your position as the most senior bishop of the Roman Catholic Church in Jamaica on the question of the country's law that criminalizes private consensual same-gender intimacy between men.

I hope this clarifies the question and allows you to provide a more precise answer.

Warm regards,
Maurice Tomlinson
Do you think he will respond?
Related articles