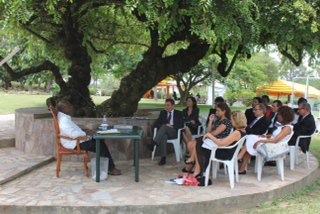 In a meeting yesterday with human rights activists from the United States, Uganda President Yoweri Museveni agreed to investigate reports of violence against homosexuals.
He also reiterated his description of Ugandan culture as demanding privacy for all sexual activity, including kissing, and suggested that openness about gay sexuality is the source of most LGBT-related problems.
The New Vision website quoted him as saying that "what is new is the way Europeans and other Western people handle the issue of sexuality in general, including public flaunting, which is a problem, and luring young people into acts of homosexuality for money" — a frequent and unsubstantiated claim by Ugandan politicians.
The visitors were led by Kerry Kennedy, president of the Robert F. Kennedy Center for Justice and Human Rights in Washington, D.C., and niece of  former U.S. president John F. Kennedy. The New Vision article stated:
Accompanied by several lawyers, actors and religious leaders, the activist expressed concern with what she described as harassment of the gay and lesbian community in Uganda including exposure of the pictures.

She made it clear that it is a violation of people's rights to put pictures of sexual minority groups in the [news] papers.

She also said the pending Bill on homosexuality works against the international law treaties that Uganda has signed, and cautioned against the misconceptions that equate pedophiles with homosexuals.
This is how New Vision reported on Museveni's response to the human rights team:
Reacting to various issues raised by the team, Museveni said he would investigate claims of violence against homosexuals, adding that for a viable solution, activists must respect the confidentiality of sex in our traditions and culture.

He reiterated that in Uganda, "there is no discrimination, no killings, no marginalization, no luring of young people using money into homosexual acts".

The team pledged to work with the president on the laws regarding overt sexual acts by offering free consultancy.
For more information, read the full article: "Museveni speaks out on homosexuality."
Related articles