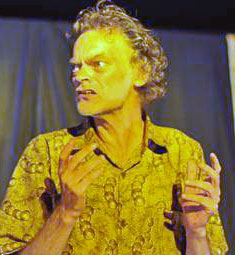 Part-time British actor Keith Prosser, who appeared in a gay-themed play last year in Uganda, has been arrested there and jailed in preparation for deportation, the London-based Independent reported.
The play, "The River and the Mountain," was produced by British entrepreneur David Cecil, who was arrested last year in connection with the show, released from jail after a few days, rearrested this year and then deported last week.
Prosser had been held in a Kampala detention center for eight days, the Independent reported on Feb. 21.
Cecil said Prosser was supposedly arrested for a visa irregularity but actually the motivation for his arrest was the anger caused by the play. In the play, employees in Uganda kill their boss after learning that he is gay.
The Independent reported:
Now back in London, Mr Cecil said he was concerned for Mr Prosser, a part-time actor who worked as an administrator at Uganda's Cavendish University, and is also now facing deportation.

"Keith is not in the best of health, he is vulnerable," said Mr Cecil.

In the play, staged twice last year, Mr Prosser played an evangelical Pastor who "spreads the gospel of homophobia," Mr Cecil said. …

"He would have been given a small fine but a call came through telling the immigration office that he was involved with me and the play and that he was not to be released under any condition. He was to be deported," Mr Cecil said.

Friends of Mr Prosser, who lived in Kenya before moving to Uganda, are raising funds to pay for the flight to London which will secure his release.

In his 50s, Mr Prosser, who was due to appear in a production of Macbeth at the Uganda National Theatre next month, is said to be in a frail condition. He was forced to share a crowded detention cell with no beds.
Cecil said, "A wide range of people came to see the play and there were only two walk-outs. Uganda is not a violently homophobic society but the conception is distorted by a handful of politicians and pastors who are doing immense harm to the country. Our arrests were the result of bureaucratic careerism within the authorities."
Related articles